Amur Tiger Habitat Threatened by Illegal Logging of Russian Forests
Knowing where your wood comes from is more important than ever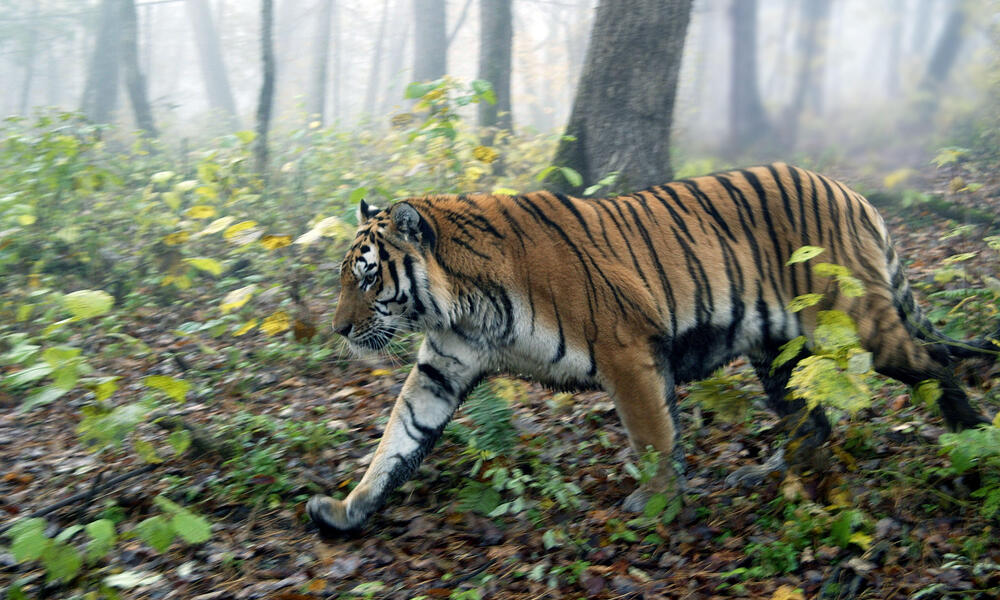 Large-scale illegal logging in the Russian Far East is threatening the long-term survival of the endangered Amur tiger by destroying the species' habitat. Around 450 Amur tigers remain in the wild, scientists estimate. Overharvesting of trees limits the supply of pine nuts and acorns, main food sources for their prey.
The widespread timber theft—largely to supply Chinese furniture and flooring manufacturers—also provides a conduit for illegal timber to reach the United States, Europe and Japan. WWF analysis of Russian customs data revealed that in 2010, the volume of Mongolian oak logged for export exceeded the amount legally authorized for logging by 200 percent. This means at least half of the oak shipped across the border to China was stolen. Oak harvest in 2007 and 2007 was four times as large.
"Illegal logging is imperiling the long-term survival of the Amur tiger and the livelihoods of thousands of forest villagers and indigenous peoples."

Nikolay Shmatkov WWF-Russia forest policy projects coordinator
Devastating Impact
These astonishing figures come from a new WWF report which analyzed 10 years of data. Illegal Logging in the Russian Far East: Global Demand and Taiga Destruction reveals Russia's forest sector has become deeply criminalized. A lack of law enforcement allows illegal loggers to devastate valuable timber stocks of oak, ash, elm and linden. Such unlawful logging degrades vital habitat for Amur tigers and their prey.
In 2011, only 16 percent of the 691 registered cases of illegal logging in Primorsky Province were brought to trial—the lowest figure in the past 10 years.
WWF is working in Russia to suggest measures the government can take to end illegal logging from the supply side. But importing nations must to take action, too. As one of the largest importers of flooring and furniture from China, the United States can play an important role in helping address this crisis.
WWF recommends U.S. agencies such as Customs, Fish and Wildlife and the Animal and Plant Health Inspection Service scrutinize Chinese and Russian furniture and flooring made from hardwoods that may have been sourced illegally from the Russian Far East. The government should also allocate sufficient resources to the agencies tasked with implementation and enforcement of the Lacey Act, a tool used to combat illegal logging.
What Companies Can Do
For products made with Russian oak, ash, elm or linden, companies should purchase exclusively products certified by the Forest Stewardship Council. If FSC-certified products are not available, companies should establish rigorous legality and traceability confirmation systems. When neither option is available, buyers should avoid products made from Russian Far East hardwoods due to the high risk of illegality.
"The scope and scale of illegal Russian logging puts U.S. companies and consumers at risk of purchasing furniture and flooring made with wood stolen from tiger habitat," says Linda Walker, WWF-US forest program manager. "U.S. companies need to ensure that they are sourcing wood products from legal and responsible sources, or they risk violating their customers' trust and seriously degrading tiger habitat."
How You Can Help
Knowing where your wood comes from is more important than ever, if we are to conserve this crucial habitat for the Amur tiger and its prey. How can you be sure that you're not contributing to destruction of Amur tiger forests when you purchase flooring or furniture products?
The easiest way is to purchase FSC-certified products. FSC certification provides the assurance that legal, environmental, and social protections are in place and forests have been managed responsibly.