An Up-Close Look at Wildlife Trafficking on US Soil
WWF's CeCe Sieffert visits the governments wildlife crime repository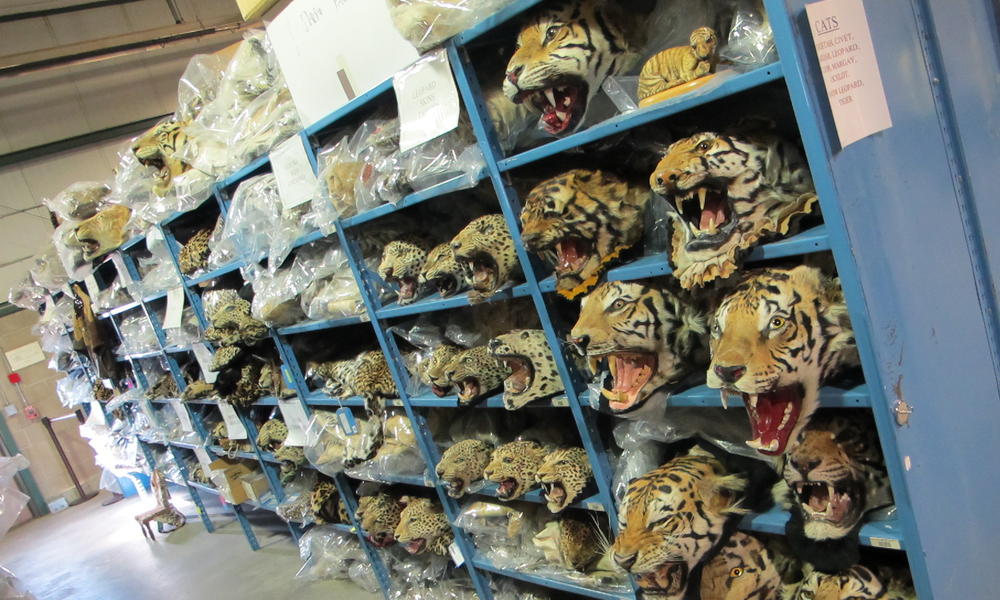 Date: November 19, 2013
Author: CeCe Sieffert
Touring the wildlife repository at the Rocky Mountain National Wildlife Refuge outside of Denver, Colorado was a sobering experience. On site with WWF for the ivory crush, I was given access to the holding facility where the US Fish and Wildlife Service (USFWS ) stores the bulk of seized illegal wildlife products.
Each row in the warehouse, organized by species, seemed to be overflowing with dead animals. The quantity was staggering. Our FWS guide told us there were over 1 million specimens in the room. More than 1 million tiger, elephant, bird, monkey, reptile, fish and sea turtle products—to name a few—were lined up on display. There was a row of primates, a row of bears, and an entire row of reptile-skin shoes.
And then there was the row of big cats. Tigers. Lions. Snow leopards. Each frozen, teeth bared, as if in a final act of self-defense.
I found one piece to be particularly haunting. On the top shelf was a tiny little tiger, smaller than the size of a typical newborn cub. It was a tiger fetus, stuffed and mounted. It was seized by a FWS officer from a woman trying to sell it illegally here in the United States for $1,500 . It is this greed that is helping push tigers and other endangered wildlife to the brink of extinction. And if the pressure from this greed and illegal trade continues, all that will be left of tigers will be stuffed and mounted specimens.
The good news is that the US has taken a stand against wildlife crime and the demand that fuels it. Last week the government crushed ivory confiscated since the 1989 commercial ivory sales ban. An act that showed the world that we will not tolerate wildlife trafficking.
Now it is time to push for more action. WWF is asking for a moratorium on ivory trade and sales in the US. Each of us has the power to help by asking our representatives to take a stand against this senseless destruction. By stemming the demand for illegal wildlife products, we can ensure that wildlife has a fighting chance for survival.
Take action now and support legislation to crack down on wildlife trafficking and enact a moratorium on ivory trade.