As Arctic Ice Melts, Orcas Move in
Arctic sea ice reached its lowest extent on September 11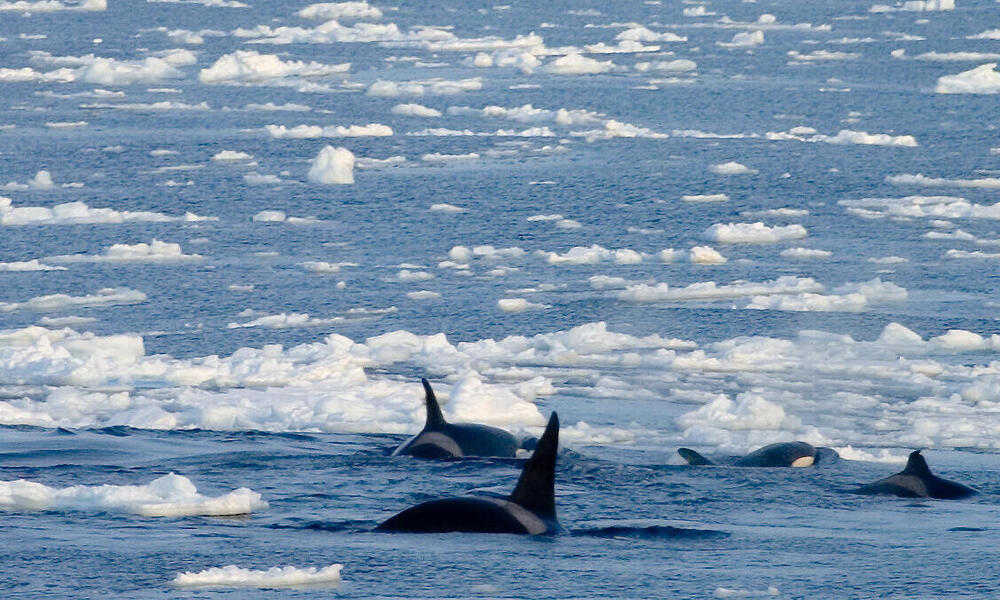 Date: September 10, 2015
Author: Laura Margison
UPDATE, Sept. 11: Arctic Sea Ice Reaches Lowest Extent
The National Snow and Ice Data Center announced Arctic sea ice extent reached its fourth lowest level on record.
"The dramatic loss of summer sea ice during the warmest year on record is further evidence of our dangerous dependence on fossil fuels," Margaret Williams, managing director for US Arctic programs, said. "Dwindling sea ice is a stark reminder of the destruction climate change wages on our most vulnerable wildlife and communities."
For another year, Arctic sea ice will cover much less of the Arctic Ocean than it used to. And with less ice comes more killer whales—predators that feed on other whales, including some recovering species.
In the Canadian Arctic there are increasing sightings of killer whales or orcas. The climate-change driven pattern of lower-than-average ice is leading to major changes in the Arctic Ocean, including an influx of orcas in waters they don't normally inhabit for lengthy periods of time.
The orcas are not typically seen in heavily-iced waters, as they are not well-adapted to life there. Unlike Arctic whales, orcas have big dorsal fins. As sea ice covers less area than formerly, and for a shorter time, it allows the orcas longer and wider access to the Arctic.
"Receding sea ice and the resulting increase of orcas in the Arctic are ecosystem impacts we are already experiencing as a result of climate change," said Pete Ewins, WWF Arctic species specialist. "When new predators like orcas move in, they can change the entire ecosystem. In the face of these ever increasing, deeply concerning changes, we need leadership and action to reduce greenhouse gas emissions in order to protect the best interest of people, the Arctic and the entire planet."
The studies of the increasing incidence of orcas in the Arctic are so far mostly confined to the Canadian Arctic. It is entirely possible that orcas are increasingly moving in to other parts of the Arctic also, but more research is needed to confirm their movements.
And climate change is impacting other Arctic species, too. In August, Pacific walruses hauled out in their thousands on Russian and Alaskan coasts. Recent research suggests fish in the Barents Sea are moving north at a rate of as much nearly 100 miles a decade.
The changing climate affects all of us. And in the Arctic, changes are happening to the climate and oceans faster here than anywhere else on the planet. WWF is working with communities, other NGOs, Arctic Council, and researchers and scientists to protect wildlife and oceans, while securing the culture and prosperity of Arctic communities.
Take Action Together we can make a difference for this polar region, its wildlife and its people, and nature worldwide.