Beaverton's Path to Sustainability
The small city has big plans for climate action
Date: January 14, 2013
Author: Rhys Gerholdt
The suburban city of Beaverton has outsized ambitions for climate action and sustainability that belie its size. Mayor Denny Doyle and his Sustainability Division Manager, Cindy (Tatham) Dolezel always knew they wanted to take the city's energy, climate and sustainability plans to the next level. How to get there was an open question.
The answer came with an unconventional approach—involving the public in the very early stages of climate and sustainability planning.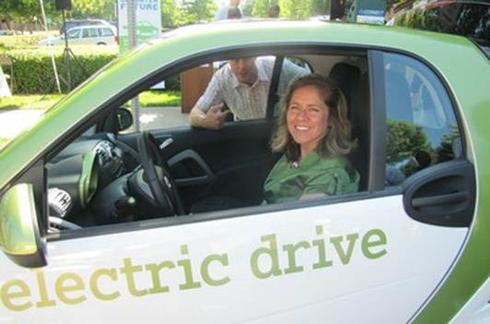 As a first step in her new role as Sustainability Division Manager, Dolezel talked to Beavertonians about why the city was embarking on this journey. She also spoke of her own experience, including a road trip to Moscow while serving in the US Army where she witnessed serious environmental degradation that led her to study earth sciences and sustainable development.
This open dialogue has paid off. "Maintaining transparency has been a key factor in moving forward, sharing both challenges and successes along the journey."
A particularly bright success is Solar Beaverton, a community bulk-purchase program for city residents, negotiated between the city and LiveLight Energy. Since its inception in 2010, 258 residential solar systems have been installed and 961,050 pounds of carbon dioxide emissions were prevented with renewable energy generation by citizens all over the city.
For his leadership on Solar Beaverton and other progressive energy programs, Mayor Doyle won the U.S. Conference of Mayors' 2012 Climate Protection Award. Beaverton was also one of just four cities in its size category recently recognized as a "Smarter City" energy leader by the Natural Resources Defense Council and one of the Environmental Protection Agency's Green Power Communities.
Dolezel knows that even with the progress to date, the journey goes on. "Change is hard for many—doing things sustainably often means things have to change." The climate in Beaverton will not be what it once was due to global warming and we have a responsibility to do what we can to reduce our impacts.
Joining the Earth Hour City Challenge is another step on the journey, bringing Beaverton closer to their destination—a place of "partnerships and community teams working city-wide to address climate change and healthy community challenges."
Learn more about WWF's Earth Hour City Challenge and how participating cities are preparing for extreme weather.