Better Stoves for a Healthier Planet
WWF and our partners promote energy-efficient charcoal stoves in the Democratic Republic of Congo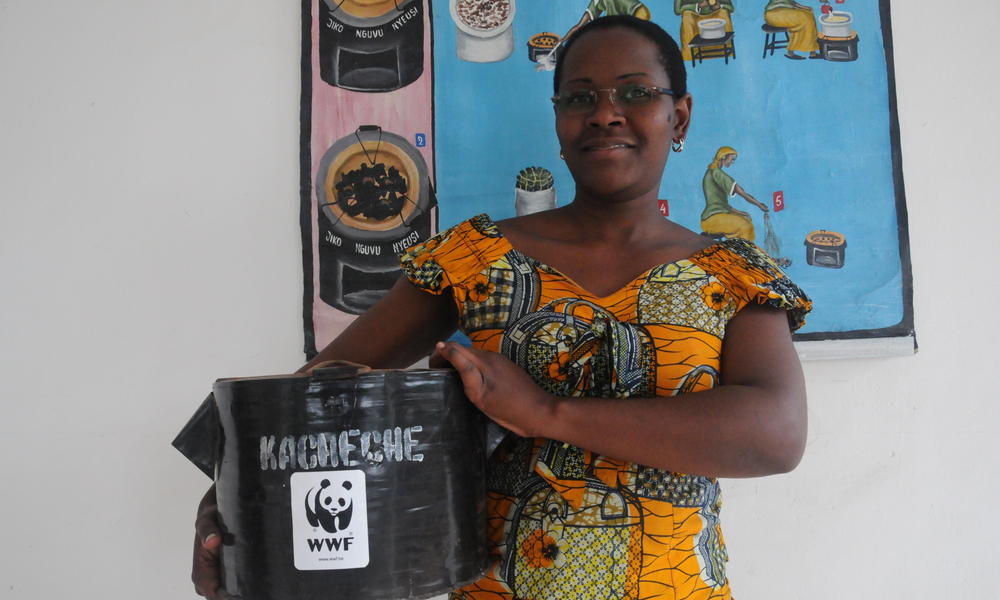 In the spring of 2008 WWF and its partners launched a project in the city of Goma in eastern Democratic Republic of Congo. Goma's population had more than doubled in the preceding 10 years and nearly every household there relied on charcoal cookstoves. The primary source of the charcoal feeding these stoves? The forests of Virunga National Park, Africa's first national park and a World Heritage Site that is home to a rich diversity of life, including critically endangered mountain gorillas.
So WWF and our partners launched the "Improved Stoves" project to increase the number of Goma households using energy-efficient charcoal stoves, to protect Virunga's critical habitat and to improve the lives of Goma residents. Step one involved listening to people. While many residents were not even aware of other options, many consumers preferred the Jiko Nguvu Nyeusi model of efficient stoves over others because of its ease of use and excellent performance.
From there it was a matter of conducting an intensive radio campaign to let people know about the Jiko Nguvu Nyeusi stove, and then working with people involved in its production for increased supply.
Now, six out of every 10 households now use a more efficient stove, a 600 percent increase from only a few years ago, and a majority of new users chose the stove WWF helped promote. A recent WWF report estimates this increase has reduced Goma's charcoal consumption by at least 20 percent, resulting in diminished greenhouse gas emissions and thousands of acres of Virunga's forests saved each year.
In economic terms, families using a more efficient stove cut their fuel bill in half, an estimated savings of $6.6 million each year across the city of Goma. And through WWF's efforts with businesses to increase stove demand and supply, jobs were created, including positions for more than 600 women.
Arriving at the right solution involved a collaborative approach with people and business and the use of strategic marketing. Given the prevalent use of charcoal as fuel, WWF hopes many other places and people in Africa and elsewhere can benefit from lessons learned and strategies used in Goma.
This story was originally published in FOCUS, WWF's bi-monthly member newsletter. Learn more about the benefits of membership.