Beyond Monkoto Road
A conservationist returns to find signs of elephants, bonobos and more in Salonga National Park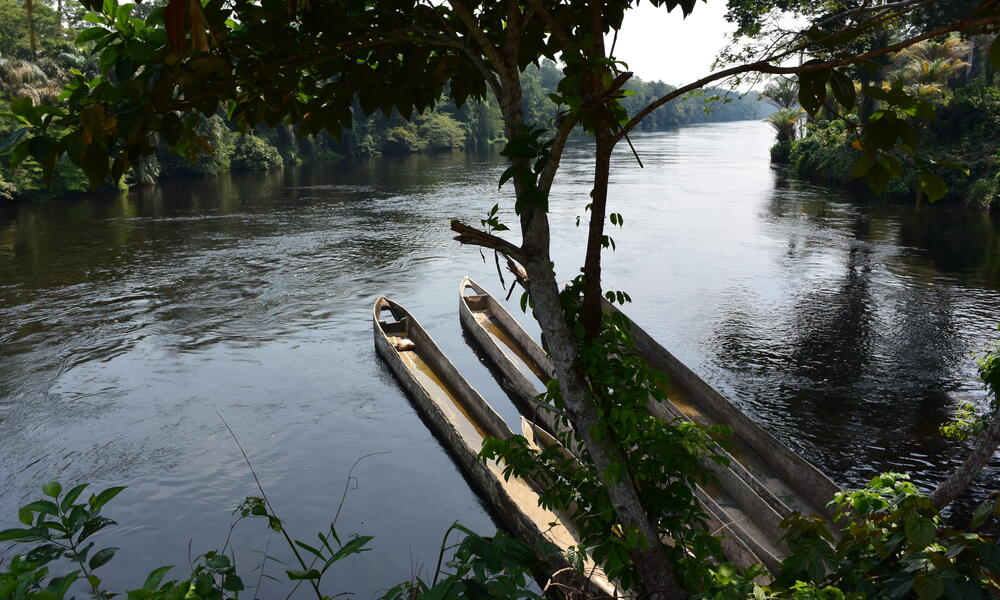 Date: June 13, 2016
Author: Kate Newman
I always wanted to turn right onto Monkoto Road.
But I never did so during the three years I was a Peace Corps volunteer in Africa's Congo Basin. As a lover of wildlife and hiking, I wanted to explore the rich, wet forested park that was at the end of Monkoto Road and said to be four times the size of Yellowstone National Park. It was only about 90 miles south of the main road but, because Monkoto Road was in pretty rough shape, getting to the edge of the park would take at least a day and getting deep into the park would take at least another day—time I could not afford to lose in my busy schedule.
That all changed last month.
I was back in the Congo Basin region for work again—this time for WWF's Forests Team. And this time I was 30 years older and wiser. Wise enough to know I should experience the beauty and mysteries of life whenever doing so is within arm's reach.
That's what I did when I climbed into a narrow canoe for a two-day boat trip through Salonga National Park to kick off a new initiative—WWF's co-management of the park. No small initiative, as Salonga is the largest tropical forested park in Africa—as well as the second largest in the world—and is contending with poaching and other threats to wildlife and people.
Although I had arrived in the park by air instead of the Monkoto Road (which is no longer passable), what I saw was far more magnificent than I had ever imagined from the stories local people told about the place decades earlier.
Most exciting was coming upon traces of elephants that had been in the forest the night before. From the small woven chair in my long wooden canoe I heard the ranger paddling up front let out a whoop as he pointed to small mounds of elephant dung floating past. Our first sign that they had been close as we made our way up the winding and dark-colored stream. Then as we came to a large clearing stretching up to the dark trees in the distance, elephant tracks in the muddy earth seemed to be everywhere. We got out to explore on foot, following one of the open "elephant boulevards" as they called them, created by elephants and used by elephants to reach the clearing. An array of these elephant-engineered avenues approach from each direction helping form a large star around the watering hole.
No elephants themselves. But that was okay. Seeing evidence of a herd of 30 to 40 meant that elephants were still thriving in this part of the park—a welcome sign, as severe poaching had led to large declines in elephant populations several years ago. With better management, the park will regain its stance as one of the best habitats for elephants in the Democratic Republic of Congo.
Other images of the park are still lodged in my brain and hopefully will be for a long time. A majestic giant egret swooping past me as I was sitting in the middle of the stream to cool off. Palm nut vultures overhead. A spectacular red spiny orb spider. Tall folded flowers rising up in the thick brush along the stream banks. Hornbills, including one with a clever Mohawk-style hairdo, loudly calling out to each other with a variety of odd sounds.
And bonobos.
As with elephants, I never saw bonobos. But I was thrilled to see signs of this endemic species and our closest relative. Dark patches of clustered sticks and leaves spread across small tree tops the bonobos had pulled together to create nests. Torn leaves and the sticky skin of a red fruit lay on the ground—the remains from their breakfast.
The turn into the park came 30 years later than I had hoped. But being there when the park is taking a turn to the better—with a new management plan being created and signs of wildlife on the rise—provides the inspiration I long for as a conservationist.
Kate Newman is Vice President of Forest and Freshwater Public Sector Initiatives at WWF
A fresh bonobo nest from the night before in the trees of Salonga National Park.

Inside Salonga, the team walks along an "elephant boulevard," created and used by elephants to reach a favorite clearing and watering hole.

As the second largest tropical forest park in the world, Salonga is a global treasure.