Bringing the Bison Home
The Oglala Sioux Tribe helps plan the first tribal national park within the National Park System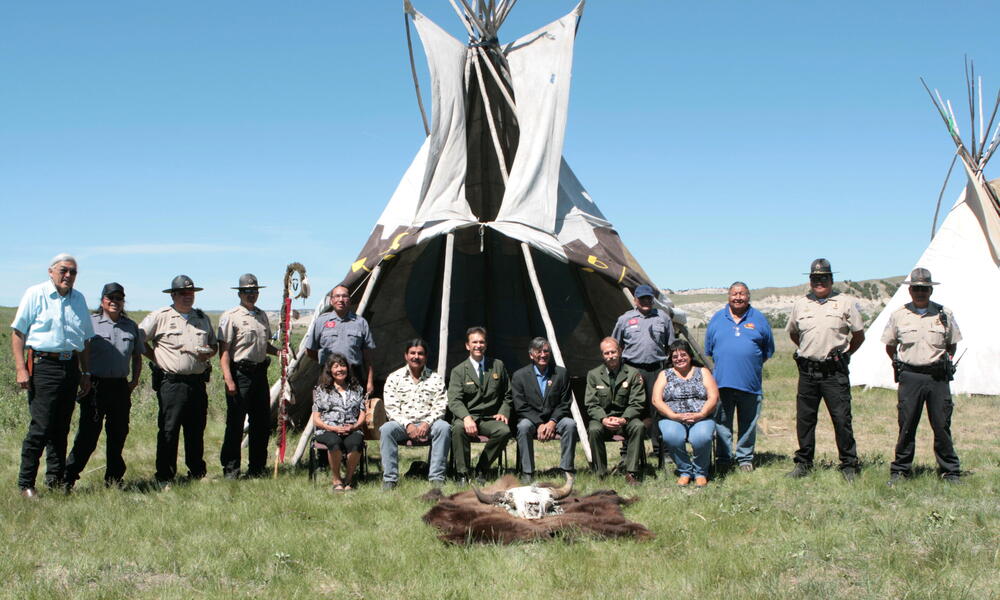 Date: June 13, 2013
Author: Katie Gustafson
The Oglala Sioux Tribe is making history in the northwest corner of South Dakota's Pine Ridge Indian Reservation. The tribe, part of the Oglala Lakota Nation, is working with the National Park Service to create the first tribal national park within the National Park System.
The management of the new park will respect the traditional beliefs and practices of the land's ancestral owners. It will be located on a wild stretch of 133,000 acres on the reservation, an area currently within Badlands National Park that the tribe has managed jointly with the Park Service for decades.
A key part of the park's management plan is the restoration of some 1,000 bison to the land. Also known as buffalo, or tatanka in Lakota, the bison will be one of the largest single herds in the country. These bison will more than double the number of these culturally important animals that the tribe stewards; they already have 900 bison spread out across four pastures around the reservation.
"The Oglala Lakota Nation is on the verge of a significant step for conservation and culture, for their people and the America people. "

Jill Majerus Ecotourism and Conservation Program Officer, WWF
Caring for ancestors
But the motivation for getting more bison into this landscape goes far beyond numbers.
"There is a strong connection between the Lakota and the bison," said Jill Majerus, ecotourism and conservation program officer at WWF. "They feel good knowing that the bison are returned to the land, like they're taking care of their ancestors and paying due respect."
Trudy Ecoffey, the tribe's biologist and a wife and mother to tribal members, emphasizes the intangible benefits of the bison. "There's a lot of cultural pride in having the animals there."
Historic change
The bison restoration project is an ambitious endeavor. The Oglala Sioux Tribe is collaborating with the Park Service and other tribal representatives to draft the congressional legislation that will formally establish the park. The Oglala Sioux Parks & Recreation Authority, WWF, the Park Service and other key stakeholders have helped the tribe complete a feasibility study for the bison reintroduction to this area.
With a goal to have bison on the land in less than three years, the tribe will be mounting a significant fundraising effort for the project. Majerus emphasizes that getting these organizations to coordinate efforts is no small task and presents a rare opportunity to make historic change in the northern Great Plains.
"All these players being on the same page, it's like the stars are aligned right now," she said. "The Oglala Lakota Nation is on the verge of a significant step for conservation and culture, for their people and the America people. It's exciting to be a part of."