Buddhist Teachers Deliver Powerful Message Against Illegal Ivory Trade
A merit-making ceremony in Thailand honored the souls of poached African elephants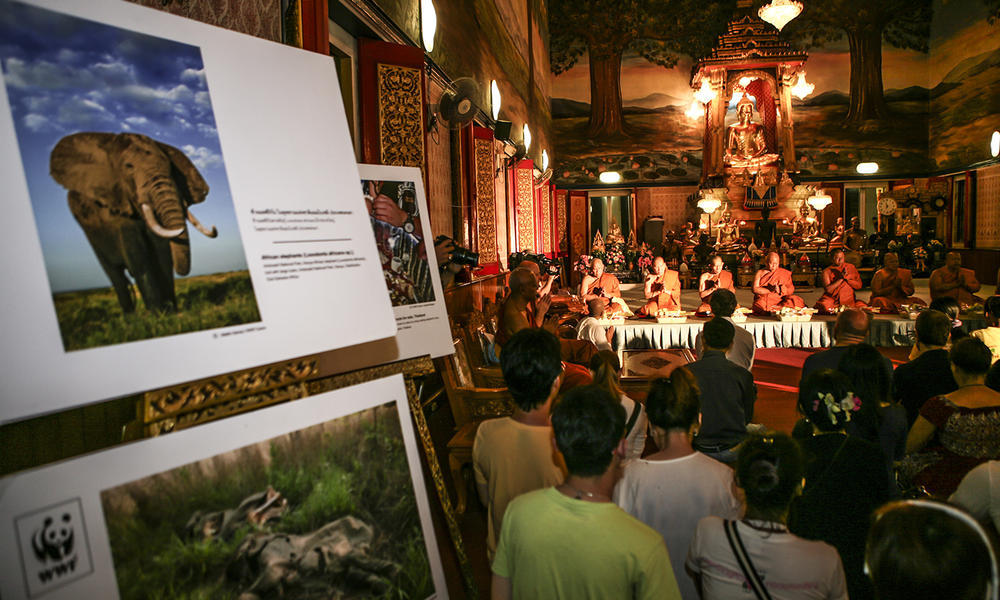 Date: March 14, 2013
Author: Dekila Chungyalpa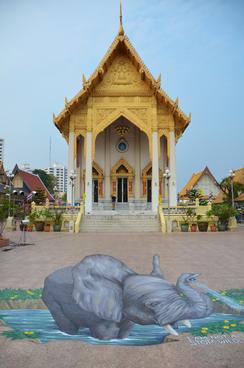 As the setting sun gilded the soaring golden spires of Wat That Thong in central Bangkok, four of Thailand's most revered Buddhist teachers came together to deliver a powerful message: The ivory that causes the deaths of hundreds of thousands of elephants every year is profane, tainted with pain and suffering, and must be rejected as it makes a mockery of compassion—a central tenet of the Buddhist faith.
Phra Maha Jerm Suvaco, Ajahn Jayasaro, Phra Paisal Visalo, and Mae Chee Sansanee joined together in a merit making ceremony to honor the souls of poached African elephants. They framed the issue of ivory as a deeply moral one on the grounds of Buddhist ethics and tied to strong cultural values: the elephant as a symbol for the king of Thailand, the historic role of war elephants in helping keep Thailand independent, and elephants as a beloved Buddhist symbol, heralding Buddha's birth.
Demand for ivory
Thailand is the world's largest unregulated ivory market and a major destination for ivory poached from Africa. Much of Thailand's ivory is bought by foreign tourists, but there is a significant demand among devout Buddhists for ivory carved into images of the Buddha, amulets, and other objects of worship.
The country has come under tremendous scrutiny for its role in the illegal ivory trade, especially as it hosts the CITES meeting on international wildlife trade. Last week, Prime Minister Shinawatra announced a shutdown of the domestic ivory market, without a timeline. Shutting down the Thai market will go a long way toward curbing demand for ivory and closing a major artery of supply.
A powerful message
The four Buddhist teachers who gathered in Bangkok have devoted followings, wield great influence and are instantly recognized in a country that is overwhelmingly Buddhist. The fact that they spoke with one voice will ensure their message will not be ignored in Thailand.
Their call to the leadership of Buddhist temples and congregations to discontinue the use and trade of ivory will be heard further afield in countries with large Buddhist populations. It also applies subtle but very effective pressure on the Thai government to follow through on shutting down the ivory market—precisely because it is now couched as a moral issue.
A foundation for future conservation work
WWF was proud to be part of this incredible moment in our campaign to stop wildlife crime.
The merit making ceremony confirmed our understanding that in order for conservation to succeed, organizations like WWF must give back the reins of conservation to local champions.
This includes faith leaders, who many turn to for reassurance, for a moral compass, for instructions on how to become better human beings.
It is this positive energy that conservation through faith can harness and deliver. It helps meld the science we know in our heads with what our heart dictates. And this can effect truly profound positive changes—something we will begin to see as more faith leaders take on the mantle of conservationists.
Dekila Chungyalpa is the director of WWF's Sacred Earth Program.