Celebrating Salmon in Alaska's Bristol Bay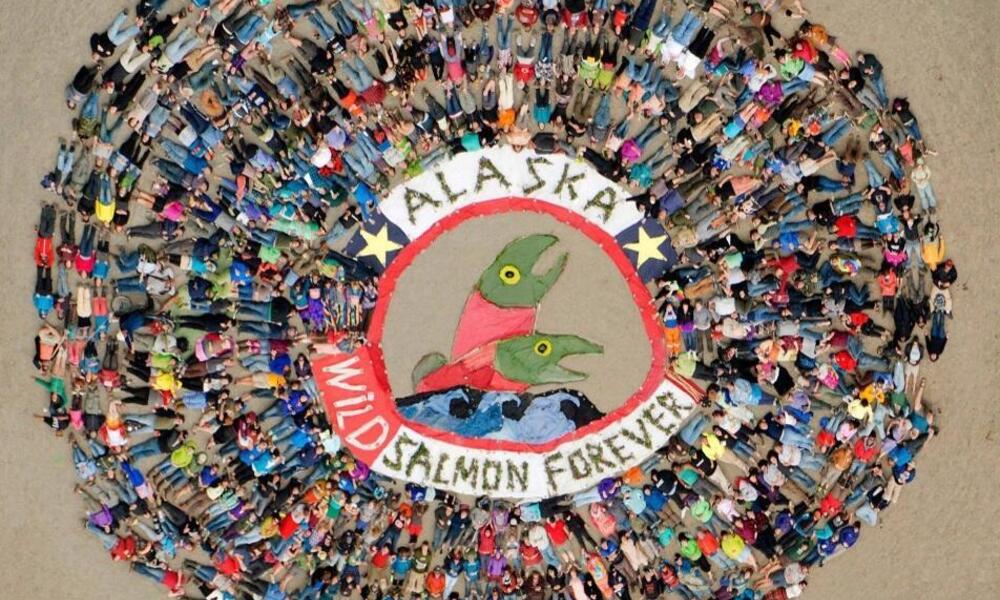 Date: August 08, 2013
Author: Ben Goldfarb
Alaska's Bristol Bay is the last pristine salmon ecosystem in North America, unmatched in its productivity. Every year, up to 37 million sockeye salmon return to the region to spawn, supporting not only brown bears and bald eagles, but human industry and culture as well. The sockeye fishery is worth an estimated $1.5 billion annually, and thousands of local residents depend on the influx of fish to survive the winter.
The proposed Pebble Mine, a massive copper and gold mine that would be situated at the headwaters of Bristol Bay's most vital rivers, now threatens this abundance. According to a recent assessment by the U.S. Environmental Protection Agency, the mine would generate up to 10 billion tons of acidic waste, which would have to be stored—forever—in enormous containment lakes.
Given Bristol Bay's sensitive, interconnected hydrology and seismic activity, it's a near certainty that some toxic tailings would seep into groundwater and rivers, short-circuiting salmon's delicate internal navigation systems. Little wonder that more than 80 percent of Bristol Bay residents, and a clear majority of both Alaskans and Americans, oppose the mine.
WWF supports local opposition to Pebble Mine and for years we have worked with our partners to protect Bristol Bay from offshore oil and gas development. In 2012, WWF encouraged the EPA to assess the potential impacts of large-scale mining in the Bristol Bay watershed, a report that demonstrated that Pebble Mine would destroy up to 90 miles of salmon streams and 4,800 acres of wetlands. Nearly 400,000 Americans wrote to the EPA in agreement that Bristol Bay is no place for a giant copper mine.
The pro-salmon sentiment was abundantly clear last weekend at Salmonstock 2013, an annual music festival held in Ninilchik, Alaska, in celebration of wild salmon and the humans who rely on them. The festival featured more than 50 bands from Alaska and the Lower 48, as well as performance art, documentary films, and food—including, of course, salmon tacos, salmon burgers, smoked salmon sticks, and just about every other form of salmon imaginable.
In this slideshow, meet some Salmonstock attendees, from fishermen to fire dancers to filmmakers, and find out why protecting wild Alaskan salmon is so important to all Alaskans.
The Strickland Family

We've fished in Egigik [one of the Bristol Bay fishing districts] our whole lives. It's absolutely amazing to participate in a profession that has survived for thousands of years, in many ways totally unchanged. Fishing for a living is a more elemental lifestyle than any other, and that's what we love about it: you eat when you're starving, you sleep when you're exhausted, you fish when there are to fish to catch.

Carl Johnson, Photographer

When you have a place that's as remote as Bristol Bay, it's easy for people not to care. That's why each individual photo I take needs to tell a story in itself. People associate Bristol Bay with salmon, and rightfully so, but the system is much more complex than just the sockeye. You would hope that our species would learn lessons over time about protecting our most special, spectacular places—and Bristol Bay is definitely one of them.

Mavis Muller, Artist

People associate Salmonstock with music, but I believe that through visual art, we can inspire the world to rise to the challenge of protecting Bristol Bay. We're at Salmonstock to have fun, but we're dead serious about this issue. People want to be counted. We made the lettering [in the aerial artwork] from alder, a shrub that grows along the banks of salmon spawning streams. The alder feed the salmon, and the salmon feed the alder.

Steve Sturman, Commercial Fisherman

What do wild salmon mean to me? That's an easy one: I've lived in Kenai and Soldotna, and I've been a commercial fisherman in Cook Inlet my whole life. I've got a setnet site over at Nakiski. I've been catching red salmon all summer, and I'm going out to setnet for silvers tomorrow and next week. Salmon have always sustained me, and I hope they always will.

Claire Heiken and Shawn Cook, Fire Dancers

My grandparents first came to Alaska when my grandfather was stationed here by the military back in the 60's, and then they moved here permanently after they retired. They live right on the Kenai River, and we'd go down there all summer, catching salmon and canning them and freezing them, and that's what we'd eat the whole year. When you live with salmon, you don't have to buy meat during the winter.

Dori McDannold

Why do I care about salmon? Because I eat it! I think it's the best meat there is—the most delicious, prolific wild food in the world. It's slippery, slimy, smelly sustenance. Yum! That's a fantastic reason to protect salmon, I'd say.

Joshua Tucker, Filmmaker

People in Bristol Bay are dealing with what's potentially a crisis for them: the loss of the salmon runs they've lived off of for hundreds of generations. It's a deeply personal struggle for the people of Bristol Bay, but because it's happening off the road system, all of these incredible statesmen aren't being heard. To me, it's very important to go where the silence is.

Preparing for a Photo

Salmonstock attendees prepare for the aerial photo.