Collaborating to Count Arctic Seals and Polar Bears
American and Russian scientists team up in Alaska's remote Chukchi Sea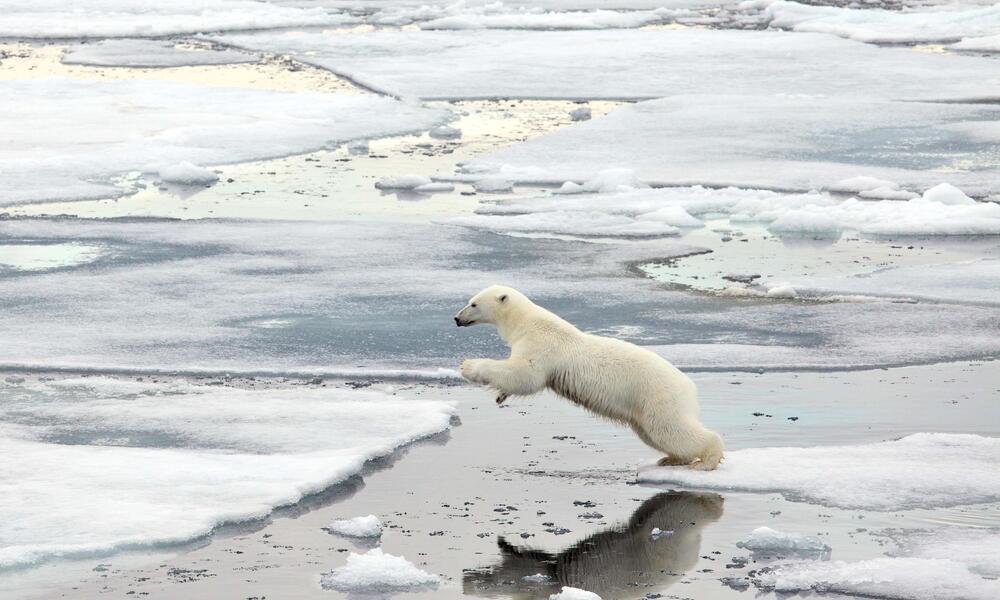 Date: May 11, 2016
Author: Audrey Payne

Trying to count the number of seals and polar bears on sea ice in the northern Arctic Ocean's remote Chukchi Sea is no simple task. But scientists are finding answers by looking skyward — 1,000 feet in the air in fact — to record populations of these iconic Arctic species in this remote waterway between Russia and Alaska.
American and Russian scientists have now teamed up, with some support from WWF, to develop the region's first comprehensive and reliable population estimates of ringed and bearded seals and polar bears. For the past several weeks, scientists from the U.S. National Oceanic and Atmospheric Administration (NOAA), U.S. Fish and Wildlife Service, and Russian State Research and Design Institute for the Fishing Fleet have been using high-resolution and heat-detecting infrared cameras mounted on an airplane to collect information on these species in the Chukchi Sea.
"When US and Russian scientists work together to improve our understanding of wildlife populations, we get a better picture of the range-wide status of these keystone species across the Arctic landscape," said WWF's Senior Biologist for Wildlife Conservation Dr. Sybille Klenzendorf. "Wildlife does not recognize international boundaries, so it's critical that the science supporting their management crosses those borders as well."
And the technology is better for wildlife too. Not only does this equipment make detecting these animals easier, but it also helps reduce the chances that they will be disturbed by low-flying planes, which were used in previous surveys.
"High resolution cameras enable us to collect color images that we use to identify seal species. This approach allows us to fly at a much higher altitude than previous surveys that relied on human observers looking out the windows to detect and identify animals by eye. We can now fly surveys at about 1,000 feet rather than 400 feet," said Peter Boveng, Program Leader for NOAA's Polar Ecosystem Program.
Bearded seals, ringed seals and polar bears, all of which live on sea ice at times of the year, are considered vital resources for northern coastal Alaska Native communities and are key species in Arctic marine ecosystems, yet no reliable population estimates are available for vast portions of their ranges.
These new data will help scientists evaluate long-term population trends and how these populations are responding to climate change. It will then be used for decision-making about management, conservation, and permitting of activities in the Arctic that could affect these species or their habitat. Surveys are being conducted during April to mid-June when each species is mostly likely to be seen.
"This is an exciting project that expands an innovative technology — successfully trialed on seal populations — and expands it to polar bears for the first time," said Klenzendorf. "As this technique is tested and refined, we'll have another powerful tool that allows us to better understand and protect the Arctic ecosystem and fill urgent knowledge gaps on the population status of polar bears."
Detecting Polar Bears

Polar bears can indeed be detected with a thermal camera. Here, a bright spot indicates an object much warmer than the surface of the ice.

Spot the polar bear

A corresponding color photo shows the same scene. Could you find the polar bear without the help of the red circle?

Sighting confirmed

Now, a close-up of that photograph reveals it is truly a polar bear on the ice.