Despite Danger, Cameroonian Ranger Asseme Still Dedicated to Her Calling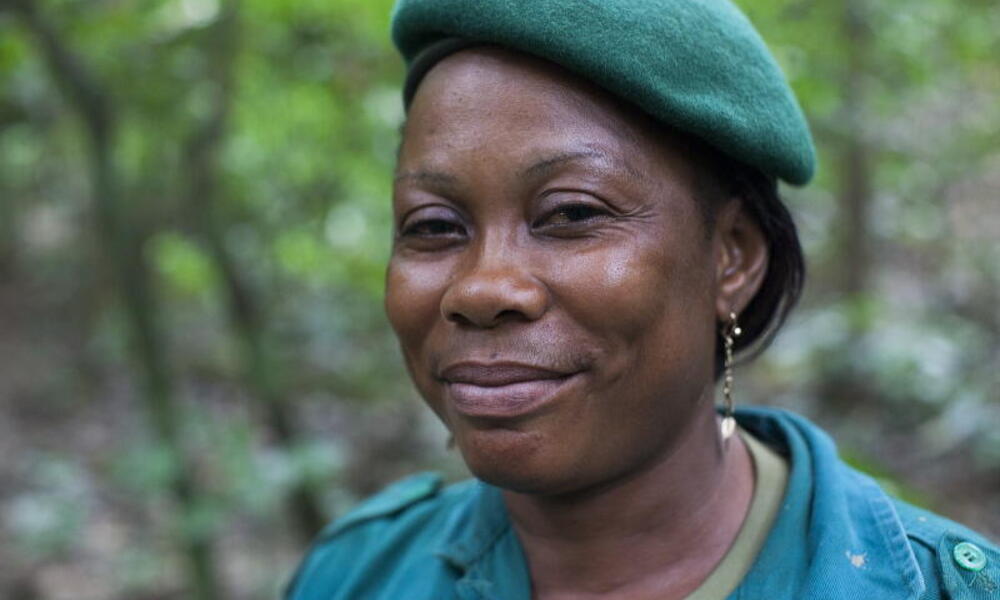 Date: August 21, 2013
Author: Sarah Ruggiero
It's been 10 days since Sidonie Asseme has seen her five children. She's tired and hungry, and has spent every night in a small tent deep in the Cameroonian jungle. Now Asseme and her team tiptoe in silence through dense bush, desperate to avoid the loud snap of a branch that could give away their position. Asseme stops, crouches low, and inspects the subtle boot print she's discovered in the mud. Her team picks up its pace—the poachers aren't far.
Asseme is a WWF park ranger working on the frontlines of the war on wildlife crime. Each day she patrols Cameroon's wilderness, protecting endangered species from poachers who slaughter animals for sale on the black market.
"I was born in the forest and I feel a moral obligation to protect it and its wildlife, for humanity and for my kids."

Sidonie Asseme WWF Park Ranger
As a 36-year-old mother of five, Asseme is one of a small minority of female park rangers in the world. "I was born in the forest and I feel a moral obligation to protect it and its wildlife, for humanity and for my kids," says Asseme.
Training
Trained through a joint program between WWF and Cameroon's Ministry of Forestry and Wildlife, Asseme learned how to use sophisticated mapping and tracking technologies to plan anti-poaching surveillance missions.
"We went through a very challenging training," says Asseme. "There were times I felt like giving up, but that omniscient voice kept urging me to go on."
Today, Asseme uses informants to track poachers and works with local law enforcement to apprehend them. Although the illegal ivory trade remains a problem, Asseme has contributed to the arrest and detention of 15 poachers.
Dangerous work
Even with intense training, nothing prepared Asseme for the life-threatening dangers that exist for rangers.
While on duty, Asseme has been assaulted, beaten and threatened. During one antipoaching operation, rangers were locked up in a house by angry villagers who threatened to set the house ablaze.
Asseme also recalls the assassination of her colleagues by poachers inside Lobeke National Park.
Despite the dangers, Asseme says she'll never stop fighting to save Africa's wildlife for people, her community and her children. "I hope to continue working as a game ranger for a long time. I love wearing this uniform."
The crisis
Elephants are particularly vulnerable to wildlife crime, with poaching increasing dramatically since 2008 with a boom in demand for ivory. Cameroon has been especially vulnerable. In January 2012, more than 200 elephants were slaughtered in a raid by invading Sudanese poachers in a single national park in Cameroon. In March 2013, poachers killed 28 endangered forest elephants in the Nki and Lobeke National Parks. By May, Cameroonian authorities had arrested 20 suspected wildlife criminals and confiscated 45 guns during a 10-day operation.
A recent study found that poachers, who increasingly use automatic weapons such as AK47s, have decimated 62 percent of the Congo Basin's forest elephants in the past 10 years.