EFN Grantee and Conservationist Walks for Elephants in Kenya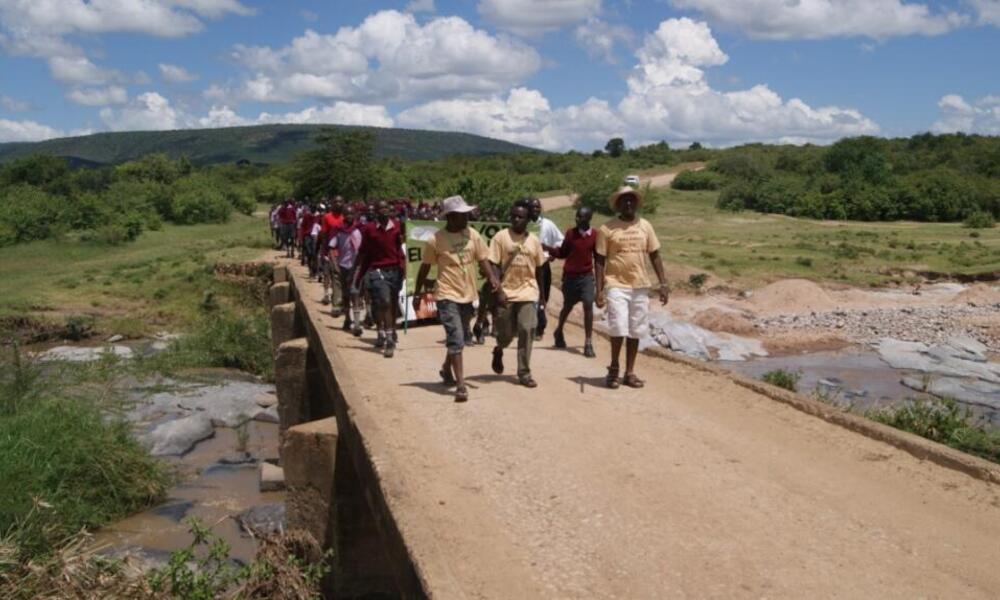 UPDATE: On October 4, 2013 to coincide with the International March for Elephants, Jim Nyamu completed his first ever walk in the United States walking more than 560 miles in an effort to save this amazing species. In just thirty days, he walked from Boston, MA to Washington, DC stopping at schools, universities, NGOs, and meeting with local and state representatives along the way. To date, Nyamu has walked more than 2000 miles to raise awareness about elephant conservation through his campaign, Ivory Belongs to Elephants.

By walking the walk, Nyamu has been able to raise the profile of ivory poaching in Kenya and beyond. In July 2013, he was joined by the First Lady of Kenya, Mrs. Kenyatta, who launched her own anti-poaching campaign, Hands off our Elephants, and acknowledged his efforts to reach communities and empower Kenyans to protect elephants from poachers.
In 2014, Nyamu will return to the United States to walk the West Coast and is working to organize a walk in China where demand for ivory is driving the slaughter of elephants across Kenya.
In the race to save elephants, Education for Nature (EFN) grantee Jim Nyamu is taking it slow. A Kenyan native, Nyamu has dedicated his life and career to saving the dwindling elephant population from illegal poaching in Eastern Africa. He will raise awareness by walking more than 650 miles from Massai Mara to Nairobi on a campaign called Ivory Belongs to Elephants.
WWF's EFN Professional Development Grants provide support for mid-career conservationists to pursue short-term, non-degree training to upgrade their knowledge and skills. These grants provide the tools necessary for professionals to advance in their careers and improve local capacity in their home countries.
Shortly after receiving the grant, Nyamu cofounded the Elephant Neighbors Center (EFC), a non-governmental organization whose mission is to protect African elephants and secure landscape for the endangered species outside protected areas. He and his colleagues are working to change national policy and draw attention to the issues and dangers of wildlife poaching through grassroots efforts.
Walking for a cause
Nyamu already traversed the largest elephant ecosystem in Kenya, the Tsavo, and in the coming months, he will embark on his first tri-national walk covering nearly 1,200 miles starting in Uganda via Tanzania and ending in Kenya.
As Nyamu takes to the road, WWF works to push governments to protect threatened animal populations and reduce demand for illegal wildlife parts and products. Nyamu is a wonderful example of how one individual can make a difference in this ongoing effort. EFN continues to support his work and the projects of conservationists like him.
Learn more about: