EPA Confirms Negative Impact of Pebble Mine Development
New report a major victory for protection of Alaska's Bristol Bay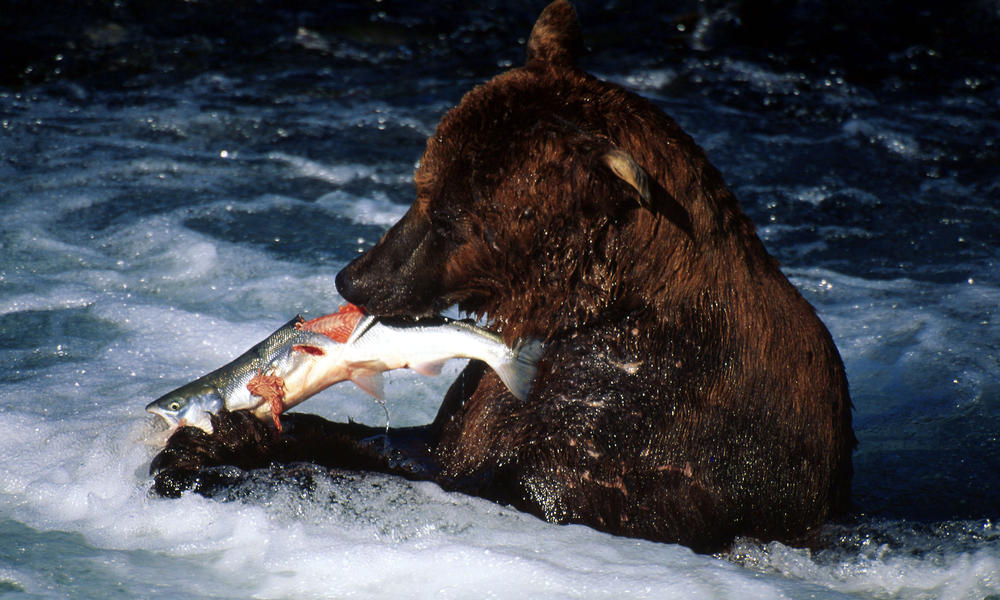 Date: January 15, 2014
Author: Jill Schwartz
In a major victory for Alaskans and conservationists everywhere, the proposal to develop Pebble Mine—which would be the largest open pit mine in North America—received a significant blow today.
In a long-awaited assessment from the US Environmental Protection Agency (EPA), scientists conclude that large-scale mining in Alaska's Bristol Bay region would have serious negative impacts on salmon and native Alaskan cultures. Pebble Mine is proposed for the headwaters of Bristol Bay, a pristine body of water that is home to the world's largest sockeye salmon fishery.
Salmon return to the bay in such large numbers—an average of 37.5 million annually for the past 20 years—that it can be hard to see more than a few feet down into spawning streams and rivers when they are at the peak of their run. Pebble Mine would destroy up to 90 miles of salmon streams and 4,800 acres of wetlands in the Bristol Bay area, according to the EPA report.
Keep up the fight to stop Pebble Mine
Tell EPA Administrator Gina McCarthy to take the next step and shut down Pebble Mine for good.
"This report confirms the sentiment of WWF, fishermen and communities—and the EPA—who have long said that, even under the best case scenario, Pebble Mine is just a bad idea," said David Aplin, director of outreach for the WWF-US Arctic Program.
Aplin commended the EPA for being responsive to Alaskans, who asked the EPA to help protect two of Bristol Bay's watersheds from this potentially disastrous mega-mine, and for using a comprehensive and transparent process when conducting the assessment over the past three years. The EPA document draws on hundreds of peer-reviewed published reports and scientific findings, as well as documents prepared by Northern Dynasty, the company seeking to develop Pebble Mine.
As a next step, WWF urges the EPA to initiate the 404C process, authorized by the Clean Water Act, that could result in the denial of the required permits needed to begin to develop Pebble Mine. This process, which potentially will be open for public input, could stop the Pebble Mine project.
The EPA report, "An Assessment of Potential Mining Impacts on Salmon Ecosystems of Bristol Bay, Alaska," identifies the risks from large-scale mining projects like the proposed Pebble Mine—everything from the development of a mine, its day-to-day operation, and storage of mine-related waste (expected to be near 10 billion tons) in the near term and in perpetuity.
The EPA assessment also shows the economic value of Bristol Bay. The bay's fisheries support more than 14,000 jobs and generate $1.5 billion annually, according to the EPA. The fisheries also are significant for cultural reasons, particularly among Alaska Native subsistence users.
"Why are we trying to find a solution to something that is not broken?" Aplin said. "Let's enjoy one the world's last great salmon ecosystems by putting the Pebble Mine project to bed once and for all."
How you can help
Take action and tell the EPA to stop Pebble Mine for good