Extreme weather threatens monarch butterfly habitat
Illegal logging is on the decline, but severe weather events continue to degrade Mexico's forests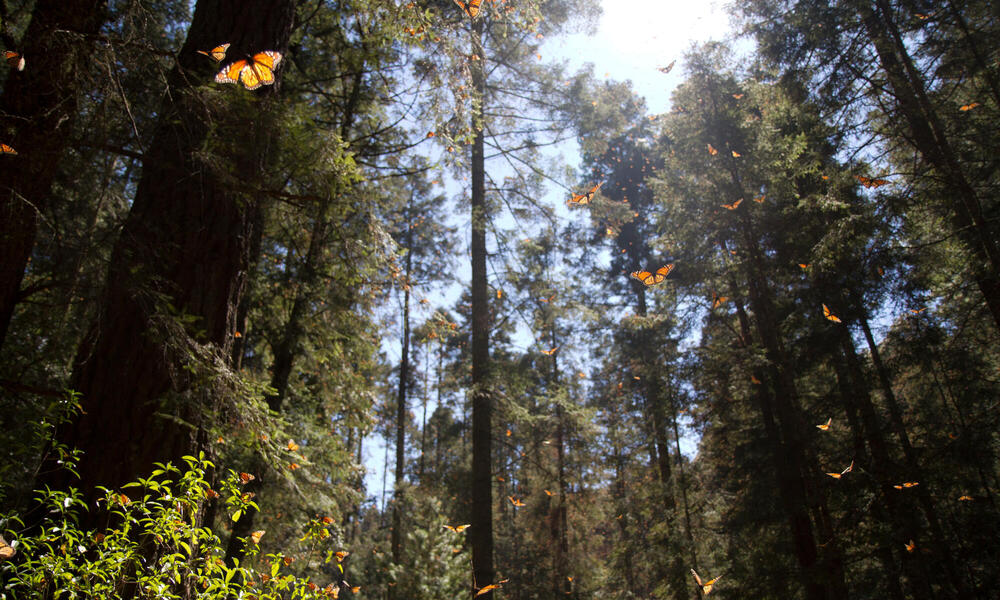 1 MILLION FOR MONARCHS
Migratory monarch butterflies are losing their homes right here in our own backyards. But you can help. We've set a goal of getting 1 million supporters to come together with WWF to help us save the monarch butterfly. Sign up for WWF's Monarch Squad today
Join the Monarch Squad Today
Extreme weather is now a primary driver of forest degradation in key wintering habitat for monarch butterflies in Mexico, according to a new report.
Excessive winds and storms that knocked down trees played a significant role in the degradation of 178.7 acres of forest in the Monarch Butterfly Biosphere Reserve between 2015 and 2016. Felled trees made up 74.6% of the causes of degradation, followed by illegal logging at 16.4% and drought at 9%, according to the report by the WWF-Telmex-Telcel Foundation Alliance, the National Commission of Protected Natural Areas, and the Institute of Biology of the National Autonomous University of Mexico.

The good news is that during the same period, illegal logging declined by 40% due to a combination of enforcement by the federal government and financial support to the local communities by the Monarch Fund, WWF, and Mexican and international philanthropists and businesses.

But even with decreasing deforestation rates, degradation continues to threaten tens of thousands of acres of forest reserve that monarchs need to survive. Violent weather in March 2016 was a key factor in the loss of trees and other plant life most recently.
"Since the forests provide the microclimate needed for butterflies to survive the winter, illegal logging must be eradicated and degraded areas need to be restored," said Omar Vidal, CEO of WWF Mexico. "This would help the monarch butterfly to better adapt to extreme climate events, and also provide local communities with sustainable economic alternatives."
Every year, monarchs travel an incredible distance of up to 2,800 miles from Canada to the warm forests of Mexico where they rest in temperate fir and pine forests. Along the way, they encounter numerous threats related to a changing climate, deforestation, and loss of milkweed—the only plant they use to breed, and upon which larvae feed and grow before they turn into butterflies. A survey from December 2015 suggests migratory monarch butterfly populations grew last year.
The alliance has supported the conservation of the forests in Mexico since 2003, reforesting almost 27,180 acres of land with native trees grown in 12 community forest nurseries. Earlier this month, 600 Telcel and WWF employees and their families planted 5,000 trees with communities in El Rosario, Michoacan.
You can help save monarch butterflies, too. We've set a goal of getting 1 million supporters to come together with WWF to help us save the monarch butterfly. Sign up for WWF's Monarch Squad today.