From Ridge to Reef: An Underground Water System
Oceanographer Judith Morales explores an underground labyrinth of rivers, streams and sinkholes.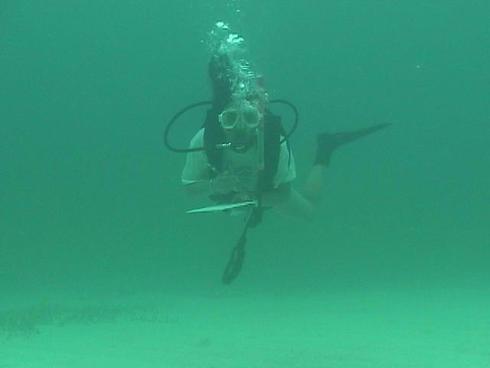 The Mesoamerican Reef ecoregion is largely known for white sand beaches, coral reefs and abundant marine life, including turtles, lobster and whale sharks. But just slightly inland on Mexico's Yucatan Peninsula is a unique water system that is entirely underground.
Known as a coastal karst system, the porous limestone bedrock of the region prevents water from forming aboveground rivers—which leads to the formation in some areas of an underground labyrinth of rivers, streams, sinks and sinkholes. In the Yucatan Peninsula, these different systems ultimately lead to the Mesoamerican Reef.
Oceanographer Judith Morales first began learning about the region in 2002 when she began working on a local conservation group's project, supported by WWF. At the time, she focused exclusively on marine area. But as she learned more about the region's fragile ecosystems she saw that there were significant threats coming from inland. This is when she realized that only by looking at the inland activities and its connection through water would she be able to preserve the coral reefs.
Morales knew she needed more training to be able to protect the region's waters. In 2007, she won a WWF Russell E. Train Fellowship to pursue a master's in Integrated Watershed Management at the Autonomous University of Queretaro in Mexico. Knowing that there was a big gap of information about the aquifer, Morales used her fellowship to conduct the region's first aquifer vulnerability assessment. As it turned out, the newly gained understanding about integrated watershed management opened many doors for her.
After finishing her studies, she received an opportunity help regional stakeholders and local authorities develop a regional vision for conservation of water resources and ecosystems. That experience allowed her to take a leading role in 3-year-long conservation planning process that engaged local experts, communities and authorities and resulted in the creation of the Tulum Watershed Council in 2012.
And thought it was a long process, Morales is enormously proud of her role in helping the Council to preserve the second largest underground river systems of the world—and that the region's underground rivers are now acknowledged in the land-use plans elaborated for that area.
Today, Morales is a project coordinator for WWF-Mexico's Mesoamerican Reef program, taking that same ridge-to-reef approach that uses integrated water resource management to address the region's most pressing water issues.
Learn more about:
This story was originally published in FOCUS, WWF's bi-monthly member newsletter. Learn more about the benefits of membership.