Gray Whales' Remarkable Migration
Sightings along the west coast are a stark reminder of threats to the whale's Arctic feeding grounds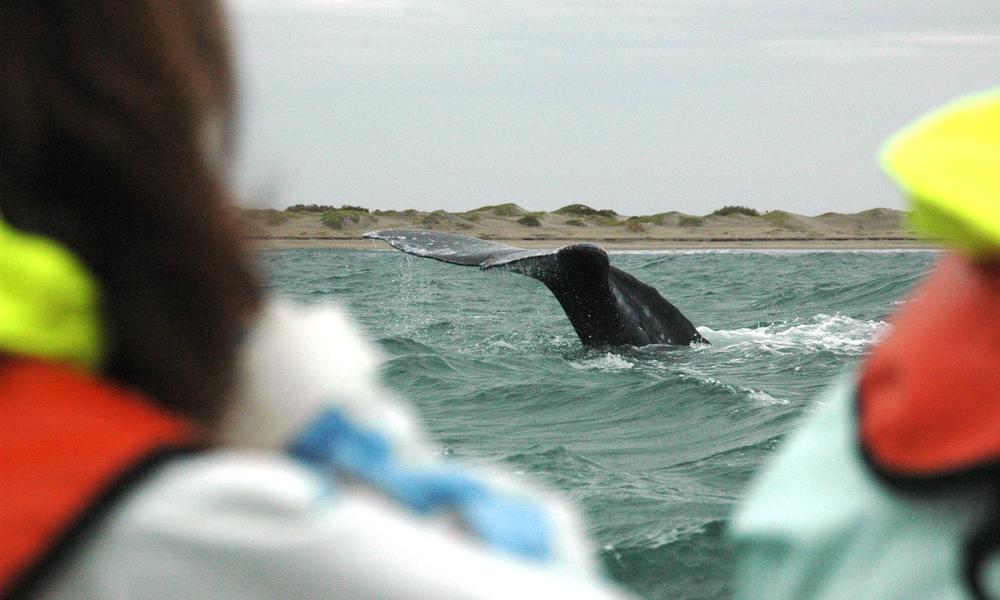 Gray whales migrate more than 10,000 miles roundtrip each year—one of the longest for any mammal on Earth. Each winter and spring, their spectacular migration between northern feeding grounds and southern nursery areas offers amazing opportunities for whale watchers along the west coast. Gray whales have even earned the nickname of "friendly ones," as they have an unusual tendency to approach whale watching boats and check out the occupants.
"I had one of the most amazing experiences of my life visiting gray whales in Baja California. Our boat spent a full half hour interacting with a mother and her calf—each seemed to be competing for our attention. It was absolutely incredible to be so close to such majestic animals."

Leigh Henry
Senior Policy Advisor, Species Conservation & Advocacy
This past January, whale watchers in southern California spotted between 20 to 25 gray whales together—reportedly the largest pod ever seen off the California coast in at least thirty years. The pod of whales was part of the "tail" end of a southern migration to the warm waters of Baja California, Mexico—a winter sanctuary where they give birth to their calves.
By February, some whales are already beginning their northbound migration, back to feeding grounds near Alaska. Whale watchers may see both northbound and southbound whales this time of year. By late spring, all whales are heading north, many with their new babies.
Once they reach the cold Arctic waters, it's time to eat. The whales feed continuously to put on enough weight for their eventual journey south and to last through the winter—as much as 2400 pounds of food a day. That trip south begins in October for some, with the majority heading down in November.
Working for whale survival
The Arctic feeding grounds of the gray whale are critical to their survival, as they must eat enough to sustain them until they return the next year.
WWF is working to ensure that the gray whale's Arctic habitat remains protected. Disturbances such as noise from oil and gas exploration can interfere with their ability to get enough to eat. WWF and its partners have been pushing for stricter environmental standards to protect the habitat of these amazing animals.
Learn more about our work with gray whales.
Whales are at the top of the food chain and have an important role in the overall health of the marine environment. They are also highly vulnerable to human activities in the ocean. WWF works to ensure they can live and thrive in their natural habitat.

In the Gulf of California, WWF supports a research team that is monitoring the population size and health of the gray whales that return each winter. The team takes photos to identify individuals, collects tissue samples and records their underwater communication.

Gray whales have a hump and a ridge of sharp bumps along their backs, instead of a dorsal fin.