Great Plains grassland plow-up accelerates for second year in a row
Grasslands play crucial role in curbing climate crisis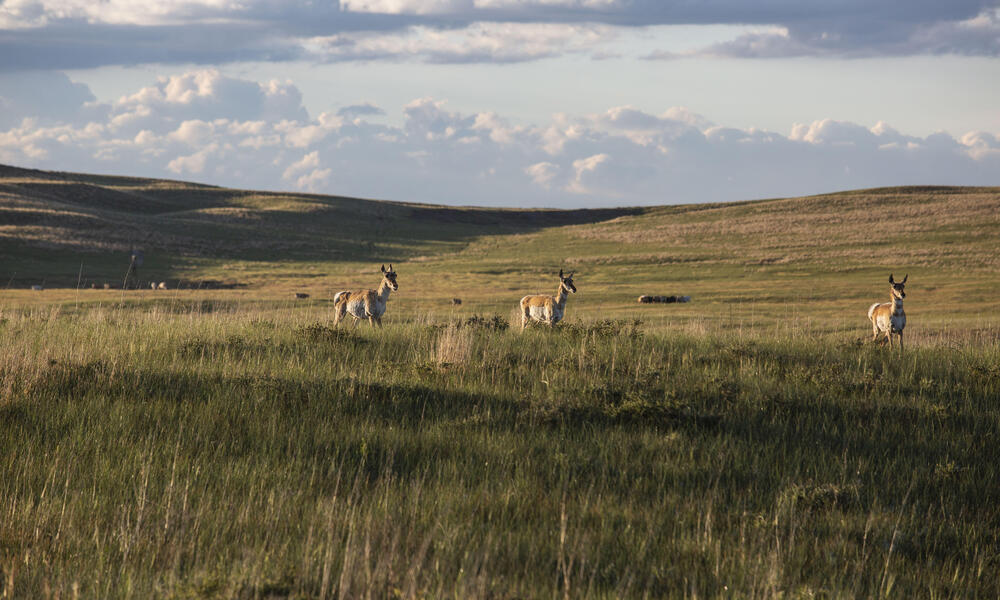 Date: September 09, 2021
Author: Clay Bolt
WWF's 2021 Plowprint Report
The annual Plowprint Report tracks grassland loss across the Great Plains.
Read the Report
Earlier this summer, the Intergovernmental Panel on Climate Change (IPCC) released a dire warning in its Climate Change 2021 Report: if people continue to destroy natural ecosystems that sequester and store vast amounts of carbon, and we don't immediately reverse the rate at which we are burning fossil fuels, there will be a cataclysmic rise in global temperatures and extreme weather events. The U.N. Secretary-General called the findings a "Code Red for humanity."
The report cites global deforestation as one of the leading causes of carbon dioxide emissions. Like forests, grasslands also play a critical role in sequestering and storing carbon—mostly in the soil. As intense fire events increase, grasslands play an ever more vital role as a safeguard against carbon loss. Grasslands also provide critical habitat for plant and animal life, livelihoods for rural communities, clean water, and fresh air.
In a concerning trend, WWF's 2021 Plowprint Report has revealed that, for the second year in a row, grassland plow-up across the Great Plains has continued to accelerate. The 2021 report finds that from 2018-2019 an estimated 2.6 million acres of grassland were plowed up, primarily to make way for row crop agriculture. This is an area larger than Yellowstone National Park. And within the Northern Great Plains (NGP), the Great Plains' most intact region, nearly 600,000 acres were plowed up during that same period.
Nearly 70% of new conversion across the Great Plains was for three crops: corn (25%), soy (22%), and wheat (21%). In the NGP, wheat accounted for most of the new conversion (42%) followed by corn (10%), and soy (10%).

To hold the current projected rise in temperatures below 1.5°C, the IPCC urges a 50% cut in the world's current emissions. And while curbing the current rate of deforestation and restoring forests are critically important steps, we must also include grasslands conservation and restoration, especially in the United States, as part of the solution.
Tilling grasslands immediately reduces soil organic carbon stocks by 30% on average, releasing a vast amount of carbon into the atmosphere. As abandoned croplands are restored, it can take 350 years for carbon stocks to recover to levels comparable to the soil found in native prairies, though up to 50% recovery has been observed in the first few decades. The optimal solution is to avoid conversion in the first place, particularly if we are to successfully meet the IPCC emissions targets and slow the process of the climate crisis before the end of the century.

This year, in response to concerns over continuing grasslands loss and ways that it impacts biodiversity and people, several North American grasslands conservation initiatives have launched to help protect this vital ecosystem. These include the Central Grasslands Roadmap, NRCS Great Plains Framework, JV8 Conservation Initiative, and a coalition of organizations—including WWF—in support of a new North American Grasslands Conservation Act to allocate resources toward voluntary efforts to conserve America's grasslands and sagebrush.

WWF has also launched a partnership with Cargill, the Walmart Foundation, and McDonald's known as the Ranch Systems and Viability Planning (RSVP) network, to support ranchers across the ecoregion—focusing primarily on Montana, Nebraska, and South Dakota—with technical expertise, training, and tools to help advance grazing practices that improve the health of the land. By improving the management of 1 million acres over five years and avoiding plow-up, this effort will result in increased carbon storage and sequestration, improved water infiltration, and better outcomes for biodiversity.

If these efforts are successful, they could make real progress toward preserving what remains of North America's intact grasslands and improve and restore those which were previously degraded or plowed.