Hacking Nature for Good
WWF challenged programmers to develop a system in 24 hours to help the monarch butterfly
Date: October 14, 2014
Author: Brigid Milligan
Technology is a game-changer when it comes to reducing environmental threats and solving conservation problems. And for the monarch butterfly—whose population is at its lowest point ever in the past 20 years—a new app just might help the species' numbers grow.
WWF challenged a group of programmers, designers and conservationists to spend a Sunday developing a technology system to help the monarch butterfly at the annual SXSW ECO conference in Austin, Texas. The "hackathon" gave attendees just 24 hours to build an app to help monarchs.
The group did not disappoint; at the end of 24 hours, the hackers built 'Monarchy,' an innovative citizen science app that gathers real-time data on the locations of monarch butterflies using information submitted by users. The app also identifies monarch sightings posted on public social media sites. Though still in the early stages of development, the app will also give users information about how to build monarch habitats.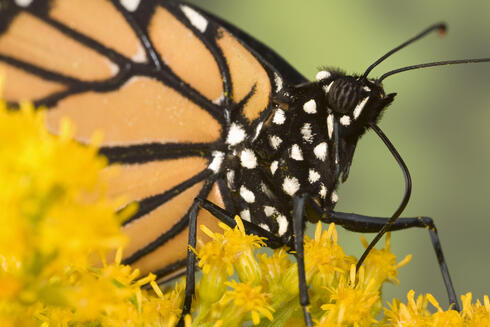 Monarch populations have shown an alarming decline due to a variety of reasons, the most serious of which is a decrease in the availability of milkweed, a plant that serves as monarchs' primary source of food. In early November, monarchs travel up to 2,800 miles from Canada and the United States to central Mexico. They experience extreme weather conditions and a lack of food on their two-month journey. WWF works with local communities, government and the private sector to preserve butterfly habitat in Mexico by promoting good forest management and sustainable tourism.
WWF hopes to continue to refine and develop Monarchy so that it becomes a useful and engaging tool for monarch researchers and enthusiasts.
"We started with a simple idea of crowdsourcing monarch butterfly sightings from social networks and logging the data," said Nick Hammond, a freelance developer who collaborated on the app. "Once we had that ready everyone else started chiming in with great ideas about using the historical data and combining sightings with other online databases which was great."
Chase Olivieri, a developer at the B Corp-certified PLUSfoam, participated in the hackathon and said that he enjoyed using his programming skills for an environmental NGO to build an app that can be a tool for change.
"I enjoyed collaborating with everyone involved, especially since there was such wide variety of knowledge amongst the group," Olivieri said. "I'm most excited about the crowd-sourced platform that we built, as it really demonstrates the power of big data."
Learn more about monarch butterflies and what you can do to help.