Helping Communities Rebuild After Disaster
WWF and American Red Cross Win Green Star Award for Disaster Training Toolkit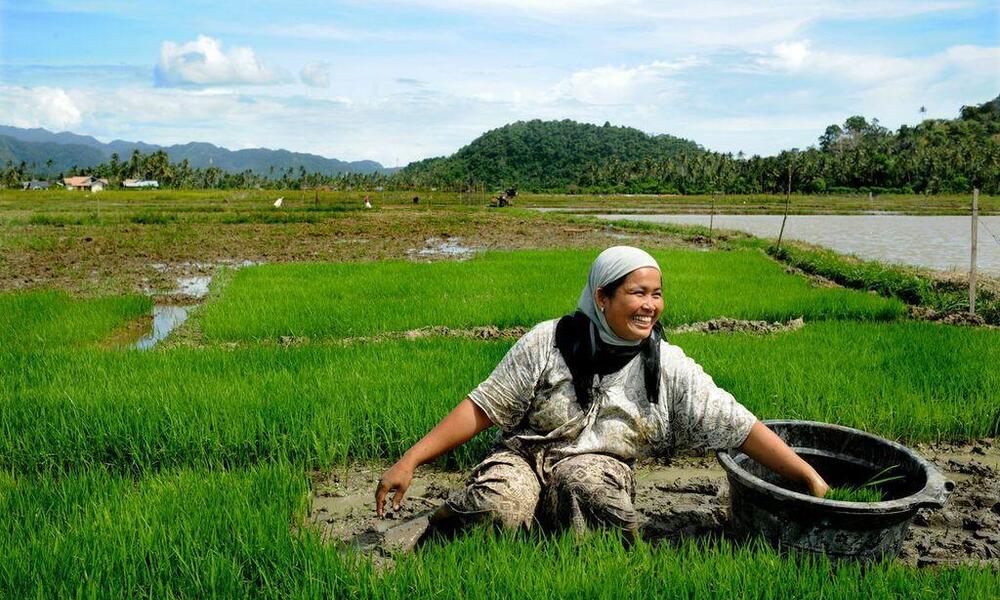 As communities rebuild from natural disasters, it's important for them to seek ways to become stronger and more resilient. And environmental issues are a critical element of a safer recovery.
"If you can rebuild with nature in mind, it's going to be better for the environment and also better for people. "

Anita van Breda
Director, Humanitarian Partnerships
Together, WWF and the American Red Cross developed a training toolkit to support communities hit by disasters. The Green Recovery and Reconstruction: Training Toolkit for Humanitarian Aid helps communities rebuild in an environmentally responsible way. Communities can also use the toolkit for good green development, regardless of whether they have been hit by a disaster.
Organizations in Indonesia, Sri Lanka, Thailand, the Maldives, Haiti, Pakistan, and elsewhere around the globe have employed the toolkit techniques in helping communities rebuild and recover from tsunami, earthquake, hurricane, and flooding disasters.
On September 2nd, WWF and the American Red Cross (ARC) received the Green Star Award from the United Nations and Green Cross International, in recognition of this training toolkit. The prize was one of four Green Star awards presented during a ceremony in Geneva, Switzerland.
WWF's Anita Van Breda offers some answers about this important initiative.
Why was the toolkit created?
The toolkit is the product of a partnership between WWF and ARC, who worked together from 2005 to 2010 to help communities recover from the Indian Ocean tsunami. This was the first time WWF had partnered with a humanitarian agency at the scale and scope of the tsunami disaster. We took on the work because it spoke directly to our mission of helping people live in harmony with nature. If you can rebuild with nature in mind, it's going to be better for the environment and also better for people.
WWF and ARC developed new tools and techniques to help with the recovery. The toolkit was developed from 2008 to 2010 and involved collaboration with dozens of agencies to ensure a broad applicability to future scenarios.
What is an example of how the toolkit has been used?
When supporting tsunami impacted communities in the Matara District in Sri Lanka, ARC noticed several problems related to solid waste management. Waste management had been a problem before the tsunami, so it was important to make sure it was addressed in the reconstruction. Often, rebuilding the same way can inadvertently expose communities to future risk and vulnerability.
To address the issue, WWF and ARC worked with the community to start organic kitchen gardens and make compost for fertilizer. The composting required separating out the trash into organic and non-organics, which led to the reuse of the organic waste and safe disposal of other waste. Within several months, the community no longer had a trash problem. Families weren't spending as much on groceries, nutrition improved with fresh vegetables and fruits produced without chemicals, and the community felt better organized to tackle other issues that required a collective solution.
A young boy in Aceh Besar enjoys the piped water facility constructed by the Indonesian Red Cross Society (locally known as Palang Merah Indonesia) and its partners.

WWF staff assesses the building materials being used to reconstruct a community center in Aceh, Indonesia.

Two WWF staff people interview fishermen to inform the process of rebuilding fishing communities in Aceh, Indonesia.

Daniel Cima Ibnu Abas, 50, an Indonesia fisherman, lost his 13-year-old son, one of his seven children, to the tsunami. ARC provided the water and sanitation to his new house (built by the UN), and he and his children participate in ARC activities, such as training in handwashing and sustainable fishing.

ARC workers examine a neighborhood reconstruction site in Port au Prince, Haiti.

Daniel Cima Hafini, 45, sells eggplant in a Red Cross market, which allows vendors to sell fruit, vegetables, and fish in a clean, centralized area.
Where else has the toolkit been used?
WWF has used the toolkit to address recovery after the earthquake and tsunami in Chile in 2010, the flooding in Pakistan in 2010, and the flooding in Thailand in 2011. Now, we're using it again, with ARC in Haiti to help with the earthquake that hit there in 2010. The toolkit is open source, available on the Internet, so people are likely using it in various other places as well.
Does this toolkit help people adapt to climate change?
We are making a conscious effort to integrate disaster risk reduction with climate change adaptation, given that many disasters are climate-related. So, the toolkit does help communities improve their resilience to climate change in the rebuilding process; it's about helping people address risk posed by climate change.
Why are you interested in this work?
For me, it all started with fisheries and aquaculture, which I was working on before the tsunami. After the tsunami hit, I learned that some agencies were going to rebuild fisheries using outdated practices that did not reduce the environmental footprint of those activities.
That was an eye-opener. I knew there were alternatives that could mutually benefit people and the environment. For example, looking at the ecosystem as a whole, it was possible to get healthier shrimp, fewer expenses for farmers, and reduced pollution.
That inspired me to engage with agencies about integrated and holistic rebuilding options and possibilities. They were open to a dialogue, and that led to talking about how the environment is relevant to a range of issues involved with disaster response, including shelter, water and sanitation, livelihoods and disaster risk reduction.
What does this award mean to you?
It's an honor to have the toolkit recognized and I am so proud of the whole team who worked so hard to bring it to life. And the award not only recognizes the toolkit, but it confirms the legitimacy of integrating the environment into humanitarian work. To have agencies like the UN and Green Cross International recognize that is both professionally and personally immensely inspiring.
Urge your town to lead on climate change.
Learn more about: