Honey that Helps People and Orangutans
A community finds a way to build business and preserve habitat for critically endangered wildlife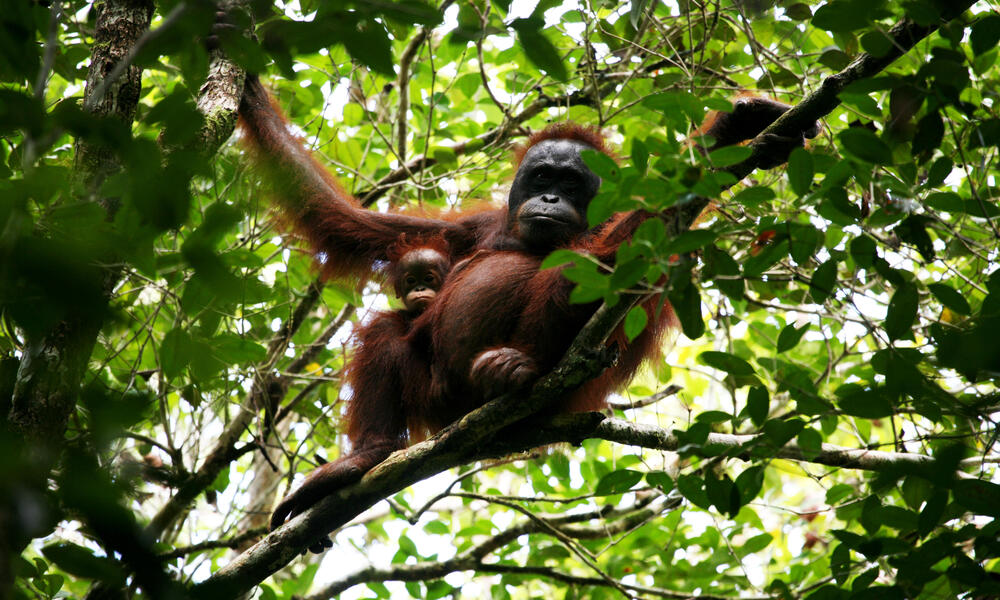 In Indonesia's Danau Sentarum National Park on the lush island of Borneo, critically endangered orangutans share the peat swamp forests with local human residents. But the orangutan populations have dropped by over 50 percent during the past 60 years, in part from poaching, and also because of habitat destruction from illegal and unsustainable forestry.
To address these challenges WWF works with communities to ensure sustainable alternative livelihoods for those who depend on the forests for survival. The result brings a much-needed reprieve for the orangutans.
"Collecting honey is part of our cultural heritage. It's a tradition. With WWF's help, we have made this activity more profitable and more sustainable."

Ronnie Mulyadi 31-year-old father of two and member of the Buku Tamu honey producers' association.
Borneo's Liquid Gold
With WWF's assistance, a program based on the collection and marketing of honey—an important part of local cultural heritage—was launched. Local honey producers in Danau Sentarum formed a honey collection business association and revised their practices to increase sustainability. Where they previously would have taken the whole hive to get the honey, they now follow rules that leave the core of the hive intact so the bees will be more productive.
Community members also recognize that these responsible collection practices protect the orangutans' habitat. Where producers once faced competition from orangutans for the bees' sweet treat, the association has now started placing man-made hives in wet areas, because orangutans don't like to swim. This is a practical solution, as lakes, rivers, and seasonally flooded forests dominate the park, which is home to the last vast area of freshwater swamp forest remaining in Indonesian Borneo.
"We want orangutans in the forest because they disperse the seeds for fruit trees," said Mulyadi. "If they are there, we know the forest is in good condition, and bees need a forest in good condition."
As well as benefiting bees and the livelihoods of local communities, more than 185 fish species that spawn among the tree roots and other aquatic plants thrive from this program. "The healthier condition of the forest has actually increased the fish population in the last three years, and that's our main source of income," said Mulyadi. "Last year we could really see the economic benefits because honey production protected the forest."
WWF continues to support this program, to protect the forest and its inhabitants, and ensure these resources remain abundant in the future.