Hong Kong Ivory Bust Underscores Global Scale of Wildlife Crime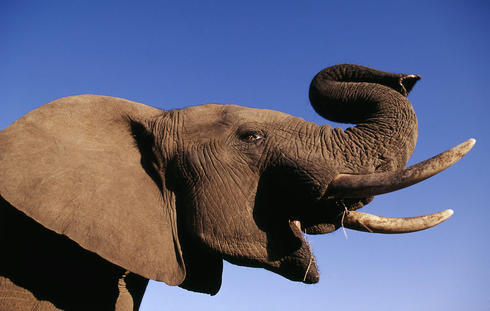 A major ivory seizure in Hong Kong uncovered roughly four tons of ivory products—estimated to be valued at over $3.4 million and potentially equivalent to 500 elephants. Last week, officials seized nearly 1,000 pieces of ivory, coming from Kenya and Tanzania via a complicated smuggling route that touched several transit points internationally to avoid detection. Seven people were arrested.
Coupled with the recent United Nations acknowledgement that illegal wildlife trafficking is now considered a form of transnational organized crime, this capture draws attention to the grave and unlawful worldwide poaching crisis.
The ivory seizure is a great victory for Chinese authorities who are keen to show that they are taking wildlife crime seriously. The demand in recent years for endangered species products in Asia has boomed due to growing economic wealth, and has resulted in a dramatic increase in the purchase of illegally traded ivory products.
"This seizure in China highlights the fact that wildlife trafficking networks are being operated by transnational crime syndicates that are cashing in on killing endangered species. Last year tens of thousands of elephants were killed for ivory, and trafficking reached an all time high since 1989. Political leaders and officials globally need to treat wildlife trafficking as a serious crime," says Crawford Allan, regional director of TRAFFIC, North America.
"Wildlife trafficking networks are being operated by transnational crime syndicates that are cashing in on killing endangered species"

Crawford Allan
Regional Director of TRAFFIC, North America.
Imminent risk of extinction
In July, WWF released its Wildlife Crime Scorecard, noting that widespread lack of enforcement by African and Asian countries is threatening the survival of elephants, rhinos and tigers. Inadequate enforcement of domestic ivory markets in China was highlighted in the report, indicating a failure by the country to effectively police its legal ivory markets.
"With so many large scale smuggling efforts we fear most for the future of elephants in Central Africa where this ivory may have been sourced from. While the officials in China are to be commended for their detection, we hope that they bring a prosecution where the penalty sends a strong message of deterrence to criminal groups that are targeting wildlife," says Allan.
With wildlife crime at record levels and several species at imminent risk of extinction, international governments took a united stand in Vienna, Austria last week, announcing that illegal wildlife trafficking will now be classified as a transnational organized crime (TOC) in need of a greater enforcement response. At a meeting of the United Nations Convention against Transnational Organized Crime, governing bodies passed by consensus a Resolution encouraging countries to further strengthen their domestic laws to prevent and combat crimes against wildlife.
Though wildlife criminals make huge profits from the illegal activity of poaching, they often face relatively low risk of arrest, prosecution and imprisonment. WWF is asking governments to treat this crime with the utmost priority in order to turn this high-profit, low-risk illegal activity, into a low-profit, high-risk liability.
The United Nations Convention against Transnational Organized Crime is the main international treaty dedicated to the fight against transnational organized crimes, including the drug trade and human trafficking. The treaty has been signed by 147 countries. Governments will once again take up the wildlife trafficking crisis at a UN Commission on Crime Prevention and Criminal Justice in April.