Hope for an End to Wildlife Crime
Crawford Allan has dedicated his career to stopping wildlife trafficking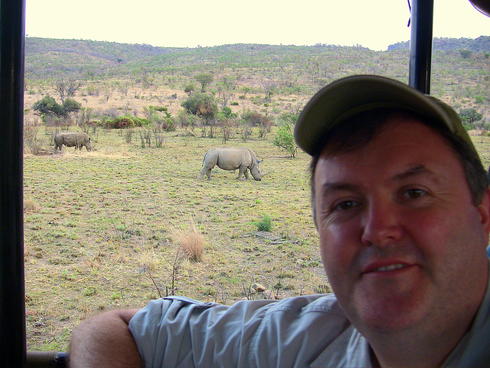 The bright blue glass eyes of the preserved baby chimpanzee head, placed on the coffee table as an ornament, was the first thing Crawford Allan saw when he walked into the lounge room. It was 1995 and Allan was assisting with a UK Customs raid of a global trafficker in taxidermy items. In that raid, he found thousands more body parts of endangered species—some killed to order illegally in the wild.
It was like a dead zoo. Allan spent several grueling months cataloguing the wildlife customs seized that day in order to help with the conviction of the trafficker. At that point he knew he must dedicate his life to help protect wildlife from the scourge of illegal wildlife trade.
For 20 years Allan has worked for TRAFFIC—the wildlife trade network that is a joint initiative of WWF and IUCN (International Union for Conservation of Nature). In that time he has driven efforts to investigate, expose and prosecute wildlife traffickers and leverage resources, shift policies and promote efforts to reduce illicit consumer demand.
"Partnerships, resources and awareness are paramount—we need a global movement—and that starts now, with commitment, one person at a time."

Crawford Allan
Regional Director, TRAFFIC North America
Obsessed with wildlife from an early age, Allan has translated his passion for the natural world into a long and fulfilling career. While he has seen the impact of illegal killing of rare species first hand and uncovered illicit wildlife trade in blackmarkets in dozens of countries, he remains hopeful. He knows that the efforts of conservation groups, governments and local and global communities can really start to counter the organized crime groups that are profiting from extinction. He is adamant to explain that there are never-seen-before opportunities to protect endangered species, including the rhinos and elephants at the center of a growing trafficking crisis.
"For the first time wildlife trafficking is now being recognized as serious organized crime that has wide reaching environmental, social, security and economic impacts. With that recognition comes the push to tackle wildlife crime like other crimes such as drug trafficking. It is now getting the level of attention it deserves from the top of the U.S. government and by the major international enforcement institutions like Interpol," says Allan. "I am sure that the work of organizations like WWF and TRAFFIC has had a key role in securing that new recognition."
Wildlife crime is getting more sophisticated as helicopters detect rhinos in South Africa and smuggling rings move seamlessly through international ports and airports. But at the same time, the sophistication of responses to counter wildlife crime is on the rise.
Allan is helping secure partnerships to use high tech unmanned aircraft capable of detecting poachers from high altitudes, even at night, and tracking them to their smuggling middlemen and crime bosses. He is a believer that this technology will revolutionize the ability to link illicit activity from poachers to traffickers and, as a result, help to disrupt the crime groups that have been operating with impunity.
"We are seeing the start of an era of unprecedented attention to wildlife crime, helped by initiatives like the WWF and TRAFFIC Stop Wildlife Crime Campaign, technological solutions and greater political will," explains Allan. "But we need help to make sure that we succeed. Partnerships, resources and awareness are paramount—we need a global movement—and that starts now, with commitment, one person at a time. I hope the people reading this will join us."