Inspirational leadership on the Rio Grande/Bravo
Federal botanist Joe Sirotnak helps restore and protect a river shared by two countries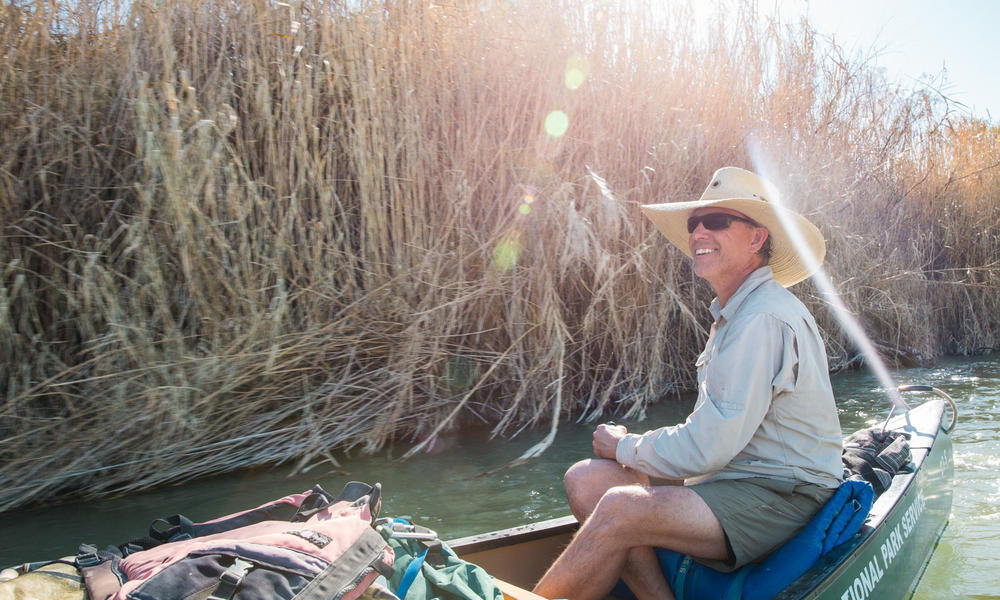 Joe Sirotnak never seems to tire. A federal botanist in Big Bend National Park, Sirotnak is working with his colleagues to restore and protect the Rio Grande/Bravo River. This involves removing invasive plants that threaten the natural environment, re-vegetating tributaries that fuel the river, and coordinating crews to help with all these processes. It's not a simple job, but Sirotnak is patient, dedicated and rarely dispirited.

"You work hard in hot temperatures in a remote, desert environment. It's challenging," Sirotnak said. "But we focus on the big picture—our shared objectives—and that's how we are able to succeed."

The Rio Grande/Bravo stretches 1,255 miles along the US-Mexico border and serves as the primary source of water for 5.5 million people. It's facing grim threats: dams, over-allocation of water resources, invasive species, pollution and climate change put the people and wildlife that depend on the river at risk.
WWF and partners are committed to restoring the river downstream of Presidio, Texas and Ojinaga, Mexico, where the Rio Grande/Bravo makes a "big bend" en route to the Gulf of Mexico.

Removing cane
One of the current priorities is to remove giant cane, an invasive, exotic plant that has established in dense stands on both sides of the river. Removing cane allows sediment to move downstream and helps return the river to a more natural, healthy state. But it's a hard job requiring physical labor, large crews, and careful coordination of workers on both sides of the border. Whenever possible, Sirotnak is there alongside the crews, even if he doesn't have to be.
When the partners joined forces, they turned to Rio Grande Scientific Support Services (RGSSS), a local consulting group, to help with the cane removal process.

"Joe was there the first time we went out, and he still comes whenever he possibly can," notes Jeff Renfrow, founder of the RGSSS. "When the cane removal trip falls on his day off, he still comes. He wants to help and be involved."

Sirotnak can't imagine not participating. "What am I supposed to do? Send our work crews into cane thickets without help? I can't let them have all the fun."

His dedication has earned him great respect amongst the crews. Even when Sirotnak is not present, they think of him. The crews say they are determined to remove the invasive cane—every last plant—and will put in extra effort for Sirotnak and his colleagues. It is the inspirational leadership of people like Joe Sirotnak that moves forward the shared mission of restoring and protecting our nation's rivers and other natural wonders.

Please join us in thanking the hardworking men and women who protect our rivers.