Knoxville's Sustainability Success Story
The Earth Hour City Challenge participant invests in efficiency and environmental responsibility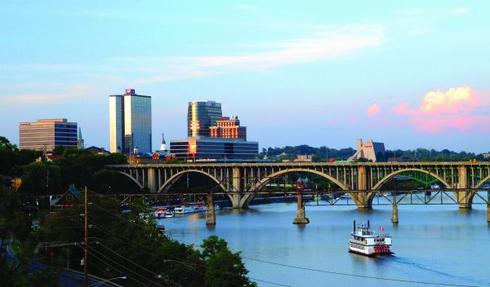 Susanna Sutherland, Director of the Office of Sustainability in Knoxville, TN, describes her town as a "show me" city. "For an effort to be successful, we must make the hard-core common sense case for it, and back that up with return on investment numbers," she explains.
Doing her job means asking three questions that Sutherland puts prominently on the office homepage: does it make sense for our community, will it improve our quality of life and is there a funding source available? With a history of demonstrated results and proven performance, more and more the answer to these questions is a resounding "yes."
"Knoxville is proud to be a WWF Earth Hour Challenge Partner because we've found that leadership in energy efficiency and sustainable best practice is good for the environment and good for taxpayers. "

Madeline Rogero Mayor of Knoxville
Sutherland brought her experience working in land and water management for the Tennessee Valley Authority and then with the city on its waterfront redevelopment planning to her position, which she has held for the last three years. The job includes leading Knoxville's efforts as one of 29 local governments taking part in WWF's Earth Hour City Challenge—an initiative encouraging cities to prepare for the local impacts of climate change and take steps to transition toward a 100% renewable energy future.
Knoxville Mayor Madeline Rogero, made it part of her 2011 election platform to grow Knoxville's economy by investing in efficiency and environmental responsibility. Reducing the carbon footprint improves public health while saving on utility bills and freeing tax dollars that the city can spend on more tangible assets to benefit local citizens.
Rogero's leadership has been supported by some key funding sources that have enabled Sutherland and her staff of one, Jake Tisinger, to deliver big results that belie their small department size. Knoxville became a U.S. Department of Energy (DOE) Solar City in 2008, which resulted in an increase in solar power from only fifteen kilowatts to more than one megawatt in three years. Further DOE funding allowed for other investments ranging from increased recycling to money-saving weatherization. Because of the success of these programs and the savings generated, the city has incorporated the Office of Sustainability into the annual operating budget.
Knoxville saw the value early in increasing our commitment to operating more responsibly and efficiently, and has seen very positive economic results because of that," Sutherland says.
2013 looks to be another big year for Knoxville. It won an IBM Smarter Cities grant to expand residential energy efficiency upgrades. It also became a partner in the DOE's Better Buildings Challenge. And they are proud to taking part in the first year of WWF's Earth Hour City Challenge. To Sutherland, the motivation is simple, "Many of our citizens encouraged us to become involved in the Earth Hour City Challenge, so we did. We think those same folks will support us moving forward."