Make or Break Year Ahead for South Africa's Rhinos
Continued strategic action needed at an international level to stop poaching crisis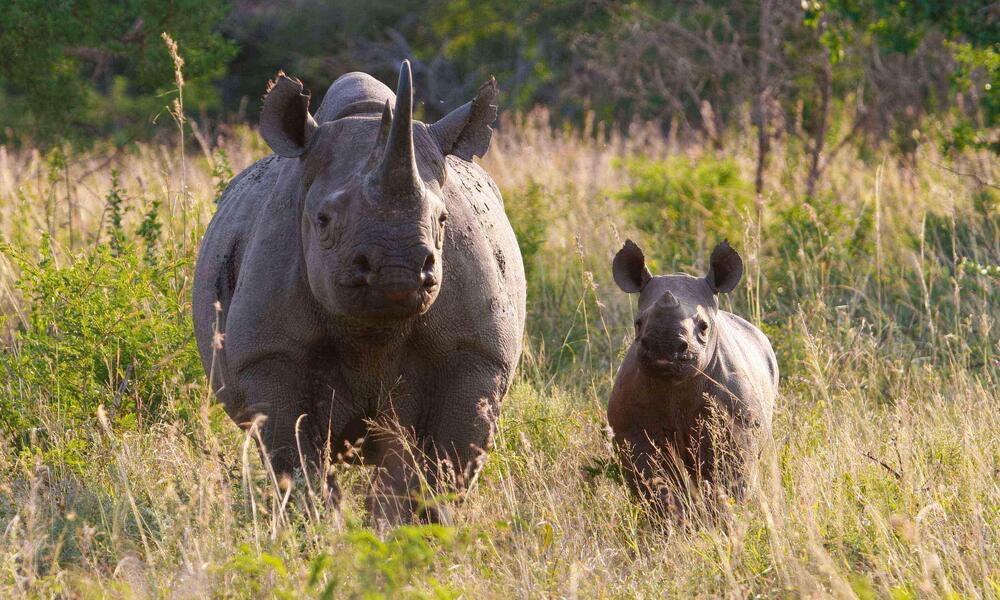 A total of 1,215 rhinos were illegally killed in South Africa in 2014, according to South African officials. This is a staggering increase of 21 percent over the record 1,004 poached in 2013.
Kruger National Park, which holds the majority of the country's rhinos, remains the epicentre of illegal activity; it lost 827 rhinos throughout the year, representing nearly two-thirds of all the animals killed. South Africa is home to approximately 20,000 rhinos— more than 80 percent of the world's rhinos.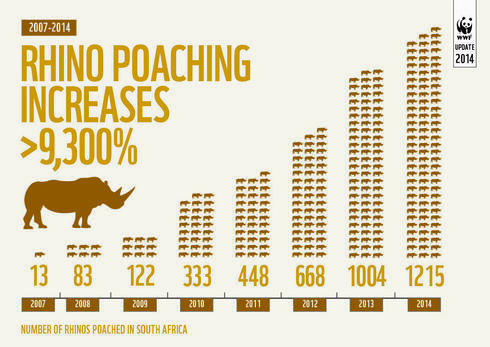 South Africa has a number of recent law enforcement successes
The Department of Environmental Affairs announced that 386 poachers were arrested during the year, thanks largely to the dedication and commitment of its rangers. In December 2014, the leader of KwaZulu-Natal's biggest rhino-poaching syndicate was arrested in a joint operation between the Special Task Force, Asset Forfeiture Unit, Crime Intelligence, Organised Crime Unit, Nyathi Anti-poaching Unit and Ezemvelo KZN Wildlife.
Global action for a local crisis
International wildlife crime is driving the rhino poaching crisis in South Africa. While WWF has helped to strengthen the global response on this issue and is committed to helping stop the poaching, stronger action is needed by the international community.
"Action is needed at the highest levels working along the entire supply chain, from anti-poaching units protecting rhino on the ground, to disrupting wildlife trafficking syndicates and addressing consumer behavior in Asia if we are to realize a real and tangible reduction in rhino losses," said Dr. Jo Shaw, Rhino Program Manager for WWF-South Africa.
WWF and our partner organization TRAFFIC have launched demand reduction efforts in countries such as Vietnam and China, where rhino horn is sought after as a luxury item. We are also calling on the governments gathering for a global wildlife crime conference in Botswana in March to take further steps to fight the illegal trade and save the rhino—and other critical species—from international traffickers.
Toward rhino recovery
WWF is confident that rhinos can recover from the poaching crisis and thrive in South Africa.
Over five decades of conservation experience has taught us that we need to protect rhinos where they exist; incentivize community stewardship of rhino populations; manage populations for maximum growth; and establish new populations in suitable locations for maximum protection and population growth.
This formula is achievable, but it requires political will globally, as well as additional resources to see the plan through.
"It is my hope that poaching in South Africa will decline in 2015 as a result of the actions we have taken, but we as an international community must do more," said Matthew Lewis, African Species Expert at WWF-US. "South Africa is nearing a tipping point where rhino deaths could outpace births if poaching continues to increase—and this will lead to a swift decline in rhino populations that could put a full stop on rhino recovery."