Marine Expedition Reveals Fascinating Species and Urgent Need for Protection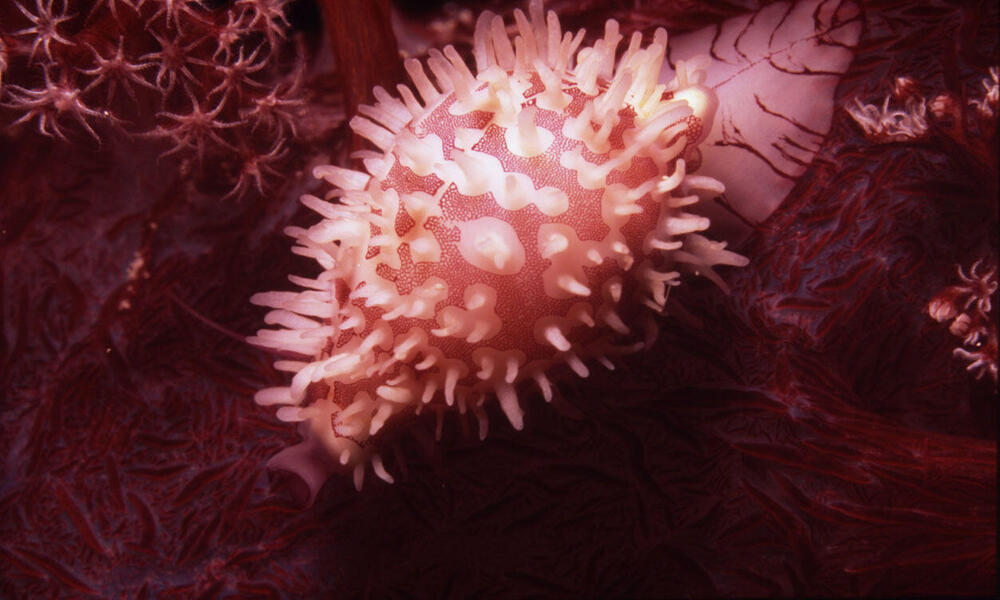 The ovulid sea snail boasts a remarkable ability to camouflage itself by taking on the appearance of its favorite food—corals. A new underwater survey by WWF and other scientists recently found at least 25 different species of these beautifully colored and patterned snails in an area of the Coral Triangle.
The two-and-a-half-week survey was part of a scientific expedition to explore the underwater world of Tun Mustapha Park—a proposed marine protected area. Lying off the northern coast of Malaysia, the park would cover nearly four thousand square miles (nearly the size of Connecticut).
In addition to stunning coral reefs, Tun Mustapha Park area is home to endangered dugongs and marine turtles and includes a major migration route for whales. Nearly 80,000 people from a diversity of ethnic groups inhabit the coastal region and rely on its marine resources.
An Urgent Need for Conservation
The scientific expedition, funded in part by the Coral Triangle Support Partnership, aimed to document the health of Tun Mustapha Park's coral reefs and the diversity of species found there. The expedition also met with local communities to raise awareness about the park and the benefits such a protected area could provide.
Despite bad weather and difficult diving conditions, the team found a fascinating range of species:
• 80 types of corals
• 430 reef fish species
• 25 sea snails
• 130 different seaweeds
The expedition also raised concerns as overall reef health was only fair to good, with less than ten percent of the reefs surveyed showing strong coral cover. There were signs of reef stress from overfishing and destructive fishing methods. Dynamite blasting was heard while they were diving—a practice used to easily obtain a quick catch of dead fish, but one that leaves behind mass destruction of broken corals.
Sharks and turtles—indicators of a healthy marine environment—were scarce. There were also low numbers of both commercial fishes and invertebrates, such as sea cucumbers and giant clams.
Such information on fish stocks has not been collected before and can now be used to protect fish nursery grounds (including yellowfin and skipjack tuna) and help declining stocks recover. The data from the expedition will also be used to inform park zoning plans that could impact the fragile coral reefs.
WWF Contributes to Protection of Marine Environments
WWF has worked to help develop the Tun Mustapha Park's management and conservation plans in order to ensure protection of its marine habitats and fisheries. The region holds countless marine treasures and this survey shows the critical need to manage such resources sustainably. By doing so, we can protect its rich diversity and provide sustainable fisheries for the future.
Scientists from the expedition found 80 different coral species, including this mushroom coral.

Cuttlefish (a relative of squid and octopuses) hovers above coral reef in Tun Mustapha Park. The marine area is home to a wonderful diversity of animals such as this, as well as endangered dugongs and marine turtles.

The expedition documented low numbers of commercially valuable invertebrates, such as this giant clam. This could be because too many are being collected for consumption.

This odd looking blob is actually an animal called a sea cucumber (a starfish relative). Sea cucumbers are a popular food item for trade in Asian markets; however their numbers are being depleted by overfishing.

The proposed Tun Mustapha Park contains large areas of coral reefs, which the expedition found to be in only fair to good condition overall. There was evidence of reef stress from overfishing and destructive fishing.

A colorful reef fish hides within a patch of hard coral in Tun Mustapha Park. The scientists found that overall reef health was only fair to good, with less than ten percent of the reefs surveyed showing strong coral cover.

This village leader sees the proposed protected area as an opportunity for ecotourism and alternative income for villagers. He also emphasized, "We have to find ways to protect our fishery resources. We need to find ways to raise our living standards."