Moving Asia toward Zero Poaching
WWF's Barney Long on a better future for people and wildlife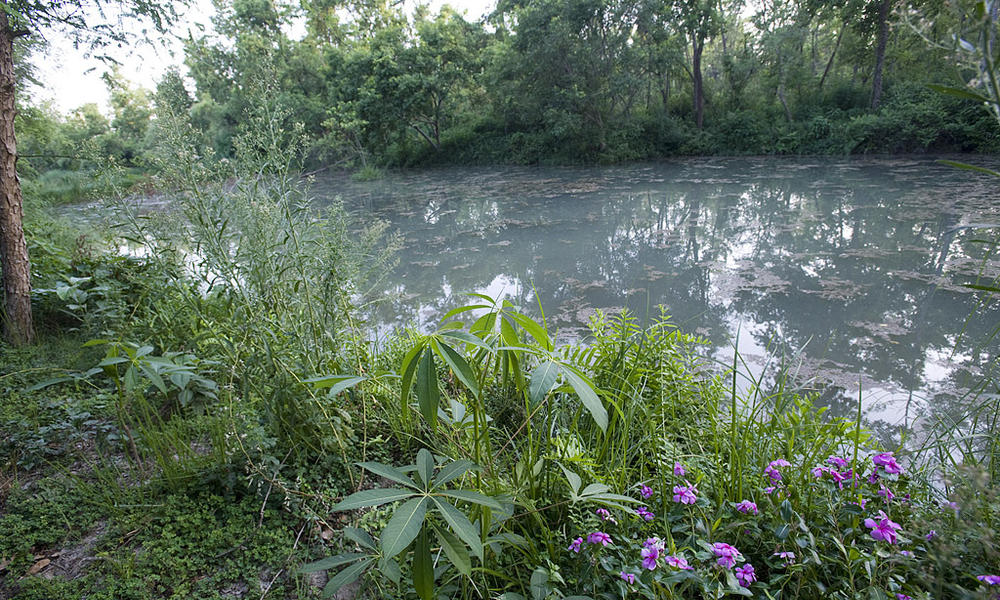 Date: February 12, 2015
Author: Barney Long
"Together, we laid the foundation for a future where zero poaching could be a reality not just for Nepal, but all of Asia."

Dr. Barney Long
Director, Species Protection and Asian Species Conservation
A week ago, I stood on the boulder-strewn banks of the Babai River that runs through a beautiful valley deep in the heart of Nepal's Bardia National Park. This is the protected area that had seen a dramatic rise in wild tiger numbers, a direct result of the country's unwavering dedication to achieving zero poaching. It will also soon be home to a new population of translocated rhinos.
I was there with WWF's Shiva Raj Bhatta, Major B. Niroula from the Nepal Army and Ashok Bhandary, acting chief warden of the national park. They pointed to a twisted steel pipe rising out of the ground. It was all that remained of a remote antipoaching post, which was swept away in a terrifying flood just 6 months ago. Two soldiers lost their lives that night. Despite the tragedy, the conservation work had not stopped. These frontline staff are part of a team eager to rebuild and completely committed to Nepal's zero poaching efforts.
This Himalayan country has earned the distinction of achieving two continuous twelve month periods of zero poaching in the last four years. It made them the best possible host for this month's Asian symposium with that singular focus.
Thirteen Asian countries came together to share the best enforcement tools, approaches and standards including new technology innovations by the Nepal Army that allows for real time patrol data feeds into the innovative SMART patrol monitoring and analysis software. Critically, the participants agreed to an integrated response to preventing poaching including engaging communities, building front-line staff capacity, enhancing prosecuting and inter-agency cooperation. To achieve zero poaching we must work on all pillars of this integrated response simultaneously; something that resonated throughout the symposium and something that was so abundantly clear is what has led to the success of Bardia National Park.
At the closing session, representatives from all 13 countries—Bangladesh, Bhutan, Cambodia, China, India, Indonesia, Laos, Malaysia, Myanmar, Nepal, Russia, Thailand, and Vietnam—unanimously agreed to launch an immediate regional response to achieve zero poaching based on five recommendations:
Swift and decisive action to elevate the importance and effectiveness of antipoaching initiatives and cooperation among all relevant ministries, departments and agencies within their borders, while at the same time strengthening international cooperation in the face of this serious criminal activity.
Adoption of the Zero Poaching Tool Kit and assessment of current antipoaching responses to determine improvements and close serious gaps.
Increase and improve collaboration as a successful antipoaching response is critically dependant on effectively engaging a diverse number of shareholders
Improve standards, training and support for rangers, other frontline staff and prosecutors.
Commit to identifying a Zero Poaching national contact point to effectively coordinate transboundary efforts to stop poaching.
WWF co-hosted the symposium with the Global Tiger Forum, National Trust for Nature Conservation and the South Asian Wildlife Enforcement Network. Partner NGOS and other organizations included IUCN, TRAFFIC, CITES, UN Office on Drugs and Crime, US Department of Justice, SMART Partnership and the Southern African Wildlife College.
Together, we laid the foundation for a future where zero poaching could be a reality not just for Nepal, but all of Asia.
I leave Kathmandu feeling incredibly hopeful for the future.
Major B. Niroula receives thank you cards for rangers created by WWF supporters. These rangers serve inside the remote Babai valley in Bardia National Park, Nepal.

A ranger at work inside Bardia National Park.

The site of an antipoaching post that was recently swept away by a massive flood in Bardia National Park.

Barney Long takes a close-up photo of a tiger's footprint in Nepal's Bardia National Park—a protected area that recently boasted a big increase in tiger numbers.

Babai valley, deep inside Bardia National Park, will soon be home to a new population of rhinos translocated from Chitwan.