Namibia's Sustainable Tourism Success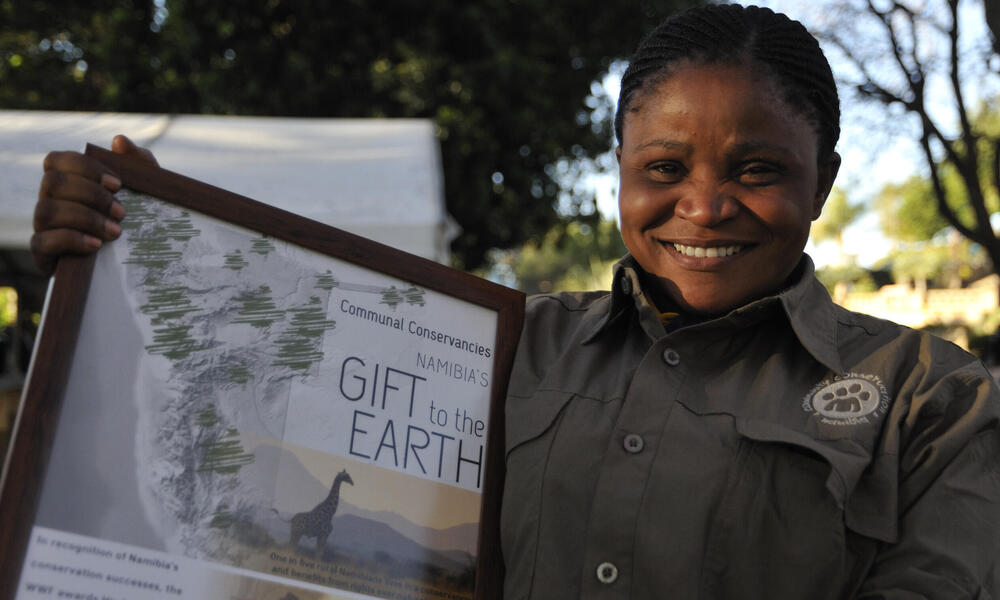 On a beautiful Saturday afternoon, purple blossoms from Jacaranda trees fell on the delegates gathered at the Parliament Gardens in Windhoek, Namibia for the opening of the tenth Adventure Travel World Summit (ATWS).
The ATWS, organized by the Adventure Travel Trade Association (ATTA), is held annually in key places around the world to promote responsible and sustainable tourism. For the first time, ATTA chose Africa as its gathering spot, and ATTA president Shannon Stowell took the podium during the opening ceremony to answer the question: "Why Namibia?"
REI gifted gear kits to Namibia's frontline wildlife guardians.

REI equipped 500 frontline wildlife guradians in Namibia.

Namibia received the Gift to the Earth Award.
"Imagine the world in 50 years' time: the loss of species, habitat and culture," Stowell said. "Namibia has the opportunity to become an example to the world as an unspoiled destination. The summit will place Namibia on the world tourism map, and we are here to affect how tourism works in the future."
Driving home Stowell's point about the need to keep Namibia unspoiled, REI, a travel gear retailer and also a global leader in guided active adventure travel, presented Namibia's Community Game Guards with its 2013 Sustainable Tourism Award. Through the award, 500 of Namibia's frontline wildlife guardians received REI gear kits.
"For two decades, Namibia's community game guards have protected the iconic wildlife this unique country offers to travelers," said Chris Weaver, WWF-Namibia Managing Director. "They've made Namibia an inspiring destination and success story in Africa's struggle against poaching—and they've been doing it with minimal equipment much of that time. World Wildlife Fund is grateful to REI Adventures for this incredible gift and for helping the game guards be even more effective as Namibia's frontline protectors."

Namibia's gift to the earth

As part of the summit, WWF presented a Gift to the Earth Award to Namibia for its conservation efforts, which are linked to responsible tourism. Chief Anyaoku, past President of WWF-International and Deputy Secretary General of the Commonwealth, presented the award to Namibian President Hifikepunye Pohamba.

WWF makes this award for exceptional conservation achievements, which are a role model to the world. The conservation movement has flourished across much of Namibia and led to a remarkable recovery of wildlife. Today there are 79 communal conservancies covering 20% of Namibia. These conservancies are legally recognized by the government and run by local communities. And sustainable tourism is one of the keys to their success.
More than 20 other countries have now visited Namibia to learn from its model. During the award ceremony, the crowd roared when Chief Anyaoku pointed to communal conservancies having the world's largest population of free-roaming black rhino, and expanding populations of lion, elephant and cheetah.

Helping people, too

Chief Anyaoku also explained that communal conservancy members benefit directly from tourism. In 2012 alone, benefits amounted to 55 million Namibia Dollars (US$6.6 million).

President Pohamba said he accepted the Gift to the Earth Award on behalf of the Namibian people, especially community game guards, those in the front line of conservation, stating, "Your work has not gone unnoticed." President Pohamba noted that Namibia's arid eco-systems are as fragile as they are beautiful, and that Namibia, the first country to write environmental protection into its constitution, has a responsibility to conservation. Legislation has led to the sustainable use of wildlife in conservancies, which have brought positive economic benefits to rural communities.

As Nama, San, Himba, Kavango and Owambo groups danced to beating drums, another award took place. The conservancy game guards at the heart of conservation were given framed posters celebrating the Gift to the Earth—a gift that they, as much as anybody else, have given.