New camera trap photos in Thailand reveal a wildlife haven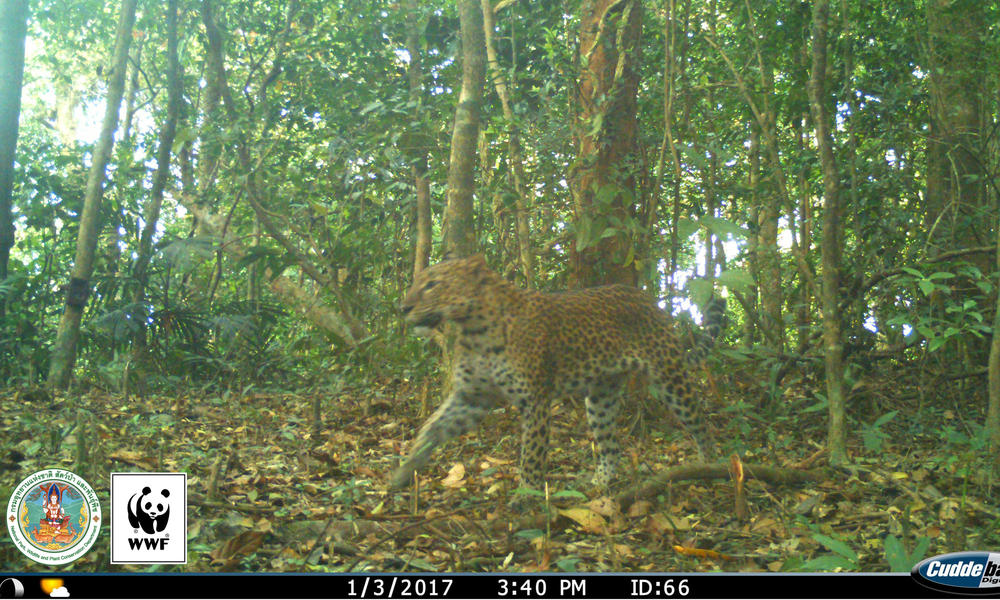 The leopard doesn't seem to notice. Neither does the family of elephants, nor the grazing tapir. But in the dense forests of Kui Buri National Park, located in Thailand's Tenasserim Hills, a hidden camera trap is busy snapping photos of each animal that passes by.
Camera traps are just like regular cameras, except they're triggered by infrared sensors to take photos or videos whenever they sense movement. In recent years, researchers at WWF-Thailand have been using these specially adapted devices throughout Kui Buri to capture images of various species on film, which helps them to determine which animals—and how many—are present in the region. They also allow scientists to track and monitor wildlife movement.
Elephants

Elephant (Elephas maximus)

Tapir

Tapir (Tapirus indicus)

Sun Bear

Sun Bear (Helarctos malayanus)

Pig-tailed Macaque

Pig-tailed Macaque (Macaca nemestrina)

Leopard

Leopard (Panthera pardus)
Kui Buri National Park is one of 21 national parks and wildlife sanctuaries that make up the important Dawna Tenasserim Landscape that straddles the border of Thailand and Myanmar. Covering more than 5.6 million acres, the Landscape is one of the largest protected area complexes in southeast Asia and provides vital habitat for an astounding array of wildlife, including sun bears, tigers, and Asian elephants.
Since 2005, the Kui Buri Wildlife Conservation Program has been working to protect wild elephants and other wildlife in the park. A collaboration between WWF-Thailand and the Department of National Parks, the project supports critical habitat restoration, anti-poaching patrols, and robust wildlife monitoring efforts to protect local elephant populations, in addition to preventing and mitigating human-wildlife conflict.
Human-elephant conflict was once a regular occurrence around the park, which is surrounded by farmlands to the south and east. Elephants would often venture into local pineapple fields in search of a snack, which led to significant losses for farmers and danger for elephants that faced retaliation. Today, WWF and park staff engage local farmers and communities to encourage sustainable land use planning, stop human encroachment into elephant habitats, and work together to reduce human-elephant conflict.
Thanks to their efforts, elephant deaths have declined dramatically since 2010. Elephant habitat and prey for tigers have also improved drastically in key regions, bolstering wildlife populations.
Learn more learn about how WWF is using camera traps for conservation: