New Hope for Javan Rhinos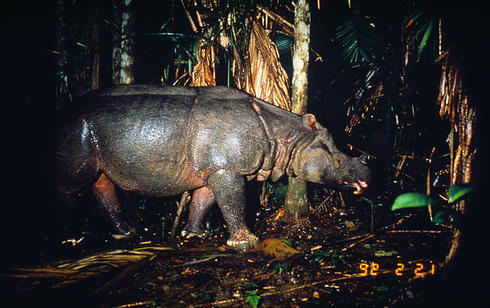 Indonesia is home to the only population of Javan rhinos left on the planet. Only about 40 of these rhinos exist there—making the Javan rhino one of the rarest mammals in the world.
With such a small population, the threats faced by the Javan rhino are even more menacing. An outbreak of disease, a tsunami, an eruption of the nearby Anak Krakatau volcano or a concentrated poaching epidemic could wipe out this species forever.
Rhino poaching has drastically increased around the world in the past few years due to high demand for rhino horns in Vietnam: All rhinos—African and Asian—are threatened by this devastating trend. Vietnam's Javan rhinos were confirmed extinct in 2011 after the last rhino was killed by poachers.
Year of the Rhino
Indonesian President Susilo Bambang Yudhoyono declared June 5th, 2012 as the start of the International Year of the Rhino. This was in response to the rising demand for rhino horn and increased pressures on both the Javan and Sumatran rhino, another species of rhino also found in Indonesia. His declaration comes as WWF celebrates 50 years of conservation work in Indonesia.
"WWF's first project in Indonesia included work on the Javan rhino. It is an important part of our history and WWF along with our partners have come up with a solid conservation plan that, with help from the Indonesian government and our partners in Indonesia, will ensure that the Javan rhino is also a part of our future," said Dr. Barney Long, WWF Asian species expert.
WWF, International Union for Conservation of Nature (IUCN), the International Rhino Foundation and other conservation organizations are focusing on the plight of rhinos in Indonesia during this Year of the Rhino. Together, our commitment aims to secure:
Greater resources set aside for protection of remaining rhino populations
High-level commitments from decision makers to conserve rhinos
Constant monitoring of all rhino populations in Indonesia
"WWF's first project in Indonesia included work on the Javan rhino. It is an important part of our history and WWF along with our partners have come up with a solid conservation plan that, with help from the Indonesian government and our partners in Indonesia, will ensure that the Javan rhino is also a part of our future. "

Barney Long
WWF Asian species expert
What WWF is Doing
Because the Javan rhino population is so small and isolated, WWF and its partners are seeking wide agreement and political endorsement for a new, safe and healthy Javan rhino habitat. The long term plan will be to move a few rhinos to that area in order to establish a second population. Establishing a new population of Javan rhinos will help to protect the species from being wiped out by a single disastrous event—poaching, disease, natural disasters—and hopefully bolster the breeding rate while bringing increased viability to the overall population. WWF is also working to:
Support Rhino Protection Units that patrol the park and help keep safe from poachers
Manage invasive species that are degrading the habitat of Javan rhinos
Conduct ongoing research to learn more about the rhinos
Support ecotoursim in Ujung Kulon National Park
Work with local communities to create opportunities for additional income