Obama's Lifeline to Africa's Park Rangers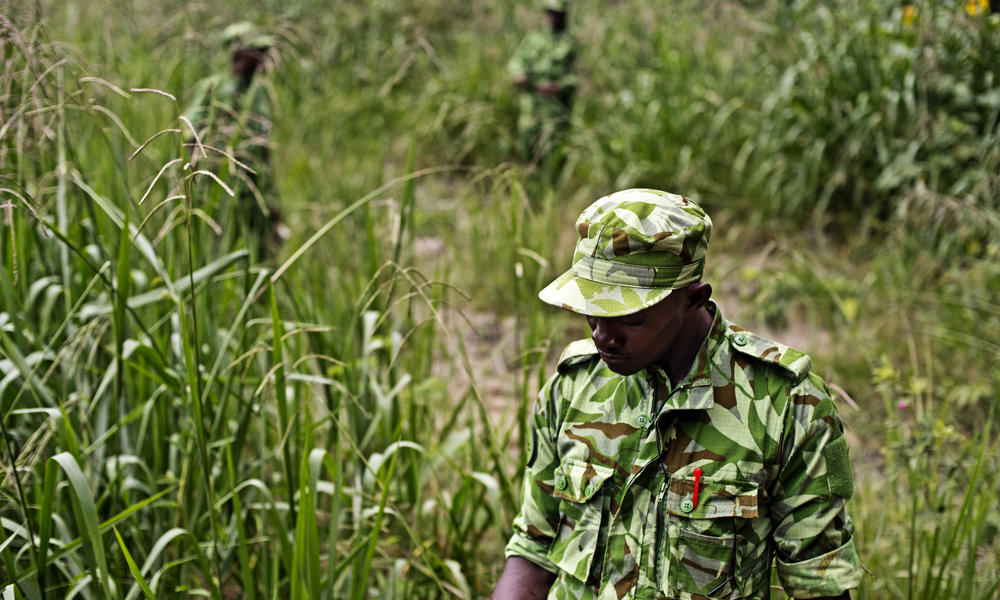 Date: July 15, 2013
Author: Carter Roberts, President and CEO, WWF
There are few jobs more dangerous than those of park rangers protecting wildlife in Africa. For those individuals, whose job it is to monitor and protect the continent's majestic wildlife, the gravest danger of all comes from illegal wildlife traffickers who trade in nature's masterpieces. Every year, wildlife worth billions of dollars is bought and sold around the world—and the rarer the prize, the higher the price.
Rangers and other frontline wildlife protectors are outgunned, outmanned and paying a heavy toll to feed an ever-growing demand, mostly from Asia, for animal parts. Species such as elephants and rhinos are being massacred for nothing nobler than vacation trinkets, hangover remedies and false promises of miracle cancer cures.
According to The Thin Green Line Foundation, 1,000 rangers lost their lives in the line of duty over the past decade. That's one ranger murdered every four days.
A boost from President Barack Obama
These rangers received a critical boost when President Obama announced major new steps to help stem the illegal wildlife trade, including the development of a Presidential Task Force on Wildlife Trafficking and $10 million in critical new support for regional and bilateral assistance in Africa. The president's Executive Order gives those on the ground critical help and comes on the heels of action by former Secretary of State Hillary Clinton and current Secretary of State John Kerry to make this issue a top priority.
"Poaching and trafficking is threatening Africa's wildlife."

President Barack Obama President, United States
"Poaching and trafficking is threatening Africa's wildlife," President Obama said during a recent state visit to Tanzania. His Executive Order pointed out how poaching operations have expanded beyond small-scale, opportunistic actions to coordinated slaughter commissioned by armed and organized criminal syndicates.
The president's bold step will create a high-level group -- helmed by Interior, State and Justice Department leadership -- along with a new external Advisory Council. He directed the task force to develop a national strategy within six months to fight wildlife trafficking and consider how the U.S. transnational organized crime strategy can be used to combat the issue, just as it does with other serious crimes like human trafficking and arms trafficking.
This is welcome news, because wildlife crime is a low-risk, high-reward criminal enterprise -- the potential for huge profits is high, while the chances of getting caught or being prosecuted are very low. And even when prosecuted, wildlife poachers and traffickers often get light sentences. Last July one of the biggest illegal ivory busts in New York history took place in the heart of Manhattan when more than $2 million dollars of illicit ivory was seized from two jewelry stores. The owners were fined just $55,000.
Committing to end wildlife crime
In the past year, we have seen the president of Gabon, the president of the African Development Bank, the UK government and the prime minister of Thailand make strong commitments to fight wildlife trafficking.The United Nations Security Council has formally recognized that money from trafficking in ivory is funding groups in Africa linked to terrorist organizations. And now President Obama's commitment needs to be matched at the highest levels in those countries that are involved and by countries that can help influence the trade.
Several years ago I visited Dzanga Bai -- 'village of elephants' -- in the jungles of the Central African Republic. Dzanga Bai is part of a tri-national World Heritage Site and has had protected area status for decades. I saw entire families of forest elephants feeding off the rich minerals in the soil. Males challenged each other for the choice mate and females trumpeted after their offspring. It was easily one of the most spectacular places I have visited in my lifetime.
In May, Dzanga Bai was attacked by poachers -- 17 men armed with Kalashnikov rifles slaughtered 26 elephants, leaving their bodies to rot in the unforgiving sun after hacking out the tusks for the ivory. The rangers at Dzanga Bai barely escaped with their lives.
It is almost inconceivable that a place as remote, sacred and seemingly well-protected as Dzanga Bai could become a killing ground -- an "elephant mortuary," as sources on the ground described it. It is an all-too-real example of why President Obama's Executive Order is so necessary and so important. We need more bold leadership like this -- to accompany and fortify the heroic work of local rangers.
This story was originally published on The Huffington Post.