On World Wildlife Day, give your stamp of approval to conservation funding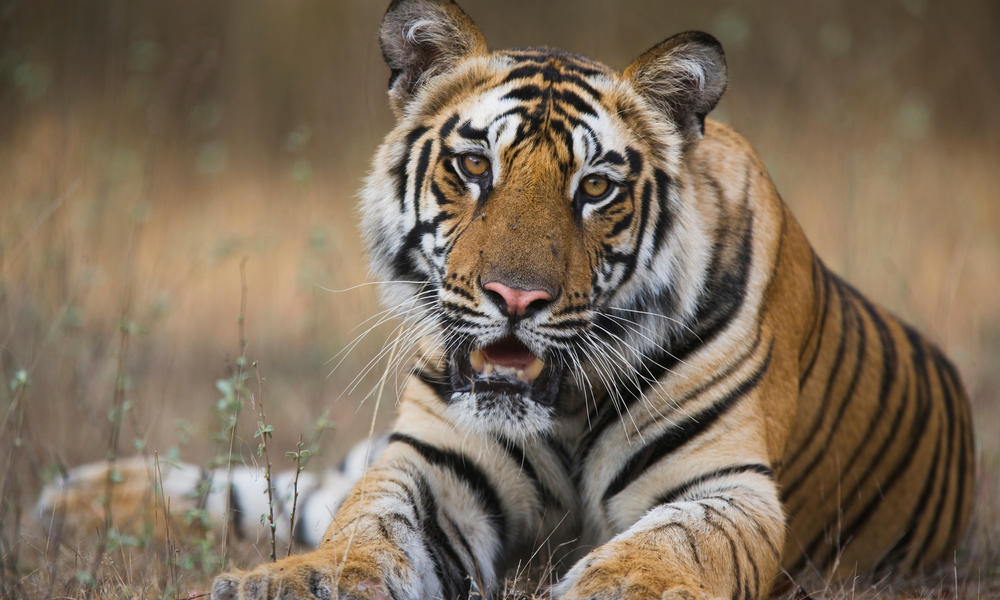 Tell Congress: Help Save Vanishing Species
The Save Vanishing Species Semipostal Stamp helps support programs to protect elephants, rhinos, tigers, great apes and marine turtles around the globe.
Take Action Now
Today we're celebrating the fourth-annual World Wildlife Day—a time to reflect on the amazing diversity of wildlife on our planet and recommit to conservation.
In the past year alone, we've had much to applaud when it comes to protecting wildlife and wild places: both the US and China began implementing elephant ivory bans to reduce poaching; the global wild tiger population rose for the first time in 100 years; giant pandas were removed from the endangered species list; and the US Congress passed the first comprehensive legislation to address the global poaching crisis, the END Wildlife Trafficking Act.
But many wildlife populations around the world still face serious challenges to their survival.
That's why on this World Wildlife Day, we're asking our US representatives to continue the nation's legacy as a champion for conservation by supporting wildlife conservation programs and renewing the Save Vanishing Species Semipostal Stamp, commonly referred to as the "Tiger Stamp."
Featuring an Amur tiger cub, the Tiger Stamp helps boost funds for the Multinational Species Conservation Funds, which support programs to protect elephants, rhinos, tigers, great apes, and marine turtles in the wild. More than 35 million stamps have been sold at a premium through the U.S. Postal Service since it first went on sale, raising about $3.7 million for international conservation efforts at no cost to US taxpayers. The premium that postal customers choose to pay goes directly into the conservation funds and helps to protect imperiled species where they live.
"The US fills a critical leadership role in international wildlife conservation—a role that has historically benefited from a broad bipartisan consensus," said Leigh Henry, senior policy advisor for wildlife conservation at WWF. "The fight to save some of our most iconic species is not a short-term battle; it requires long-term commitment and support."
Congress created the Tiger Stamp in 2011 and renewed it in 2013, extending its life for an additional four years, through 2017.
Unfortunately, this fantastic stamp program will expire this year unless Congress acts to again reauthorize it in 2017. Congressional champions in the House and Senate have just introduced new legislation that would extend the stamp for another four years.
Do your part this World Wildlife Day. Tell your Members of Congress to sign on to renew the Tiger Stamp. And choose tiger stamps when you buy postage.
1900: The Lacey Act

Congress passes the Lacey Act which prohibits trade in wildlife, fish and plants that have been illegally taken, transported or sold in violation of US or foreign law. In 2008, the Act was amended to include plants and plant products such as timber and paper. This landmark legislation is the world's first ban on trade in illegally sourced wood products.

1973: Endangered Species Act

Congress passes the Endangered Species Act, signed into law by then President Nixon. The Act prohibits the import of species protected by the law and also most takings, exports, and sales in interstate and foreign commerce of those species.

1975: CITES

The US hosts the negotiations for a landmark treaty—the Convention on International Trade in Endangered Species of Wild Fauna and Flora (CITES, also known as the Washington Convention)—that works to ensure that the international trade in plants and animals does not threaten their survival in the wild.

2014: National Strategy on Combating Wildlife Trafficking

In response to the most recent global poaching crisis, the White House releases the first-ever National Strategy on Combating Wildlife Trafficking. The strategy is to be implemented by a federal Task Force representing 14 agencies and supported by an external Advisory Council, which includes WWF as a member.

2016: END Wildlife Trafficking Act

Congress unanimously passes the END Wildlife Trafficking Act as the first comprehensive US law to address wildlife trafficking, including increased criminal penalties, and support to countries working to conserve their wildlife populations and combat wildlife crime.