Passion for Conservation
WWF's David Greer went to Africa to study great apes. Along the way he found true love.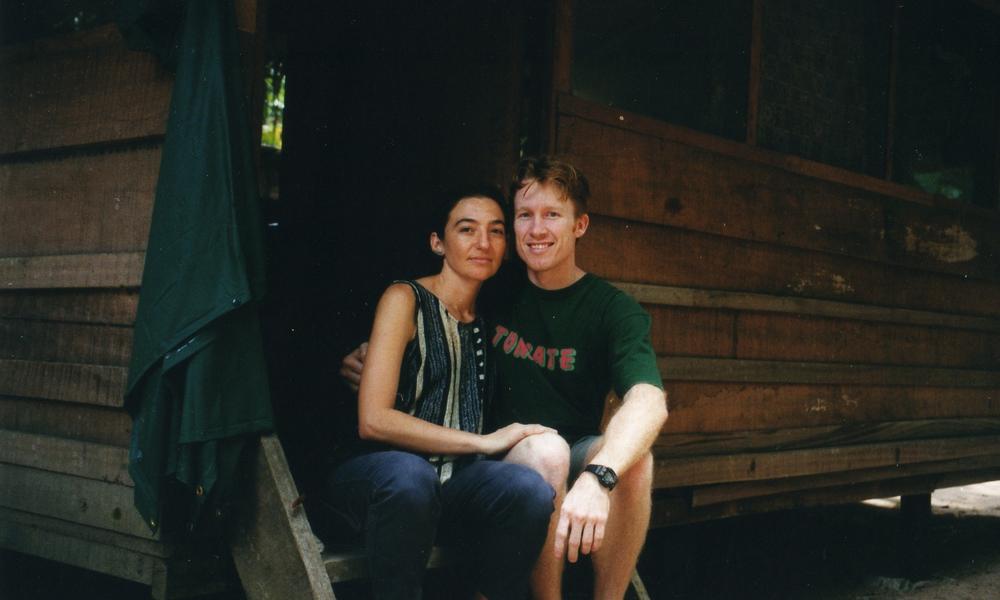 David Greer's passion for great ape conservation took him on a path from Kansas to Africa. It also led him to love.
The primatologist left the United States in the early 1990s to work for the legendary Jane Goodall in Tanzania. Meanwhile, on the Ivory Coast, Chloe Cipolletta, an Italian economist's daughter, was living in a forest with chimpanzees in order to track them and collect research data.
It would take a few years—and WWF—for their paths to cross.
By 1998, Greer was habituating a group of lowland gorillas for research in Dzanga-Sangha Protected Areas in the Central African Republic. That same year, Cipolletta joined WWF's program to develop a primate habituation program for ecotourism. Although they were based in two different and remote study sites, they would often meet at the WWF field office.
"I guess you could say our passions just meshed," says Greer, his blue eyes crinkling with a smile.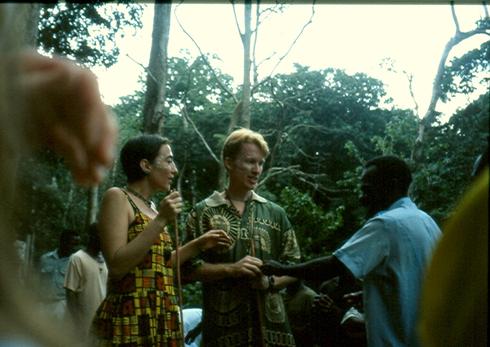 It didn't take long for the two to consolidate their research and lives together. Greer left his site—a day's boat ride followed by a 15 mile hike into the forest—to join Cipolletta at Bai Hokou. The large natural clearing had a water source, making it ideal for studying gorillas, elephants and a myriad of other wildlife. The site also boasted a wooden structure with mosquito netting and a bamboo roof, a marked improvement from the tent that David called home for several years.
Cipolletta and Greer worked closely with the BaAka (pygmy) people, whose intimate knowledge of the forest and expert ability to locate the gorillas helped establish the habituation process. The great apes slowly began to accept human observers as neutral elements, which set the foundation for gorilla tourism at Dzanga-Sangha in 2001.
It seemed only natural that when Cipolletta and Greer decided to marry in 2001, they married in the place they loved best. The traditional BaAka ceremony took place under the trees of Bai Hokou, officiated by chief Mokonjo and surrounded by their BaAka friends.
"It was quite funny because the ceremony took roughly 15 seconds and it ended with about two days of dancing and partying," says the 43-year-old. "There were no expensive rings to be exchanged or anything like that and when it came time to make an exchange of some kind, it was a stick. It was well-carved but just a stick and thats the way the BaAka cement their bond."
Almost twelve years later, their commitment to conservation and each other has yielded several successes.
Two gorilla groups and a large community of over 100 agile mangabey monkeys were habituated, bringing in thousands of tourists and a number of documentary films to Bai Hokou.
They also welcomed Sami, their own little boy into the world.
"He's quite an amazing character and there's no doubt he will dictate what we do next," says Greer, not without a little pride in his four-year-old.
As for their two sticks from the wedding, well, they found their way back to United States.
"We used to keep them around to keep the cobwebs out of the corner of the hut we used to live in but now they're sitting peacefully in Kansas City awaiting the day that my wife and I finally just decide that we've been moving around Africa for long enough", says Greer. "And then we'll probably then put those in a nice little frame on the wall or something."
Until then, the two continue to live and work in the green heart of Africa.
Cipolletta leads a program for Wildlife Conservation Society at Nyungwe National Park in Rwanda and Greer leads WWF's Great Apes program.
"I couldn't be happier."