Pope Francis Calls for Amazon Conservation
During World Youth Day, a plea for protection of the Amazon region and its people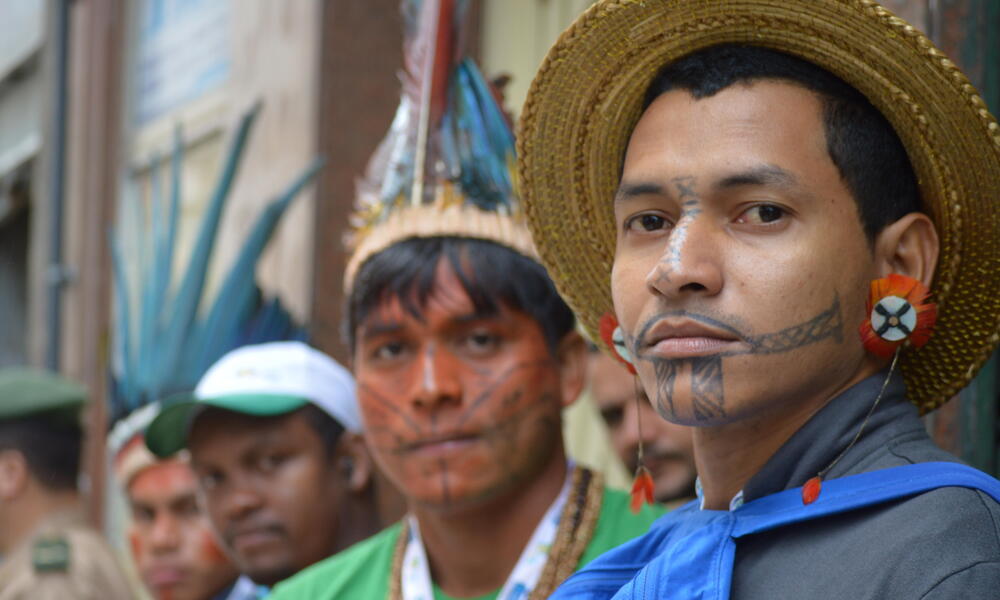 Date: July 28, 2013
Author: Jessica Weiss
Pope Francis spoke on behalf of the Amazon basin on Saturday, calling for "respect and protection of the entire creation which God has entrusted to man." This creation, he said, should not "be indiscriminately exploited, but rather made into a garden."
The Pope's speech, delivered to the Bishops of Brazil, followed a meeting during which indigenous Brazilians talked to the Pope about their struggles to maintain their land in the face of illegal logging, dam construction and other threats.
"The fact that Pope Francis spoke about protecting creation and indigenous peoples sends a strong message to Catholics and all faiths across the globe," said WWF Sacred Earth Program Director Dekila Chungyalpa. "He empowered them to be the voice for the immense biodiversity and wildlife, from the Philippines to East Africa to the Amazon, that is under tremendous threat."
The Pope's remarks were made during the six-day World Youth Day (WYD) event in Brazil. Catholics around the world have been looking to the Vatican-hosted event for the Pope's first message before an international audience. While many followed the event in the media, some three million youth – including a large contingent from the U.S. - attended so they could deepen their faith, build community, and contemplate how best to spread the gospel.
They also deepened their commitment to the Earth.
Chungyalpa and WWF Living Amazon Initiative leader Claudio Maretti spoke Wednesday at a WYD panel on faith and conservation, organized in partnership with the Catholic Church and the State of Rio de Janeiro. Maretti also participated in the "Sustainable Future for Humanity" panel at the Catholic University of Rio, where he discussed the Amazon's role in mitigating the effects of climate change, Brazil's indigenous people and biodiversity.
The Amazon is home to 33 million people who are threatened by climate change, pollution and deforestation. The Amazon also is crucial for stabilizing the global climate. Throughout WYD, a video about the need to protect the Amazon appeared on big screens on Copacabana beach. The video was produced by WWF and WYD organizers.
As the theme of WYD, the Pope called upon youth pilgrims to "go and make disciples of all nations," by "taking a call to mission." He also stressed the need to respect diversity within societies and find solutions through dialogue.
"I agree we need to respect cultural differences, including of indigenous peoples and local communities in Brazil and in the Amazon," Maretti said. "How can we allow roads, hydropower dams, mines, and other 'public interest' and private sector activities to go forward against their will?"
Many of the youth from U.S. who attended WYD agreed with the need to protect the environment.
"I think it's important to preserve the nature around us since it's a gift from God," said Maura Pinard of Massachusetts who was at the event. "We do not throw away gifts."