Prairie Dogs, Black-Footed Ferrets, and a Pilot-less Plane
An innovative boost for black-footed ferrets
Date: September 02, 2015
Author: Sarah Wade
A long caravan of trucks and cars sat parked along a dirt road cutting through the prairie of Fort Belknap Indian Reservation in Montana. The sky was a bright, almost swimming-pool blue. It was also practically windless—ideal weather for the drone that Ed McCaffery stood holding aloft.
"Ready to launch?" shouted McCaffery, a drone specialist for a company named Topcon. "Ready," his colleague Simeon Kateliev called from a table with an open laptop on it. McCaffery flipped a switch on the aircraft. A high-pitched buzzing ensued as the propeller revved up, and then, with a slight push, the plane zoomed skyward. Soon its small, white frame appeared the size of an insect.
Its mission? To evaluate habitat for black-footed ferrets, one of North America's most endangered mammals.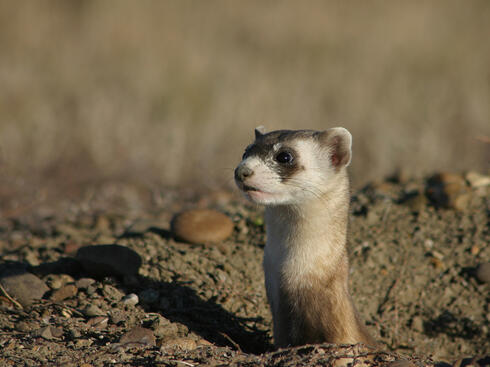 Only about 300 of the slender, masked carnivores are left in the wild today. They depend almost exclusively on prairie dog colonies for survival, preying on the rodents and living in vacant prairie dog burrows. Because of this dependence, scientists must monitor prairie dog colonies to determine current and potential new habitat for black-footed ferrets. Scientists and volunteers have been assessing Fort Belknap's colonies on foot since ferrets were reintroduced there in 2013.
"It's a very time-consuming process," said Kristy Bly, a WWF senior wildlife conservation biologist assisting in ferret recovery work at the reservation. "So we're looking to see if this new technology can more quickly, cost-effectively and accurately do the same things we do on the ground."
As the prairie dogs chirped busily to each other from the dirt mounds atop their burrows, the aircraft wound back and forth above, following a pre-programmed flight path at a pace that looked almost leisurely from the ground. In reality it was traveling at 40 miles per hour, snapping image after high-resolution image of the grassland with a sensitive camera.
"The pictures are just the starting point," Ron Behrendt, a consultant for the project, said. "We're going to get 4,000 photos over the course of this week."
With the help of research partners from Idaho State University, those images will eventually be stitched into three-dimensional maps that could be used to evaluate prairie dog colony size and density—the primary indicators of habitat suitability for black-footed ferrets. If the colonies meet certain criteria, the reservation could host more ferrets in the future.
Bly was already envisioning the project as a bigger sort of starting point for tech-enhanced conservation at Fort Belknap. As she bounced between thanking partners, preparing colonies for surveillance, answering questions, and setting out lunch food for everyone, she kept voicing ideas: What if drones could be used to monitor black-footed ferrets at night, when they're most active? Or to count Fort Belknap's growing bison population? Could the reservation someday secure its own permanent drones, and start training people to use it at the local tribal college?
Bly was also the loudest to cheer, though, when the plane made its first spiral descent and landed with a light swoosh in the grass. "Regardless of whether drones can be used for more conservation projects, just the ability to test them here is really exciting," she said.