Protecting Kenya's Rhinos
WWF's warden for the Maasai Mara Rhino Monitoring Team ensures zero poaching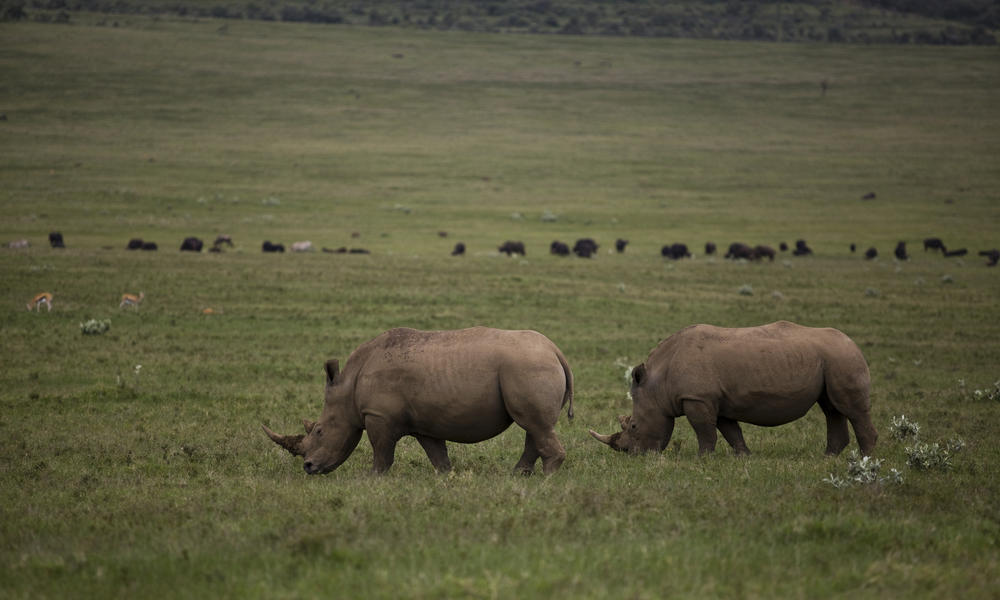 Rotiken Denis, warden for the Maasai Mara Rhino Monitoring Team in Kenya, is a Maasai with a background in wildlife management. He is responsible for preventing rhino poaching in the Maasai Mara National Reserve in Narok County, Kenya.
My team and I are the security of the Maasai Mara National Reserve. The park is one of Africa's Greatest Wildlife Reserves and we work to ensure that the rhinos that live there are safe.
Leading the Rhino Monitoring Team is hard work. We begin each morning with a daily patrol. During the patrol we look for signs of rhinos in the park. These signs range from actual rhino sightings to identifying rhino scratches so we know rhinos are present in the area.
After the morning patrol, we return to the office to log the information we gathered into the system. This information includes the locations of the rhino sightings or scratches and identifying markings on particular rhinos. Then we start the evening patrol at 4 p.m. and do it all over again.
Saving a species
Our goal is to monitor the existing rhinos in the park so that we can have a viable rhino population. We collect data in order to assess rhinos' reproductive health and measure the growth rate of the park's rhino population. This information enables us to make the right decisions to help rhino numbers grow.
Rhinos were once widespread across Africa. Today very few rhinos survive outside national parks and reserves. Increasingly, rhinos are killed by poachers for their horns.
However, since I became the head of the Rhino Monitoring Team, I have not lost any rhinos.
WWF works closely with local communities, governments and other organizations to enforce legislation and appropriate penalties for illegal wildlife trade by supporting program development, workshops and the creation of regulations.
Overcoming challenges
Although my team has all undergone paramilitary training to prepare them for our work, we must overcome challenges every day.
One of our biggest concerns is making sure the park's rhinos are not disrupted. There are a lot of tourists here during the high season; once I counted 50 tourist vehicles in the park. Once rhinos are disturbed, it is a challenge for us to find and identify the rhinos in each territory.
Another big challenge is getting monitoring equipment. Right now we rely on our binoculars and two vehicles. WWF provided us with a laptop, which we use to send daily updates from patrols and log every rhino sighting.
How you can help
As the first line of defense for rhinos, we work to ensure their safety. We face some challenges, but we pride ourselves on our accomplishments and we're dedicated to ensuring zero poaching. We need your help to achieve more. Please support our efforts and Back A Ranger. One hundred percent of your donation will provide vital support to men and women on the frontlines of battling wildlife crime.