Protection for Asian Elephants and Help for Rangers
WWF's Leigh Henry reminds us why our conservation work must benefit both species and people
Date: March 13, 2013
Author: Leigh Henry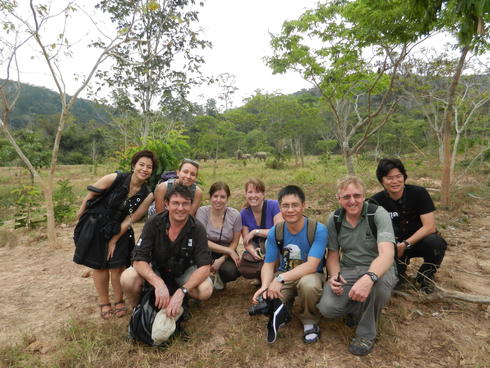 Dressed impractically in sandals and a skirt, I saw my first wild Asian elephant in the forests of Thailand. And I didn't just see one—I caught sight of almost 30. Riding around in the back of pickup trucks and army jeeps and following ranger-guides through the brush, I was grateful for the large, gray, soulful-eyed reminders of why I do what I do.
I joined a small group of colleagues for a visit to Kui Buri National Park while attending the 16th meeting of the Conference of the Parties to CITES. Before I left Washington, D.C., for almost three weeks in Bangkok, I packed a suitcase full of clothing suited for indoor meetings during which we would further our work to halt the illegal trade of parts that's decimating populations of wild elephants, rhinos and tigers. I didn't expect to venture into the wild, hence the inadequate footwear.
A Conservation Success
Kui Buri is one of 21 national parks and wildlife sanctuaries that help make up the Dawna Tenasserim Landscape, which is one of the largest protected areas in South East Asia that covers more than 5.6 million acres close to the Thai-Myanmar border. This area provides critical habitat for both Asian elephants and tigers.
WWF-Thailand's Elephant Conservation & Zero Poaching Project in Kui Buri has been running since 2005. The project uses a combination of wildlife habitat restoration, anti-poaching patrol measures and buffer zone management to reduce human-elephant conflict. Kui Buri stands out as a conservation success story. Since 2006, no elephants or people have been killed due to human-elephant conflict in WWF's project area.
The Value of Park Rangers
While our work in Kui Buri is considered a conservation success, we still need to help the park rangers tasked with protecting elephants and other native species. Unlike members of the military and Border Patrol Police who enjoy steady salaries and benefits, the rangers earn only about $100 a month with few benefits. One of the rangers I met hadn't received his paycheck in five months.
WWF works every day to ensure that citizens and governments of the world prioritize the conservation of our wildlife. That means helping the men and women who put their lives on the line to protect wildlife to receive a level of respect and compensation commensurate with their dedication and sacrifice. In 2012, more than 60 rangers died in the line of duty; more than half of those deaths were homicides. These rangers deserve our utmost respect and gratitude, and certainly merit the same sense of security—both personal and financial—that they provide to their charges.
Seeing the elephants WWF works to protect helped hit home one of our priorities: people. We understood long ago that we need the support of local communities if we want to successfully conserve the wildlife with which they coexist. Equally, we must prioritize the men and women we task with wildlife protection. They are the front line. They are the heroes.
Leigh Henry is a WWF Senior Policy Advisor, Species Conservation & Advocacy.