Rain-Fed Farms: Harnessing the Power of Precipitation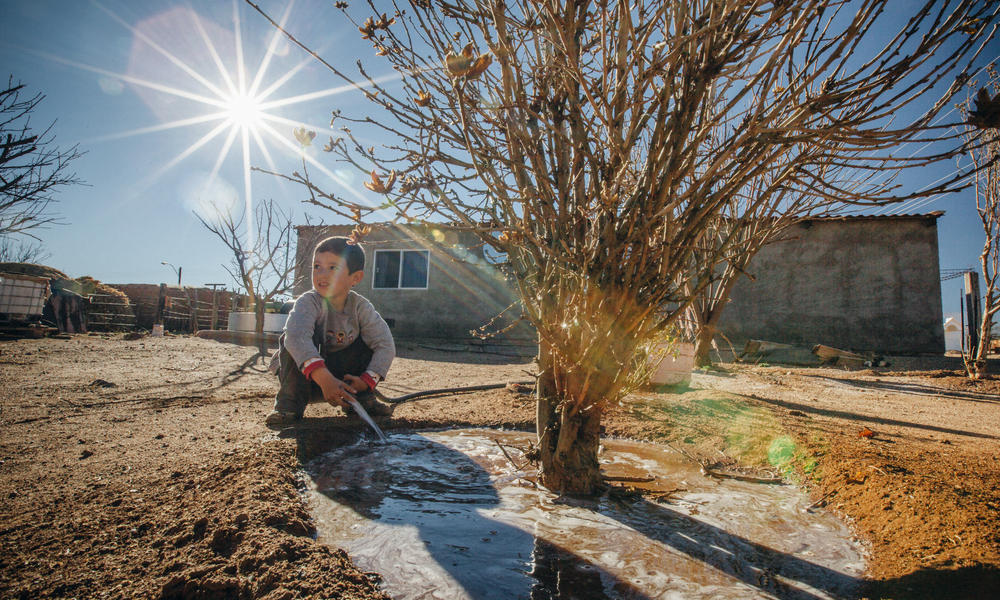 Date: August 18, 2015
Author: Gary Borders
Ernesto Anchondo examines the gently curved furrows of his farm in the upper portion of the Rio San Pedro basin, about 40 minutes southwest of the capital city. The vegetation along the furrows is dead but kept there to prevent erosion. Although this ejido farm—a communal swathe of land—in the desert looks bone dry, it hides an unexpected truth beneath the surface. When Anchondo starts turning over the soil, just a few inches below the surface it is still moist, even though the rainy season of mid-summer is still months away. Rain is the only source of water for Anchondo and his fellow ejido farmers who grow corn, beans, oats and other crops on 3.5 million acres in the state of Chihuahua.
Anchondo and eight other farmers in this village for the first time last year used a farming method called Keyline, or la línea clave. They were persuaded to do so by Dr. J. Alfredo Rodríguez-Pineda, hydrologist for the WWF-Mexico. The furrows follow the natural elevation line to better capture the rainfall, stop soil erosion, induce water infiltration into the soil and improve crop production. Trenches are dug and lined with rocks to create dams to direct the water.
"Because we have so many variations with respect to precipitation, we need to adapt to these difficult conditions."

Dr. J. Alfredo Rodríguez-Pineda Hydrologist, WWF-Mexico
As the climate warms, farming communities in Mexico and beyond are feeling the impacts. Warmer temperatures mean water supplies are shrinking and agricultural yields are dropping. WWF is part of the movement to fight this global crisis and help communities like Anchondo's adapt.
Workshops for change
Rodríguez held Saturday workshops to explain this new method of farming, but the first season only nine of approximately 50 farmers in La Noria participated. Anchondo started with just one trench but ended up digging four.
"I had thicker and larger crops than the rest of the people around me," he said, estimating his crop production of corn increased by 50 percent. He definitely intends to participate in the second stage of the project and is confident more of the farmers in this community will also participate, since the results are tangible and readily apparent.
Making forward strides
Rodríguez hopes this pilot program will catch on across this vast desert, where ejido farmers have eked out a perilous existence since acquiring these modest plots of land (usually a couple dozen acres or so) after the Mexican revolution and when the government developed the ejido 80 years ago in 1934.
"The hope is to implement these methods for all rain-fed farmers," Rodríguez said, noting that current farming methods are destroying the environment with erosion and poor soil quality.
Besides using la línea clave, the farmers are using the methods of organic fertilizers by anaerobic composting, mixing organic materials and manure along with dry yeast in a sealed fiberglass container. After "fermenting," a powerful liquid fertilizer is produced, which is then diluted.
Rodríguez notes that rain-fed farmers are the most vulnerable to climate change. "Because we have so many variations with respect to precipitation, we need to adapt to these difficult conditions," he said. "They are already suffering; let's put it that way."