Reconnecting Shared Landscapes is Crucial for Wildlife and People to Thrive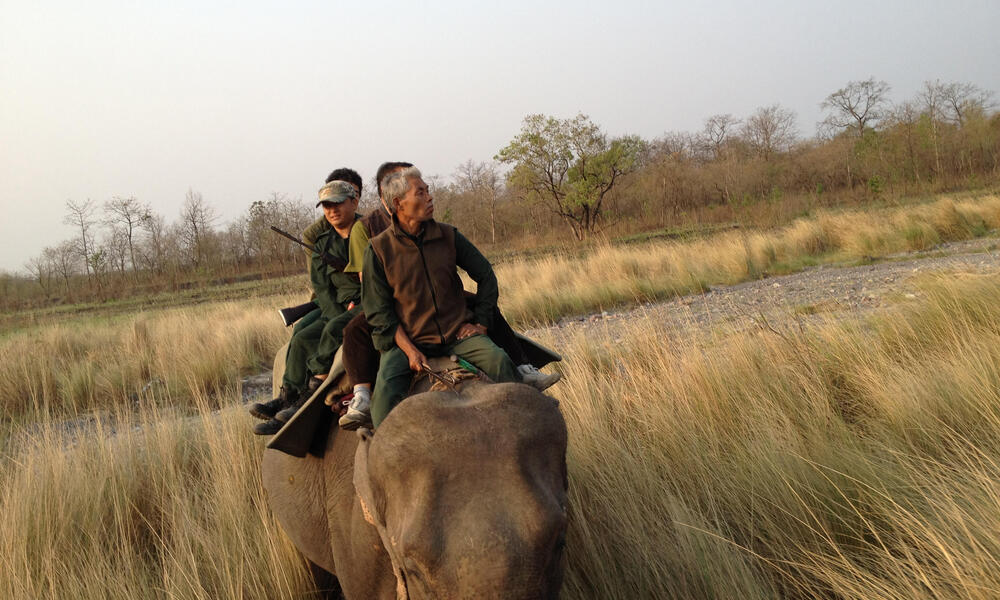 Author: Jeffrey Parrish, Managing Director, Freedom to Roam
Bhutan is known as the real Shangri-La—the isolated valley of happiness and harmony figured prominently in myth.
My first encounter with this tiny Himalayan country was indeed like that fictional utopian place—except everything was intensely, vibrantly and delightfully real.
Bhutan has lush, expansive intact forests that include exotic wildlife like black-necked cranes, rhinos, tigers and snow leopards along with teeming freshwater rivers. There is also a deeply-rooted reverence for life based on Buddhism and progress measured against Gross National Happiness rather than Gross Domestic Product (GDP).
I experienced it all as park rangers, WWF colleagues and I hiked for days deep into Royal Manas National Park in southeast Bhutan. Our mission was rooted in the hope that this area would soon be part of a larger conservation landscape linking with India's Manas National Park, giving tigers, rhinos and elephants more freedom to roam.
Late one afternoon we headed due south toward a saltlick that might draw in the wild Asian elephants trumpeting in the nearby valley, or sambar deer—a favorite prey of tigers—for a lap at its minerals. The walk was magically green, precipitously steep and full of life.
Until we arrived at the overlook.
Looking for wildlife in Doimari, an elephant habitat that extends from Assam to Bhutan.

Close up of an Asian elephant.

Border marker between India and Bhutan.

Crossing the divide between India and Bhutan.

Jeffrey Parrish in the field
A Landscape's Missing Pieces
The distinction of where a park ends and unprotected lands begin was violently clear just across the Indian border. The exploding population and resource demand of ascendant India resulted in distinct lines of habitat loss, even deep into parts of India's protected area.
The pristine greater Manas landscape of my imagination was more like a giant jigsaw puzzle with missing pieces. The task of filling in the gaps and working across borders was daunting, but essential if the ambitious transboundary conservation plan was to succeed.
Sitting on that overlook, my WWF friend and guide Mincha Wangdi reminded me that for more than five decades, WWF's mission has pitted us against big challenges, but we've worked together with people to save nature. We will succeed, he suggested, if we borrow inspiration from Bhutan.
"Our whole country is a park," Wangdi declared as he pointed in the distance back toward Bhutan. "In Bhutan, we don't really see hard lines and borders the way Westerners draw on a map. We see our nation as a place to be conserved and cared for, where our natural spaces are protected and connected by corridors, offering both wildlife and people a life of harmony, allowing each to find food, shelter, and freedom. We manage it as a whole."
This tiny nation, half the size of Indiana, indeed has much to teach the rest of the world.
Connect and Protect
When governments set up conservation areas that protect and connect nature then wildlife begins to thrive and so do people. Failure to connect parks and manage nature within large landscapes leaves wildlife resources stranded due to habitat fragmentation and habitat shifts from climate change.
Connecting and protecting is the answer. WWF has positive proof that it works. We have seen this approach flourish in places like Nepal's Terai Arc and the Northern Great Plains' American Prairie Reserve.
Manas could be next, led by the vision of two nations committed to working together across boundaries to reconnect their shared landscape.
Connect and protect. This simple equation lies at the heart of WWF's Freedom to Roam initiative. Please join us and be a voice for nature at home and abroad.