Record Rains Motivate Vermont Citizens to Prepare for a Changing Climate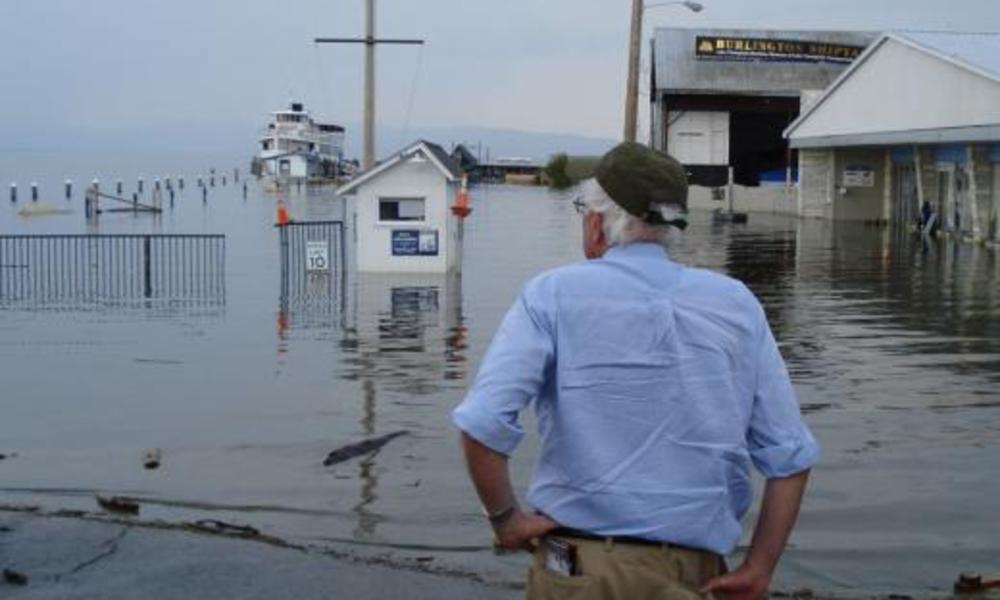 It was the start of the 2011 summer season and Burlington, Vermont should have been bustling with boaters, bikers, and tourists ready to enjoy Lake Champlain and the city's adjacent bike path. Instead, the boats remained dry-docked and nearby marinas were shut down for weeks due to flooding after astounding bouts of heavy rainfall filled the lake far past its usual brim.
This persistent high water caused significant damage to homes, piers and public spaces along the lake, and significant sections of the seven mile bike path were washed out or damaged. Various local businesses were forced to shut down and the parking lot at the lakeside aquarium was completely submerged.
Burlington wasn't the only New England community confronted with historic flooding in 2011. The entire state of Vermont faced its wettest spring on record, followed by wind-whipped rains from Hurricane Irene which caused the worst flooding in the state in 83 years.
A Plan for the Future
"What do we do as a region to plan for a future that's going to have more weather like the example we have just seen?" Vermont Governor Shumlin asked at the time. "We have to be prepared, adapt and plan. We're going to take responsibility."
Jennifer Green, a sustainability coordinator with the City of Burlington, recounts how her commitment to climate planning and resiliency was renewed and invigorated. The importance of advancing the actions outlined in Burlington's Climate Action Plan was now more important than ever. Burlington, one of the first municipalities in the country with a Climate Action Plan, wrote and adopted their first plan in 2000.
Jennifer was not alone. Over 100 volunteers came together to revise and strategize on actions related to transportation, energy efficiency and food systems. "Our hope is to build on all of the good outreach done to date and generate additional buzz about the innovative and exciting ways that we can save energy and money, while reducing greenhouse gas emissions," Jennifer exclaims.
"We have to be prepared, adapt and plan. We're going to take responsibility."

Peter Shumlin Governor of Vermont
The city's council members and other leaders understand that if extreme weather is expected to become more common, they need to approach city planning with a somewhat new perspective. "We all need to regroup with an eye towards these events happening on a more regular basis and consider how we're going to take these extreme weather events into account in planning for the future," says Mayor Weinberger. "Resiliency planning is the next logical step in Burlington's long history of environmental leadership."
Being Part of Earth Hour City Challenge
Burlington's strong focus on environmental resources and civic engagement drew Jennifer and her husband to this small, lively college community among the Green Mountains.
"I think Burlington is America's best small city and a great place to live, work and play. It's a place with a vibrant and active citizenry and with a dynamic and progressive local government committed to inclusion and public participation," she said.
Jennifer says being part of WWF's Earth Hour City Challenge "gives Burlington a chance to highlight challenges and successes and of course draws attention to the fact that we're doing great work." She's excited to participate and hopes the city wins one of the three grants available to cities through the Challenge to help raise awareness about the local impacts of climate change.