Reducing the impacts of infrastructure development on Asian elephants
Date: December 21, 2021
Author: Whitney Kent
Across the 13 countries where Asian elephants still roam, habitat and movement corridors are increasingly fragmented due to new and existing roads and railways. This infrastructure expansion is leading to an increase in serious injuries and fatalities to both humans and elephants from train and vehicle collisions with wildlife. The Government of India reports 186 elephant have been killed by trains over a period of more than ten years. Impacts from infrastructure development add to significant threats to elephants, including habitat loss and human-elephant conflict, that are driving the decline of this endangered species.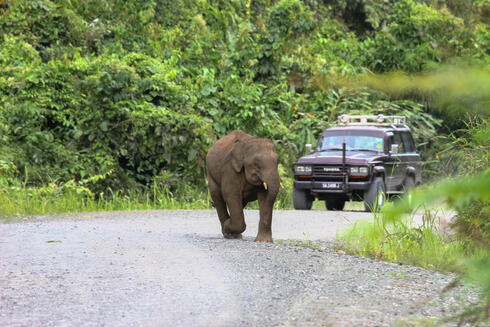 To provide a more comprehensive understanding of transportation-related conflict between Asian elephants and humans, IUCN's Asian Elephant Transport Working Group (AsETWG), which includes representation from WWF and a diverse range of experts from the IUCN's Asian Elephant Specialist Group and Connectivity Conservation Specialist Group, just launched the report "Protecting Asian Elephants from Linear Transport Infrastructure". The report reviews the evidence of impacts that transportation infrastructure growth is having on Asian elephant populations and presents guidelines, policies, laws, practices, and emerging technologies that could reduce the risks. It also provides examples of proven mitigation measures currently being implemented in various Asian elephant range states.
In the Lumding Reserve Forest in Assam, India, there is an important corridor that more than 100 elephants use for long-distance movements. However, the once single-lane road that passed through the reserve was recently expanded to a four-lane highway. Not only is the size of the highway a concern, but increased vehicle numbers and speed are escalating the dangers to elephants and other wildlife. To address this, WWF-India provided recommendations to the State Government of Assam to build a number of overpasses and underpasses to allow unimpeded wildlife movement. Other additional non-structural measures have been implemented, including warning signs and speed bumps in critical wildlife crossing areas; barricades and barbed wire fencing to funnel animal movement to underpasses; and opaque fencing on the elevated roads to decrease light and noise disturbance to wildlife. WWF India has also proposed creating water ponds and planting foliage that elephants prefer to eat along the approach to the underpasses to attract wild elephants to move in that direction and away from the busy highway.
It's hoped that mitigation measures like the ones in Lumding can be implemented in other Asian elephant landscapes and for elephant movement to be considered in planning for all future infrastructure development.
"Asian elephants are endangered throughout their range, with subpopulations in some countries at critically endangered levels. Habitat connectivity is crucial for their survival, and we can ensure they are able to move unimpeded through their ecosystems by avoiding fragmentation or applying mitigation measures while balancing the development needs of people," said Nilanga Jayasinghe, manager for Asian Species Conservation at WWF and co-author of the report.