Running to Protect the Environment
A young woman in Michigan races to raise money for conservation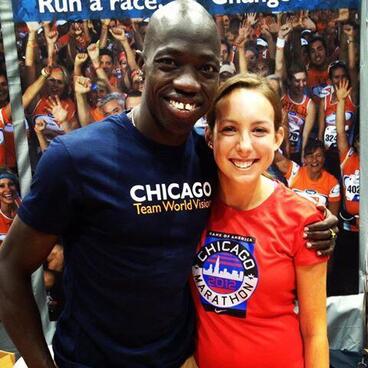 This content was created by WWF supporters like you and may not reflect WWF's views.
From my home in suburban Michigan, it is hard to fathom that the only drinking water available for some kids overseas to drink is murky, brown, and bug-infested. As many as 6,000 children under the age of 5 die every day from diseases spread by polluted water.
I never had any reason to think about that chilling fact. In my world, I can find cool, clean, refreshing water to drink wherever I want it. At my high school. At the gym where I am a lifeguard. At my grandmother's house. Anywhere. I take it for granted.
But my view of the world was rocked when I saw a video at church about why people run. The motivation for one of the runners was to help the thousands of children in Kenya who don't have access to clean water.
I could not believe what I saw and heard, like photos of children walking miles to get water, instead of going to school. And the water wasn't even clean. I couldn't imagine missing school for that.
Taking a stand
What I did believe was that I should do something to help. The opportunity to do so was right in front of me. My church was organizing a group of people to run the Chicago Marathon. Each runner had to raise more than $1,000 to be in the race. All the money will go to building toilets, drilling wells—whatever it takes to keep pollutants out of the water in cities and small villages in Africa. And to give people life, as I believe that water is life.
I signed up! At 16-years-old, I just made the minimum age criteria for running the marathon. Even though I was thousands of miles away, I knew I could—and should—raise money to address the environmental problems that haunt the children of developing countries, as well as the wildlife that live near them. I had never ran more than 7 miles, but I knew that running 26.2 miles would not compare to the pain and suffering those children go through on a daily basis.
Helping others and protecting the rivers and streams that God put on the Earth in places like Africa, the Amazon and our own neighborhoods—are values that are at the heart of my Christian faith. In this world of technology, the environment—the natural world—is a way to tune out. It is where I go to grow and reflect as a person, to pray, to make a friend.
Since finishing the marathon—my first!—I have started a running group called Sole Sisters that is made up of girls from my church and community who want to run so that they can stay healthy, have fun, and raise money for charities that do things like help protect the environment.
It amazes me how much my life has changed since seeing the video at my church. I am grateful to be part of a church community that not only made me aware of the environmental problems Kenya faces but helped me realize how I can make a difference if I put my mind (and feet) to it. Some people might think they are not powerful enough to make a difference. But all it takes is one person.
Join the Movement h
Pledge to be an advocate for the environment
This content was created by WWF supporters like you and may not reflect WWF's views.
WWF's Sacred Earth program works with religious leaders and faith communities who best articulate ethical and spiritual ideals around the sacred value of Earth and its diversity—and are committed to protecting it.