Saola Rediscovered: Rare Photos of Elusive Species from Vietnam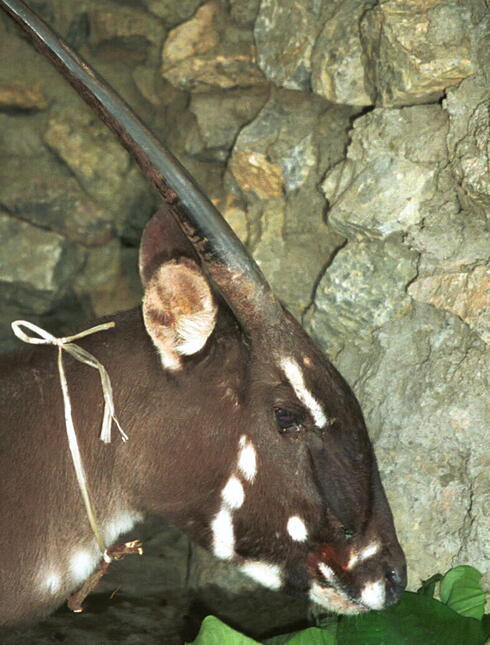 The saola—one of the rarest and most threatened mammals on the planet—was photographed in Vietnam for the first time in 15 years by a camera trap set by WWF and the Vietnamese government's Forest Protection Department.
This new image is the first saola sighting in the wild in the 21st century.
"This is a monumental find and comes at a critical moment in time for saola conservation," said Dr. Barney Long, Director, Species Conservation Program at WWF. "It's a huge reward for decades of tireless work by the provincial government that established the saola reserve, community snare removal teams and WWF biologists. Now it's time to double our efforts to recover this iconic species."
The new images are powerful evidence of the effectiveness of conservation efforts in critical saola habitat. In the area where the saola was photographed, WWF helped implement an innovative law enforcement model in which forest guards are recruited from local communities. Co-managed by WWF and Vietnamese government counterparts, the program works to remove snares and stop illegal hunting—the greatest threat to the saola's survival.
Since 2011, the forest guard patrols have removed more than 30,000 snares from critical saola habitat. The new sighting of the species is confirmation that the guards' tireless efforts are paying off.
A rare discovery
Saola have been documented in the wild by scientists on only four precious occasions since their discovery in 1992 by a joint team from Vietnam's Ministry of Forestry (now called Ministry of Agriculture and Rural Development) and WWF surveying the forests near Vietnam's border with Laos.

A cousin of cattle but resembling antelope in its appearance, the saola is distinguished by its unusually long horns and white facial markings. Little is still known about the saola's ecology or behaviour, and the difficulty in detecting the elusive animal has prevented scientists from making a precise population estimate, which is thought to be a few hundred at a maximum and possibly only a few dozen at a minimum.

The saola is threatened with extinction primarily due to hunting, which remains common throughout its range.
Take a look at a few camera trap images of the saola:
The saola, captured in the far right of the frame, has long, distinctive horns.

The saola was discovered in May 1992 during a joint survey carried out by the Ministry of Forestry of Vietnam and WWF in north-central Vietnam.

Saola (pronounced: sow-la) are recognized by two parallel horns with sharp ends, which can reach 20 inches in length and are found on both males and females.
Saving the saola

WWF continues to focus our saola conservation efforts on strengthening and establishing protected areas as well as research, community based forest management, and strengthening law enforcement. We also provide alternative livelihoods for communities bordering the saola nature reserves to reduce poaching and provide much- needed income to villagers. In 2008, we honored the Forest Protection departments of Thua Thien Hue and Quang Nam provinces, as well as Bach Ma National Park, with a "Leaders for a Living Planet" award for their conservation efforts.
The rarity, distinctiveness and vulnerability of saola make it one of the greatest priorities for conservation in the Greater Mekong region.
"These are the most important wild animal photographs taken in Asia, and perhaps the world, in at least the past decade," said William Robichaud, Coordinator of the Saola Working Group of the IUCN Species Survival Commission. "They are also inspiring evidence of the effectiveness of the forest guards model to keep saola from sliding into the abyss of extinction. But more support is needed, so that WWF and other partners can scale up the initiative to additional parts of the saola's range."