Saving Africa's Elephants
WWF supports call to action by Clinton Global Initiative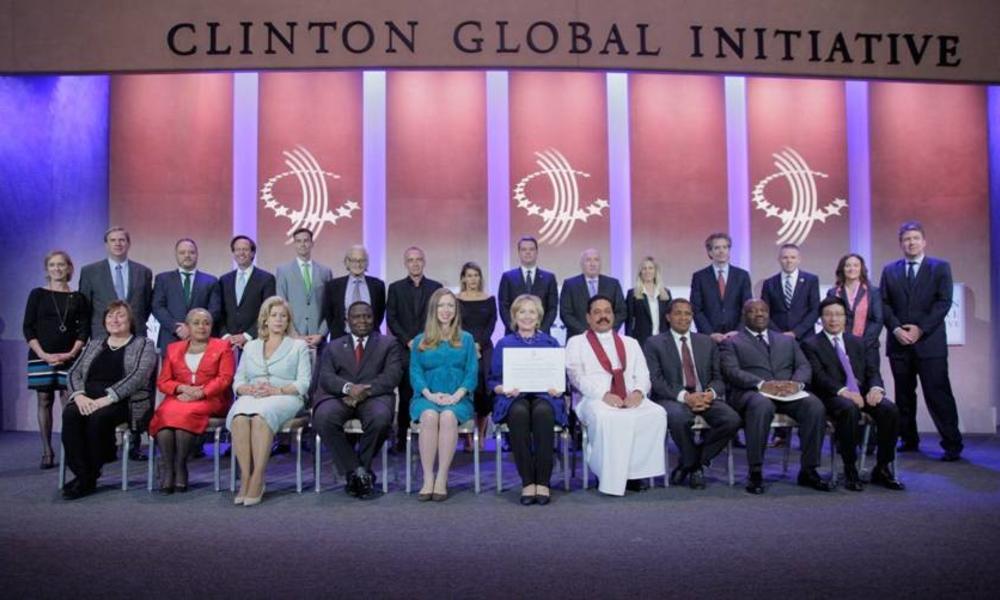 At the Clinton Global Initiative Annual Meeting, Secretary Hillary Clinton and Chelsea Clinton announced the Elephant Action Network. WWF's Ginette Hemley and TRAFFIC's Senior Director Crawford Allan attended the event in New York on Sept. 23.
This effort now includes 21 different commitments made by 16 individual organizations, which reach 58 different countries and touch upon three pillars: Stop the Killing, Stop the Trafficking, Stop the Demand.
WWF applauds the Clintons on their leadership and all the partners for taking strong, effective steps toward saving Africa's elephants.
WWF's role
"This year, our commitment focused on Thailand, which is currently the world's largest unregulated ivory market, and a major driver for demand," said Ginette Hemley, Senior Vice President of Wildlife Conservation at WWF-US. "Our goal is for Thailand to implement a complete ban on ivory trade with a strong reduction in purchasing practices and demand for ivory."
As an important step towards a long-term solution to the ivory poaching crisis, WWF is working with the government of Thailand, through international agreements like the Convention on International Trade in Endangered Species (CITES), and with other stakeholders to adopt new legislation or regulations to halt the legal ivory trade within Thailand's borders, which currently acts as a cover for massive illegal ivory trafficking and trade.
WWF will support the effective implementation and enforcement of those laws and regulations. We are also ramping up our efforts to stop the demand by working with new champions within the Buddhist faith that is practiced by a large majority of Thai nationals.
Serious consequences
Thailand has until March 2015 to take measures to shut down domestic trade in illegal elephant ivory or it could face trade sanctions under CITES. Such trade suspensions would, for example, prevent exports of orchids, which would result in a loss of more than $80.7 million in annual sales based on the 2013 value of this trade. The economic impact could be significant as the value of just some of Thailand's CITES-listed export items was estimated at $157 million in 2012.
Learn more about WWF's efforts to stop wildlife crime.
On stage with Secretary Clinton and Chelsea Clinton are His Excellency Mahinda Rajapaksa, President of the Democratic Socialist Republic of Sri Lanka; His Excellency Jakaya Kikwete, President of the United Republic of Tanzania ;His Excellency Binilith; Mahenge , Minister of the Environment of the Republic of Tanzania; His Excellency Ali Bongo Ondimba, President of the Gabonese Republic; His Excellency V? V?n Ninh, Deputy Prime Minister and Foreign Minister of the Socialist Republic of Vietnam; His Excellency Harry Kalaba, Foreign Minister of the Republic of Zambia; Mrs. Dominique Ouattara, First Lady of the Republic of Cote D'Ivoire; Mrs. Margaret Kenyatta, First Lady of the Republic of Kenya; Honorable Catherine Novelli, Undersecretary for Economic Growth, Energy and Environment United States of America; Dr. Laly Lichtenfeld , African People and Wildlife Fund; Dr. Patrick Bergin, African Wildlife Foundation; Rick Holtzman, Animal Planet; Andy Wilson, Conservation International; Dr. Peyton West, Frankfurt Zoological Society-US; Azzedine Downes, IFAW; Christian Dietrich, INTERPOL; Jenné Lombardo, MADE for New York Fashion Week; Nick Reding, SAFE Kenya; Dr. Ian Douglas-Hamilton, Save the Elephants ; Brian Finlay, The Stimson Center; Glenn Prickett, The Nature Conservancy; Sean Willmore, The Thin Green Line/ International Ranger Federation; Dr. Cristian Samper, Wildlife Conservation Society; Ginette Hemley, World Wildlife Fund