Saving Himalayan Forests
Plan protects the ecologic and economic well-being of Nepal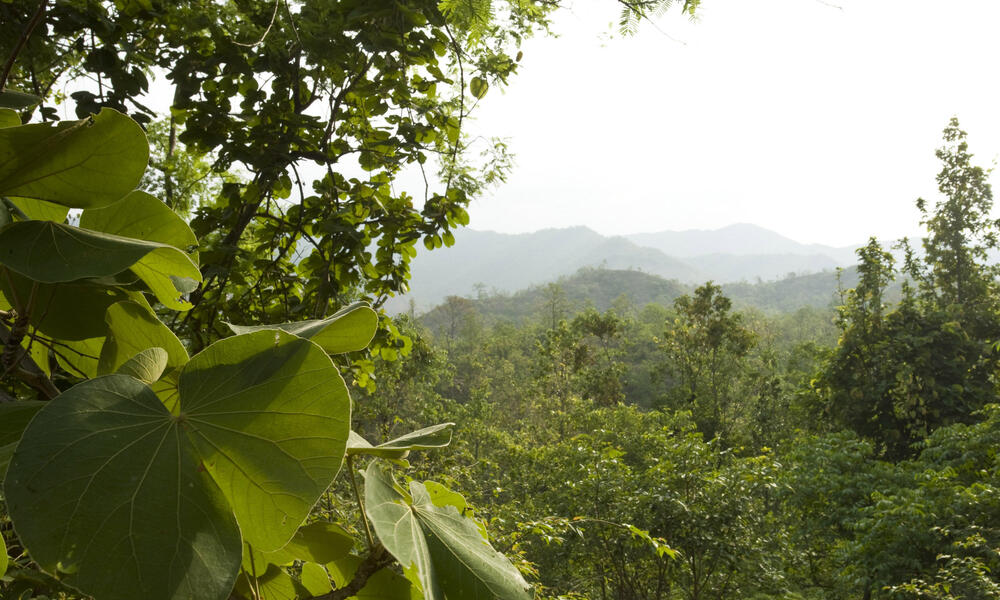 Date: January 23, 2014
Author: Jill Schwartz
The Himalaya mountain range is most known for its magnificent, high, snow-covered peaks that draw adventurous mountaineers and wildlife that thrive in alpine conditions.
But there is a lesser known part of the Himalayas that sits much closer to sea level and is just as important. It is the Churia Range, which is mainly forest land and runs through parts of Nepal, Bhutan and India.
Asian elephants and endangered Bengal tigers roam the Churia. Trees within the range serve a vital environmental function, as they help stabilize the fragile, gravelly, thin-soiled slopes. The trees also help regulate the flow of water from the mountains to people who live downstream, which is especially important during Nepal's powerful monsoon season.
Vital forests wiped out
Despite the importance of the forests, they are cleared at a rapid rate, often illegally and by local communities. People who need the wood from trees to cook often see more economic value in using the forested area for farming or grazing, or removing trees to make a place where they can re-settle to escape disasters that hit lower elevations.
When the trees are cleared, the relatively bare land that remains takes a hit—more landslides and erosion, which harm people and wildlife in the forests and downstream. The impact is even worse when the land is overgrazed by livestock.
Tackling global challenges
WWF, several Nepal government agencies and other partners recently received a three-year grant from the Global Environmental Facility (GEF) to address the central Churia range's problems related to degraded land—usually land that is poorly managed, or damaged by floods and landslides.
The GEF is the largest source of public international funding for projects to address global environmental challenges. WWF is a new project agency for the GEF, which means we are one of 12 entities now at the table helping countries decide how and where to invest GEF funds most strategically.
"The project will help address what has become a 'tragedy of the commons' situation in Nepal," said Shubash Lohani, deputy director of the WWF-US Eastern Himalayas Program. "It, too, is a testament to the importance of this region to the ecological and economic well-being of Nepal."
Empowering communities
Key to the strategy for the new GEF-funded project in the Nepal part of the Churia Range is empowering local communities to sustainably manage the forests of the range, as well as how to raise livestock and grow produce in a way that is not harmful to the environment. Project partners also hope to improve the development and implementation of Nepal's policies related to land use, and identify sensitive forest areas for restoration and conservation.
This project will complement the USAID-funded Hariyo Ban project. Through that project, WWF and three other conservation partners are working with communities in the western part of the Terai Arc Landscape (which is part of the Churia Range) to reduce deforestation.