Saving Thirty Hills
WWF's Jan Vertefeuille on a bold new plan to protect Sumatra's rain forests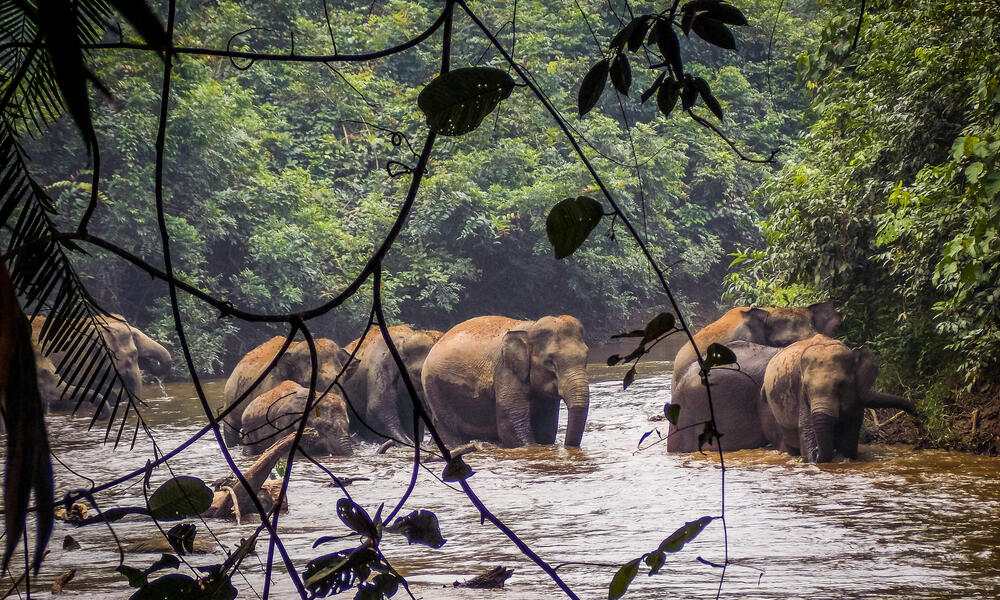 Date: August 12, 2015
Author: Jan Vertefeuille
Indonesia was once nicknamed the Emerald of the Equator for the lush, green rain forests that spread across many of the country's 17,000 islands. But much of that tropical forest has disappeared and been replaced with palm oil plantations or pulp plantations. The Indonesian island of Sumatra—one of the most biodiverse places on the planet—has lost more than half of its forest cover in the last thirty years. Even earning the dubious distinction of having the highest rate of deforestation in the world in some years.
But there are stands of amazing, still-intact forest in Sumatra, and Thirty Hills is one of them. The reason it's been left alone as long as it has been is that it's hilly— hence the name —so it's less desirable for both commercial paper companies as well as illegal loggers since it's difficult to get to. But as the forest disappears elsewhere in Sumatra, more and more biodiversity is moving into Thirty Hills, and there's more demand for its resources.
WWF and its conservation partners got part of Thirty Hills declared as a national park in 1995. What the government set aside—about 40 percent of the whole area—ended up being the hilliest part, which is the least desirable to loggers and industry. It's also the least desirable to elephants and other wildlife that also prefer flat areas. Since 1995, we lobbied to get all of Thirty Hills declared a national park, but were unsuccessful.
The Plan to Save Thirty Hills
The conservation community realized we needed to do something different. Our opportunity came when the Indonesian government created a new kind of concession, or lease, on government-owned forest land a few years ago. We worked to get critical parts of Thirty Hills rezoned as a conservation concession and created a commercial business to apply for them. The business has to pay taxes on the concession just as a logging company would and the Thirty Hills company will have the responsibility to manage and protect it for at least 60 years.
So that's our plan to protect some of the most important forests left in Thirty Hills. The concession company will manage about 100,000 acres of tropical rainforest as an "ecosystem restoration concession." There are two blocks of land, both connected to the national park, and they total about 25 percent of the park's acreage.
And just like a logging company, this new company has to protect its forest from illegal loggers and other threats. The company will hire anti-poaching patrols and forest protection monitoring groups, and plans to fly small conservation drones over the landscape to keep an eye out for poaching and illegal logging.
Emerald of the Equator
The main partners in this venture with WWF are the Frankfurt Zoological Society, known as FZS, and The Orangutan Project, an Australian conservation group. FZS, which has been operating in this part of the forest for about 17 years already, has established the only successful program that reintroduces Sumatran orangutans rescued from illegal poachers. Poaching of baby orangutans is a thriving business. Mothers are killed, and the babies stolen to be sold as pets. The lucky ones who are rescued often have no skills to survive in the wild. FZS puts them through what they call "jungle school," where they teach them the skills to live in the wild successfully, then reintroduces them into Thirty Hills. There are more than 160 orangutans there now; most of those have been reintroduced, and a few were born there to reintroduced apes. They're thriving, they're breeding, they're establishing territories. It's a huge success, thanks to FZS and TOP.
We believe there are also more than 120 elephants and about 30 tigers in Thirty Hills too, which is close to 10 percent of the Sumatran tiger population. As so much of Sumatra continues to be converted into commercial plantations and other uses, Thirty Hills becomes more and more important as a last refuge for these endangered species in central Sumatra.
Standing inside this intact rain forest makes you remember the Emerald of the Equator. Thirty Hills is exactly what you envision as rain forest: cloudy and misty up in the canopy, with fantastic massive trees, called dipterocarp trees, that probably four of us couldn't together wrap our arms around. If you stand at the bottom and crane your neck up, you can't even see the treetop in the canopy. It's just spectacular, and you think, "This is a special place, we have to protect what's here." And that's exactly what we're doing.
Read more about WWF's work in Thirty Hills
Saving this critical forest could not have happened without WWF's partners and champions like the Leonardo DiCaprio Foundation.

Some of the world's most critically endangered species, like the Sumatran orangutan, dwell in the forests of Thirty HIlls.

Local schoolchildren in Thirty HIlls. The plan to protect Thirty Hills includes working with indigenous communities and inviting them to be shareholders in the project.

Camera traps within Thirty HIlls help monitor wildlife populations like the Sumatran tiger.

Under the new plan, forest crimes will be monitored through on-the-ground investigations and satellite imagery.

The island of Sumatra is one of the last places on earth where elephants, tigers and orangutans coexist in the wild.