Sea turtles and shrimp cocktail: what's the connection?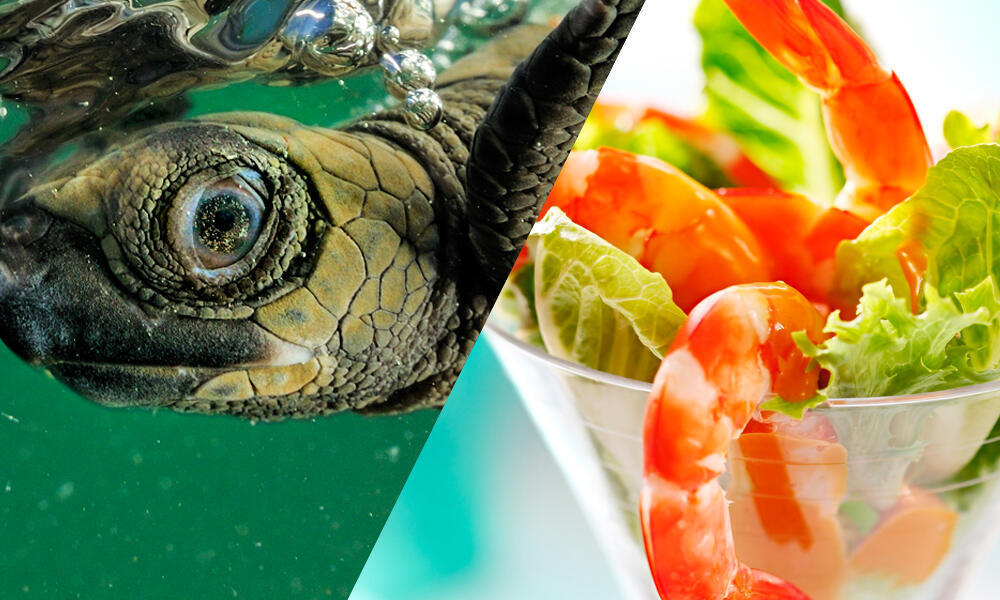 Sea turtles are some of the most majestic, long-living animals in the ocean, yet hundreds of thousands of them are accidentally caught and die in shrimp nets and other fishing gear each year. Endangered loggerheads, green turtles, and leatherbacks are especially vulnerable.

WWF works with businesses, policymakers, and the independent Marine Stewardship Council (MSC) to reduce the incidental catch of sea turtles, dolphins, and other marine animals. Consumers can look for the MSC logo on seafood in their grocery store fish counters, on packaged seafood, and on restaurant menus to ensure their food was produced responsibly.

WWF also encourages the shrimping industry to use turtle excluder devices, which allow marine turtles to safely escape from the nets. In Mozambique, for example, WWF helped create a new law that mandates the country's shrimp trawlers to use these devices. Once it's implemented, this law will save the lives of up to 5,000 marine turtles per year and allow Mozambican fishers to sell their shrimp to the US market.

To further protect turtles, WWF is introducing a different type of hook in Pacific fisheries that is more difficult for turtles to swallow. Initial results demonstrate the using these "circle" hooks reduces sea turtle deaths by as much as 90 percent, without adversely affecting catches of swordfish, tuna, and other fish.
Learn more about sea turtles threatened by harmful fishing gear: