Six Tons of Elephant Ivory Crushed by US in Historic Event
WWF calls for US moratorium on trading of elephant ivory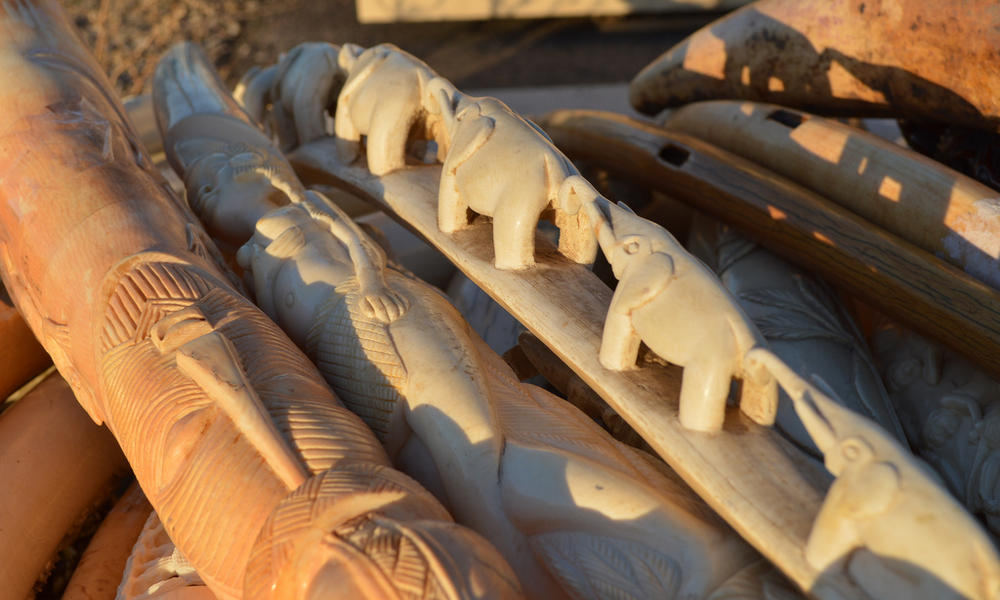 Date: November 14, 2013
Author: Trishna Gurung
An enormous gravel crusher spewed chips of ivory, turning six tons of illegal elephant ivory tusks, trinkets and souvenirs into gravel at an event hosted by the U.S. Fish and Wildlife Service in Denver today. There were few dry eyes among the celebrities, congressional delegates, foreign ambassadors, conservationists and journalists invited to witness the historic event.
The message behind this dramatic act was unmistakable: the United States will not tolerate elephant ivory trafficking and is committed to stopping wildlife crime. The elephant ivory is the accumulated contraband from more than 20 years of seizures by U.S. law enforcement.
"I do not doubt that the ivory crush sends a signal out to the world that the US has zero tolerance for poaching," said Ginette Hemley, speaking at the event. "This symbolic act must be supported with real action and WWF is calling for a moratorium on ivory trade and sales in the US"
Unrelenting demand
The illegal elephant ivory crushed in Denver—all of it seized and surrendered on American soil—represents a fraction of what is being bought, sold and smuggled in and out of the country.
We need your help to crush the illegal ivory trade
Support legislation to crack down on wildlife trafficking and enact a moratorium on elephant ivory trade in the United States
There remain considerable challenges to enforcement of US laws despite a ban on international commercial trade in ivory since 1989 through CITES. State laws vary widely and a federal loophole allows ivory owned before the ban to be legally sold. Smugglers take advantage of the system to sell poached ivory as carvings, jewelry and other trinkets. Even many US online auction and fashion websites are being used as shop fronts for illegal ivory.
Last year, wildlife criminals slaughtered more than 30,000 elephants for their tusks. Their ruthless pursuit of ivory also endangered the lives of frontline conservationists like rangers, many of whom are not able to fight back against poachers armed with military grade weapons. Wildlife mafia are intimidating local communities, exploiting the poor, and corrupting law enforcement efforts. Their actions are now fuelling regional conflicts, undermining the safety and security of entire regions.
Seeking a solution
Behind every piece of ivory is a dead elephant. Any purchases or sales of ivory only fuel the current poaching crisis.
"We need to end the demand that is fueling ivory trafficking and get serious now about saving elephants," said Carter Roberts, President and CEO of WWF-US. "A US moratorium on all trade of ivory products must follow."
WWF urges the US and other countries fuelling the elephant poaching crisis to take all available measures to disrupt and prosecute those who prey on and profit from the slaughter of these animals.
WWF and its partners are calling on the US government to crack down on wildlife trafficking and enact a moratorium on domestic ivory trade. This push is part of WWF's global campaign to stop wildlife crime and save endangered species such as elephants, tigers and rhinos.
The crushed ivory sends a strong signal that the US is committed to stop wildlife poaching and save elephants.

The gravel crusher destroys the ivory. The banner beside the crusher memorializes the 30,000 elephants killed for their tusks in just the last year.

The stockpile of ivory in the crush was confiscated over 20 years through seizures by U.S. law enforcement.

No matter how small, each confiscated ivory trinket represents an elephant's life needlessly taken.

Before the crush begins, U.S. Fish and Wildlife Service prepares tusks and other ivory for the gravel crusher.

Before sunrise crews began loading ivory which FWS seized during undercover investigations of organized smuggling operations or confiscating at the U.S. border over the past 25 years.

Seized ivory slated for destruction in the crush.

Ivory that has been crushed.

The crushing of the ivory continues.

The destruction of this ivory was witnessed by representatives of African nations and other countries, dozens of leading conservationists and international media representatives.
Take action now and support legislation to crack down on wildlife trafficking and enact a moratorium on elephant ivory trade
NOTE: This story refers specifically to elephant ivory. While many people outside the Arctic often associate ivory with elephants, the term is also used for items that come from other species, and has different stipulations. Learn more