U.S. Ambassador Lives a Day in the Life of an Elephant Ranger
Inside Kui Buri National Park , protecting some of the planet's most beautiful and vulnerable species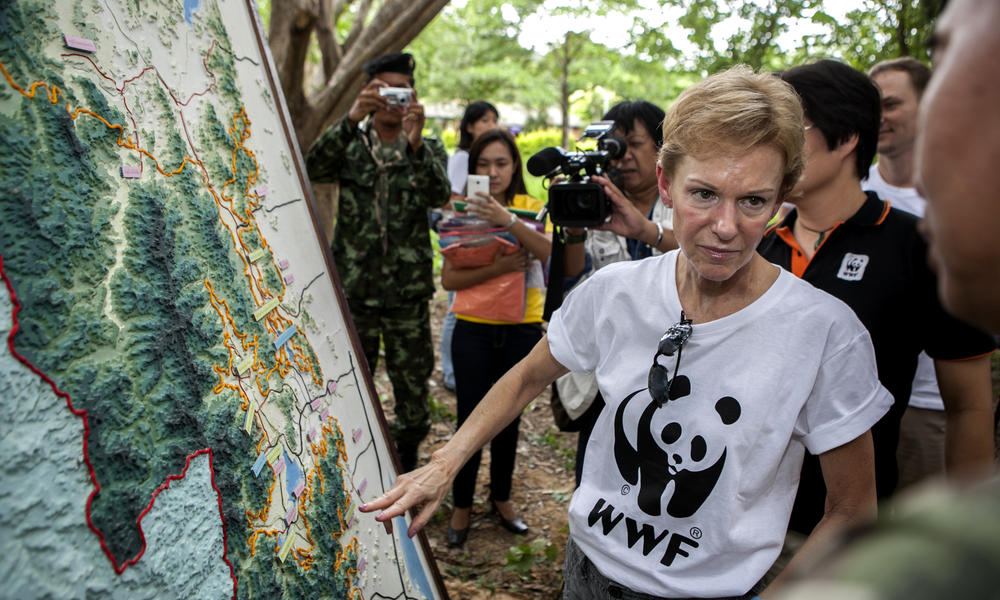 Far from an embassy or diplomatic meeting room, U.S. Ambassador to Thailand Kristie Kenney spent a day on patrol with wildlife rangers. Inside Kui Buri National Park in southwest Thailand, Ambassador Kenney learned firsthand the challenges rangers face as they work to protect nature.
"It was inspiring to see the rangers, the community, and international partners come together to help preserve and protect such an important part of Thailand's natural ecosystem," said Ambassador Kenney.
A Haven for Elephants
A four-hour drive from Bangkok, Kui Buri is home to 200 wild elephants. It is also a refuge for other endangered species, including tigers, gaur, and Malayan tapir. Since 2010, no elephants have been lost due to illegal hunting or poaching there—a tremendous achievement considering a team of 18 rangers patrol close to 375 square miles, an area roughly the size of Hong Kong.
Rangers and Wildlife at Risk
Rangers are often the only protection for wildlife. And these brave men and women are frequently caught in the crosshairs of poachers. Ranger Taweesak Chomyong was killed by a gang of rosewood poachers in an ambush in Thailand's Pang Sida National Park earlier this year. Just last month a ranger was shot in the arm by poachers in that same protected area.
Meanwhile, elephants are being slaughtered across Asia and Africa. Experts estimate that 30,000 elephants were killed last year alone, the tusks destined for Asian black markets. In the past four weeks, Hong Kong customs stopped two major shipments from Africa that included a total of 2,268 tusks.
What WWF is doing
Ending ivory trade: WWF works with TRAFFIC, the international wildlife trade monitoring network, to reduce the devastating threat that illegal ivory markets pose to wild elephants. Earlier this year, WWF, Leonardo DiCaprio and Avaaz.org delivered a petition signed by more than 1.5 million people around the world and helped convince Thailand to announce a ban on ivory trade.
Advocating reforms: On August 12, World Elephant Day, WWF and TRAFFIC urged Thailand's prime minister to deliver on her promise to shut down the country's trade in ivory and ensure legal reform. She visited Kui Buri last week after a trip to Tanzania where she signed a memorandum of understanding for cooperation on national park and wildlife management.
Stopping wildlife crime: WWF provides on-the-ground training for rangers and communities on the frontlines of the fight against wildlife crime. In the Greater Mekong, we improved working conditions and capacity of rangers in Cambodia, Laos, Thailand and Vietnam. We also support the establishment of the Ranger Federation of Asia (RFA), aimed at creating a community for rangers and gaining recognition for their work.
Research and Monitoring: WWF's science-based conservation efforts help survey and study populations of elephants in Africa and Asia in order to make our conservation projects more effective.
Reducing Conflict between People and Elephants: WWF helps train wildlife managers and local communities to use modern methods and tools to mitigate human-elephant conflict.
What you can do
A refuge for Asian elephants

One of the last strongholds of the Asian elephant, Kuiburi National Park represents the gold standard in terms of habitat improvement for wild elephant. Established in 1999, it is home to other endangered species, including tigers, gaur, banteng, and Malayan tapir.

Recognition and appreciation

Just a few weeks after President Obama made major pledges to stop wildlife trafficking, Ambassador Kenney distributed lapel pins as a token of her appreciation for the hard working rangers at Kui Buri National Park.

On the frontlines

A team of 18 rangers safeguard Kui Buri and its 200 elephants in an area roughly the size to Hong Kong.

Wildlife conservation at work

Ranger Sukvinai Khamglun shows Ambassador Kenney how to set up camera traps supplied by WWF. These cameras are equipped with infrared triggers in order to obtain critical data about wildlife and their habitats.

Leading the line

Rangers Jaruwat Nuchsiri has worked in Kui Buri for many years. Typically, he typically spends at least 10-15 days of the month in the forest.