Unsung Heroes of Tiger Conservation
Rangers work tirelessly—often in dangerous conditions—to fight wildlife poaching and ensure tigers continue to survive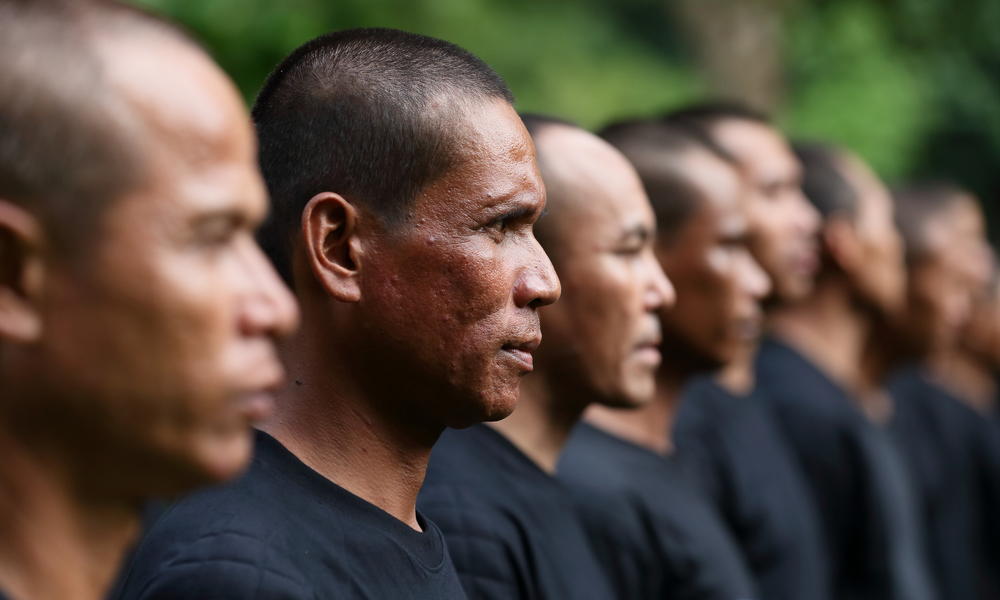 For wild tigers around the world, rangers mean the difference between life and death. These brave protectors work tirelessly under harsh and sometimes dangerous conditions to fight wildlife poaching and ensure tigers continue to survive. Their efforts often put their very lives at risk.
A day in the life
Patrolling is a mainstay of a ranger's work. They roam across territories, monitoring conditions and watching for poaching and any other illegal activities—such as tree felling— which harm tiger habitat. Longer patrols, often on foot and based out of remote guard posts, can last days or even weeks.
Rangers collect information on poaching incidents and tip-offs. They assist with wildlife management efforts like surveys and monitoring. Rangers also perform outreach activities such as guided tours, engaging local communities and maintaining parks and facilities.
Putting their lives at risk
Many of these daily activities can put rangers in harm's way. Wildlife poachers generally will not hesitate to shoot at them. Militant groups in certain regions will take their grievances out on park staff. In India's Simlipal Tiger Reserve, for example, left wing extremists jeopardized park rangers' lives when they destroyed the park's protection infrastructure.
Large wildlife also pose a threat. Rhino and tiger attacks have disabled or killed rangers in the tall grasslands of India's Kaziranga Tiger Reserve.
Enforcement and resources
Law enforcement powers for rangers vary from country to country. Some rangers may arrest poachers, while others must turn criminals over to the police. India's Wildlife (Protection) Act of 1972 authorizes all forest officers to carry out searches, seize incriminating tools, and arrest any suspect without warrant. Likewise, in Bhutan, rangers and anti-poaching team members have the power to arrest poachers. And in Nepal, the chief warden of a park is allowed to convict a poacher and order a sentence for the crime.
Maintaining a ranger unit can be expensive, especially for countries with relatively few financial resources. The cost of maintaining rangers in areas where tigers roam tends to range around $25,000-$30,000 for one year, depending on the country. Rangers' salaries vary widely. In India, monthly pay for a forest guard can range between INR 7,000 (about $150) to INR 14,000 (about $300).
WWF support for rangers
Conservation for tigers and many other endangered species cannot succeed without rangers. WWF supports rangers by providing training, equipment, and other assistance for their work.
WWF's Russell E. Train Education for Nature Program (EFN) has helped train more than three-thousand park rangers from more than 20 countries since 1994.
TRAFFIC— WWF's joint program with the IUCN (International Union for Conservation of Nature) — works with external partners on the ground to address poaching and trafficking issues. In India, TRAFFIC training taught park guards how to detect the use of illegal metal snares in tiger reserves.
Our Tigers Alive Initiative (TAI) engages WWF's vast global network, including rangers, to help double wild tiger populations in the next 12 years. TAI—active in 12 of the 13 tiger range countries—regularly honors the most effective rangers and field staff for excellence in protection efforts against poaching and other illegal activities.
Patrol rangers in training in Thailand. WWF, Mae Wong National Park and Klong Lan National Park organize training to help rangers in their work to protect tiger populations.

Park ranger Sampan Suksee has a last meal with his son before he leaves to go on a dangerous anti-poaching patrol mission in the face of escalating tiger and elephant poaching in Kui Buri national park, Thailand.

Anti-poaching brigade in Lazovskiy Nature Reserve, Russia. The reserve is considered one of the most important tiger reserves in Russia. It is also home to 58 other species of mammals including the Siberian lynx, Amur leopard and Asiatic black bear.

This native Ugdege antipoaching patrol member patrols the Bikin river basin forests that shelter tigers and Amur leopards in the Russian Far East.